Norris delighted to bag P5 on grid for home race after 'scrappy' Silverstone qualifying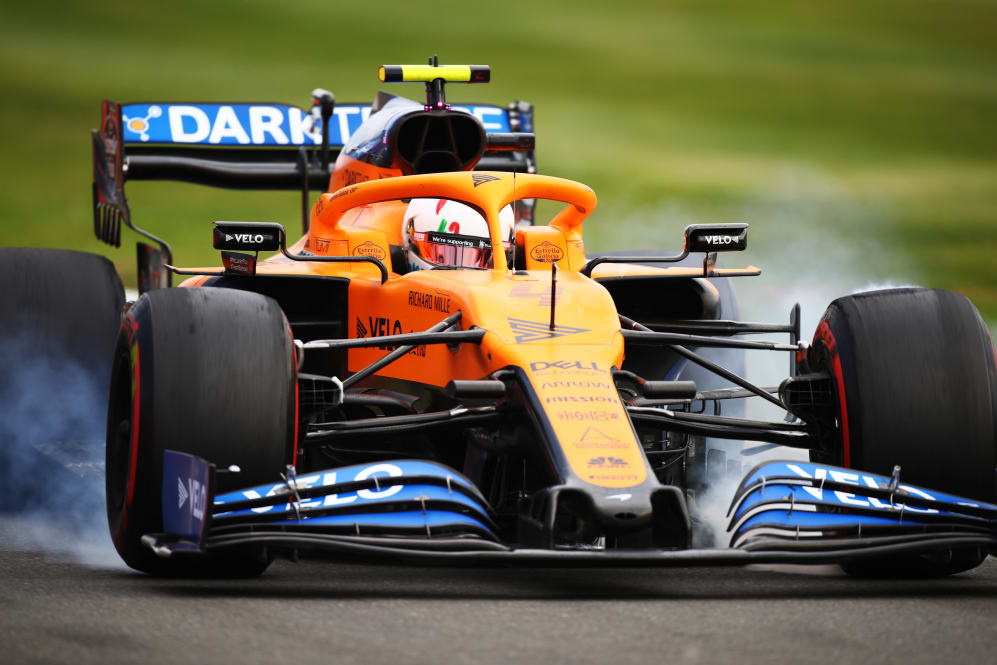 For the second time in four races this season, Lando Norris will start a Grand Prix from within the top five on the grid – though the McLaren driver admits he was somewhat lucky to bag such a good grid slot for the British GP after a difficult qualifying session at Silverstone.
Norris, who also started and finished third in the season-opener in Austria, is racing at the British Grand Prix with a helmet designed by a six-year-old fan named Eva – but there were times when she no doubt had her heart in her mouth as the Briton somewhat unconvincingly made it through to Q3, before ultimately rallying himself to claim fifth.
READ MORE: Norris reveals special British GP helmet designed by 6-year-old fan
"I'm very happy," said Norris afterwards. "It was a bit of a scrappy qualifying – I went off on my first push lap of Q1. I almost lost the rhythm a little bit, which was a bit frustrating. I was always behind Carlos [Sainz, McLaren team mate] in Q1, Q2, always trying to play catch up and get into a good rhythm.
"And I only really did that in Q3, luckily, because we were on the edge [of getting knocked out] in Q1 and Q2. A little bit nervous but in Q3 I managed to pout it together and put on, I don't know if it was my best lap ever, but one of my best laps, which I'm very happy to do at my home race. So a big thanks to the team, but tomorrow's the important day."
Having claimed such a good grid slot, two places ahead of Sainz and behind only the Mercedes duo, Red Bull's Max Verstappen and Ferrari's Charles Leclerc, could another podium now be on the cards, and on home soil no less? Norris is not so sure.
Qualifying report: Hamilton recovers from spin to take record seventh Silverstone pole
"I need people to crash or get penalties ahead of me," he reasoned. "Mercedes are in another league. Austria we were a bit closer, with the shortest lap of the year. I think there we had a chance with all the safety cars and so on. I'm not going to say no, but if we look at our pace we're not as confident of magic happening and us getting onto the podium.
"If I can finish where I am, or around where I am I'd be happy with that. But you never know – they could all crash into Turn 1 and I could come out in the lead!"
Now wouldn't six-year old Eva like that…