'Speechless' Norris thought he'd 'fudged' chance of maiden podium finish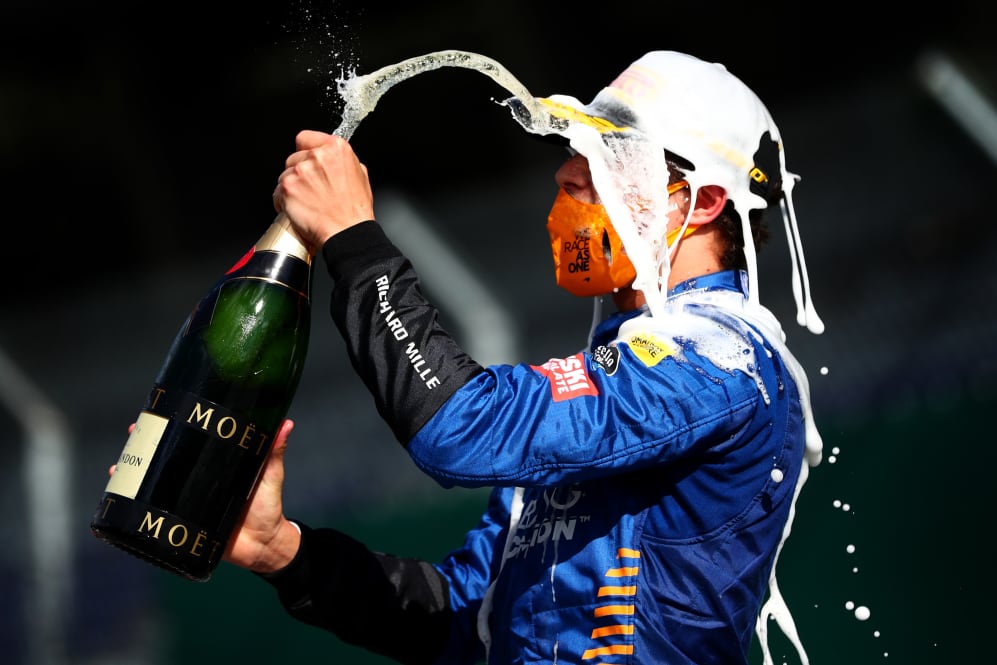 On the very last lap of the Austrian Grand Prix, Lando Norris sealed his first F1 fastest lap, his first career podium and the accolade of being the third youngest F1 podium finisher ever – but the McLaren driver said he thought he had blown his chances of a top three result with just a few laps to go.
Norris crossed the line in fourth place, but a stunning final lap – the fastest of the entire race – saw him leapfrog Lewis Hamilton into third, after the World Champion picked up a five-second penalty for contact with Alex Albon 10 laps earlier.
READ MORE: Bottas says he 'dodged many bullets' to win season-opening Austrian Grand Prix
"I'm speechless," said Norris immediately after the race. "I think there was a few points in the race where I thought I fudged it up quite bit. I dropped to fifth with a few laps to go, Carlos [Sainz] was almost getting past me. I managed to get past [Sergio] Perez, and I ended up on the podium."
"It was a long race but I kept going, I was trying to give it my all, [it was] a pretty cool last few laps having to push as much as I can – you can tell I'm a little bit out of breath," he added.
Norris' podium finish is even more remarkable since he did not know Hamilton had been given a penalty when he passed Perez, which he managed to do after he bolted on a set of soft-compound tyres during the penultimate Safety Car period, before muscling his way past the Racing Point on Lap 69.
WATCH: Disaster for Verstappen as mechanical issues ruin chance of third Austrian GP win
"At that point I didn't get told… that Hamilton [had] got a penalty," he explained.
"I didn't know how much of a risk to take with Checo [Perez]. I was a little bit cautious but Carlos [Sainz] was right behind me. We made a bit of contact, but rubbin' is racing and that was the thing that got me the podium."
This result is McLaren's second podium in just three races, with Carlos Sainz having ended their barren run of five years without a top three finish at the Brazilian Grand Prix last year.
"I'm so happy, I'm proud of the team," Norris said. "Considering where we were a few years ago, from last year to now, it's a pretty cool achievement and I'm proud to be part of it all."
WATCH: Sparks fly as Raikkonen loses a wheel late in Austrian GP