Norris expecting Las Vegas to be 'a tough one' for McLaren as he talks up battle for P4 with Alonso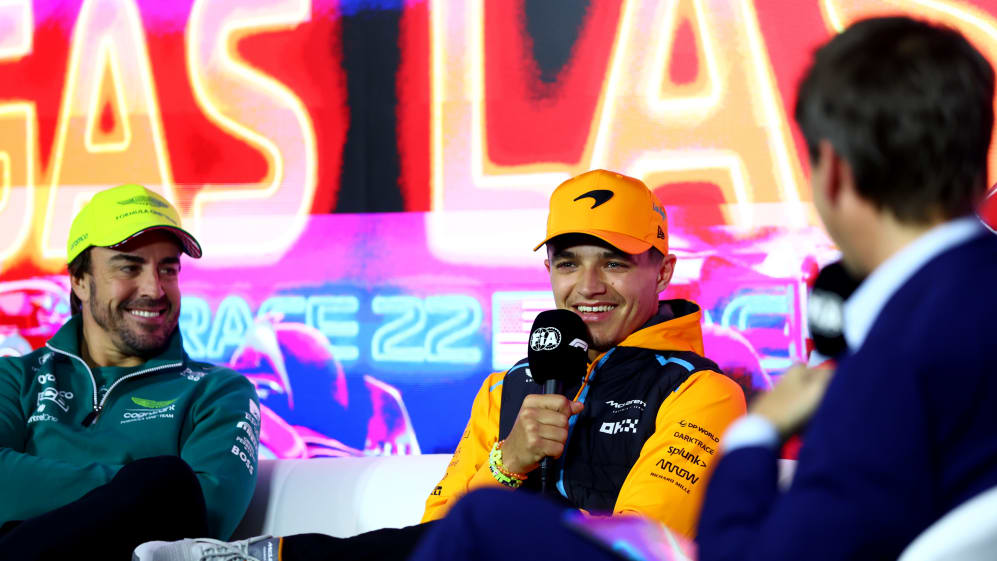 Lando Norris has admitted that the layout of the Las Vegas Strip Circuit means he's not as confident in McLaren's hopes of scoring a big result this weekend.
Norris and McLaren are on a searing run of form that has seen the Briton finish on the podium in five of the last six races, finishing second in Singapore, Japan, Austin, and Sao Paulo, while also taking third in Qatar.
LIVESTREAM: Watch the 2023 Las Vegas Opening Ceremony featuring an all-star cast of performers
While the 24-year-old may not have scored that elusive maiden Formula 1 victory yet, he has often found himself the closest challenger to Max Verstappen in recent races, including last time out in Brazil where they battled for the race lead.
Asked in the Wednesday evening press conference in Las Vegas to predict his team's fortunes heading into the weekend, Norris joked: "I don't like this question anymore, I'm always wrong whatever I say!"
But when questioned further on if he takes confidence from his and McLaren's good run of results, Norris replied: "Absolutely, I'm extremely pleased with how we've done in the last few weeks, especially Mexico and Brazil.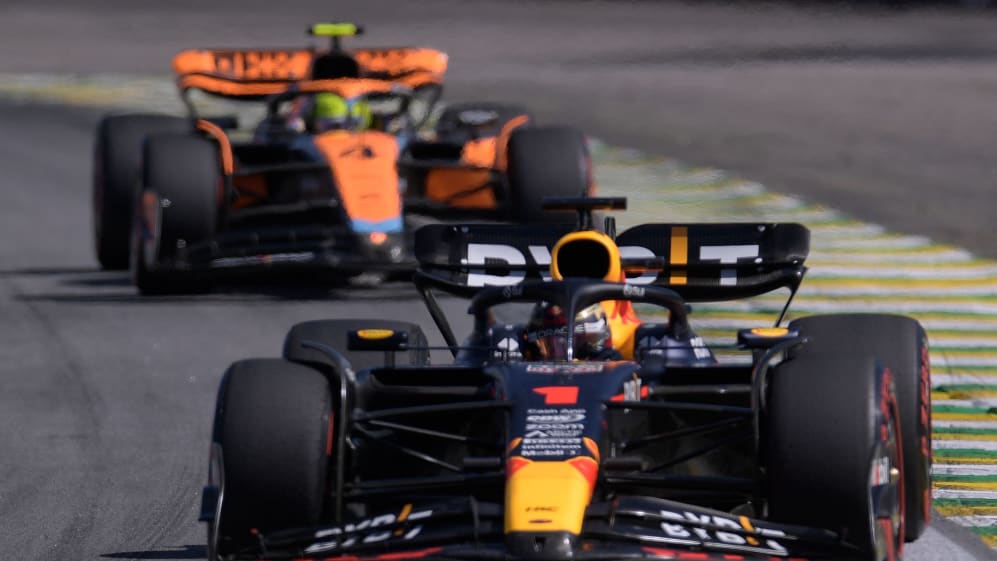 "We were a big chunk better than we were expecting, especially [in] Brazil, to be so far ahead of the majority and close to the Red Bull through a lot of the race was definitely not something we were expecting."
Norris conceded, however, that he expected that Las Vegas would be "a tough one. This will remind you a little bit more of Baku and Monza-type races, which weren't our best and definitely towards the weaker side.
LIVE COVERAGE: Follow all the build-up ahead of the Las Vegas Grand Prix weekend
"There's the long straights, and low downforce is not where our priority has been this season with development, and all of those things because there are so few races like it. So, maybe not as confident as where we have been the last few weekends but no idea at the same time."
Norris's frequent trips to the rostrum means that he is currently in a career-high fifth place in the drivers' standings, although he is just three points behind Aston Martin's Fernando Alonso in P4.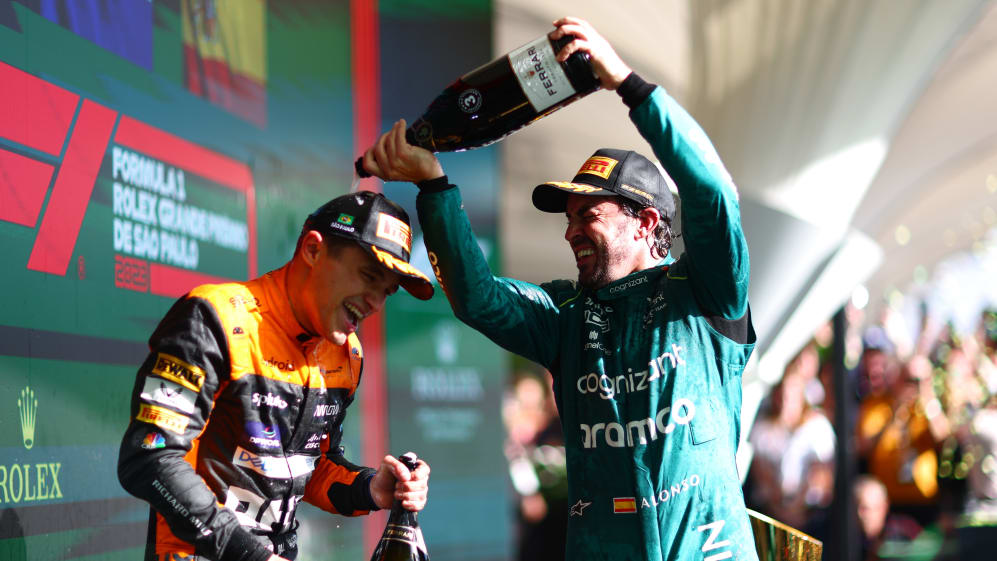 When pushed on whether he was confident of beating the Spaniard, Norris – smiling at Alonso, who was sat next to him in the press conference – answered: "Again, no idea. It depends how we do this weekend, depends how they do."
He continued: "It's not something I think of, just trying to go out and beat one driver. You just go out and do the best job you can and get the most points you can, simple as that in my eyes.
IT'S RACE WEEK: 5 storylines we're excited about ahead of the 2023 Las Vegas Grand Prix
"If we can race against each other, I think it will be something fun, something enjoyable; obviously he had a good weekend last time out in Brazil and was our next closest challenger.
"So [it's] always going to be a good fight against him, but there are plenty of other guys who are in the fight; Carlos [Sainz] is there. We will just go out and have some fun."
2023
Drivers' standings ahead of Las Vegas
POSITION
POINTS

1

Max

Verstappen

Red Bull Racing

524

2

Sergio

Perez

Red Bull Racing

258

3

Lewis

Hamilton

Mercedes

226

4

Fernando

Alonso

Aston Martin

198

5

Lando

Norris

McLaren

195

6

Carlos

Sainz

Ferrari

192

7

Charles

Leclerc

Ferrari

170

8

George

Russell

Mercedes

156

9

Oscar

Piastri

McLaren

87

10

Lance

Stroll

Aston Martin

63