Norris expects difficult race at Monza with McLaren performance 'maybe a little bit more in line with Spa'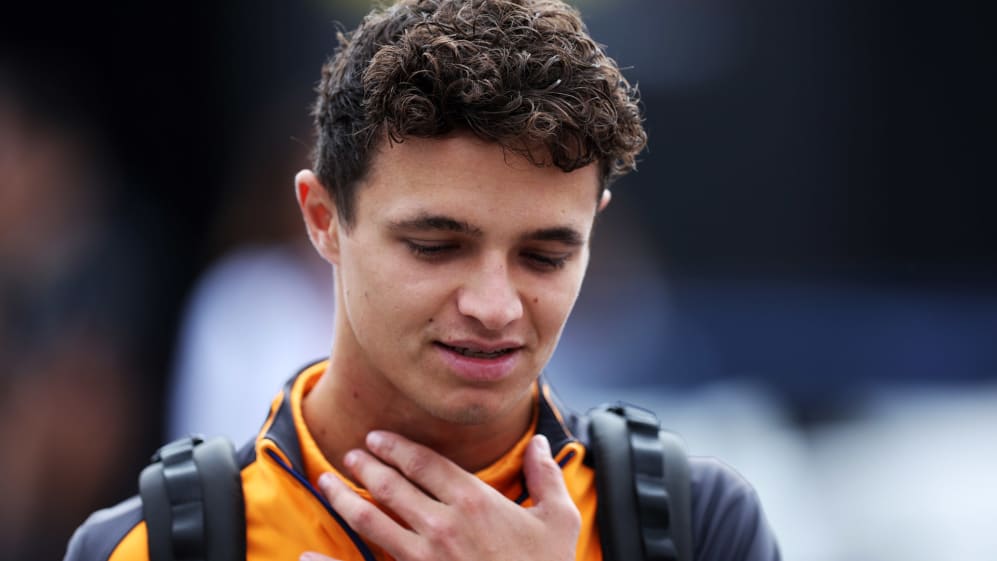 Lando Norris may have set the fourth quickest time of the first day at Monza, but the McLaren driver was not getting ahead of himself, insisting that he and the team expect their performance to be more in line with Spa – where both of their cars finished outside the top 10.
Norris enjoyed a positive second practice session at Monza, going up to P4 with a time that was 0.674s behind Carlos Sainz's timesheet-topping effort and ahead of both Mercedes and Sergio Perez. However, the Briton still said he expected McLaren to be behind their midfield rivals Alpine come Sunday afternoon.
FP2: Sainz leads Verstappen and Leclerc in second Monza practice session
"Best lap of my life today," joked Norris. "Decent day, I think, we showed good pace at times, made some good steps from FP1 to FP2; we changed quite a lot of stuff on the car. I don't want to get our hopes up, I think we're still quite a way off from where Alpine are, but on the long run we are quite a chunk off.
"Some positives here and there, but as we expected, I think a little bit coming into this weekend, not as competitive as we were in Zandvoort and Budapest and maybe a little bit more in line with Spa. We'll keep working and see what more we can bring for tomorrow."
Despite some drivers such as Carlos Sainz, Max Verstappen and Lewis Hamilton taking grid penalties on Sunday, Norris said his expectations for Sunday's race were all but unchanged.
"I think the cars that are starting at the back [with grid penalties] are also cars which are generally a lot faster than us. Ferrari, Red Bull, especially the Red Bulls, after a few laps they'll be ahead of us anyway. I don't think it's made a big difference for us, but if any opportunities arrive because of this, hopefully we're there to take it."
READ MORE: Horner explains Red Bull engine penalties at Monza as Verstappen says he's 'not worried' about Ferrari's pace
Also asked about the prospect of battling with faster cars in McLaren's mirrors was Norris' team mate Daniel Ricciardo, who said: "I'll do my best [to hold them up]; I did last year. It's funny like you can follow closer this year but you still do get affected and the slipstream is not as big.
"Some tracks have proven better for overtaking with this style of cars, and some haven't. I don't know. I don't think it will be crazy easy, they will still have to work for it, the quicker cars coming through and [we will] try and pick up a nice tow in quali somehow and jump a few more spots."
Ricciardo set the 11th quickest time in FP2 but was 10th fastest in the first practice session and the Australian – who won last year's Italian Grand Prix – pointed to the areas he believes the MCL36 differs from last season's race-winning machinery.
READ MORE: Porsche say F1 remains 'an attractive environment' after ruling out Red Bull partnership
"Last year we had some good straight-line speed, but I feel the third sector we were quick – the fast Ascari chicane and Parabolica – just kind of chucking the car in. I don't think we have that same strength this year.
"I don't think we are a step above in some of the high-speed stuff, so I feel that's where we probably don't have what we had. It's probably a little bit everywhere, but we are maybe not as far off as we thought. So, I'm more encouraged than not."