Norris focussed on race after 'messy' Friday and penalties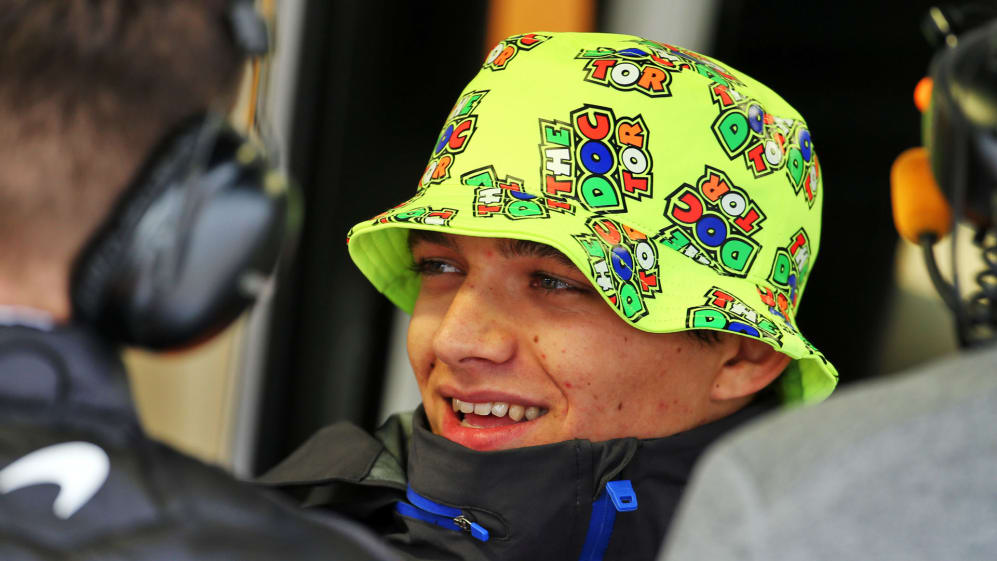 Lando Norris already knew he was going to have a difficult weekend in Italy, his move to Renault's latest power unit demoting him to the back of the grid. And after a tough opening day at Monza, the McLaren driver will now use Saturday to concentrate on optimising his race set-up.
Norris, who lost out on fifth place in Belgium last time out thanks to a late engine issue, was an encouraging third fastest behind team mate Carlos Sainz in the damp conditions of Friday's first practice, but then found himself confined to the garage for most of the second.
"We did one lap in the beginning – not even actually one lap – and then we had an oil leak, so we had to come in and fix that, and that pretty much took the majority of the session away," he explained. "I managed to get out for the last 15, 20 minutes and complete a few laps, figure out how to drive the car a little bit, but still not as many laps as I wanted.
READ MORE: Norris to honour hero Valentino Rossi with tribute helmet in Monza
"Obviously this weekend's more race-biased, so it's not like I missed out on doing qualifying laps – I went straight into some higher fuel stuff – but still, it's a quick track, you want laps, you need the confidence under braking, which the rain doesn't help.
"So it was just a messy session. Obviously not the best way to start, but hoping tomorrow we can have a bit of a cleaner day."
With his grid penalty rendering his qualifying position largely irrelevant, Norris now plans to use his Saturday running to recover his lost track time and to get his MCL34 to the point where he can, in his words, "go forward and overtake some cars" in Sunday's Grand Prix.
"Tomorrow I'll probably be doing Q1, help Carlos if I need to [with a slipstreaming tow], but probably nothing more than that," he added. "I don't know if I need to out-qualify anyone still who also has penalties – I don't really know the rules for that – but [the aim is] just to get a good feeling in FP3, on high fuel, which can set me up well for Sunday."
And how good might the McLaren be in the race? Based on what he saw of Sainz's limited dry-weather running, which put the Spaniard 12th in the FP2 times, Norris – who ended up 18th - was quietly confident of a decent level of performance.
WATCH: Spectular 360 for Sainz at Ascari
"It looked good," said the British rookie. "I need to go and speak to him – the car could still have been terrible and he just did amazing – so I'll go and see. But from his side it looked reasonably good, so I need to sit down and go through my data, go through his data and see what I can work on for tomorrow."