Norris hails McLaren progress after fourth straight podium but concedes they did not have 'enough' to win United States GP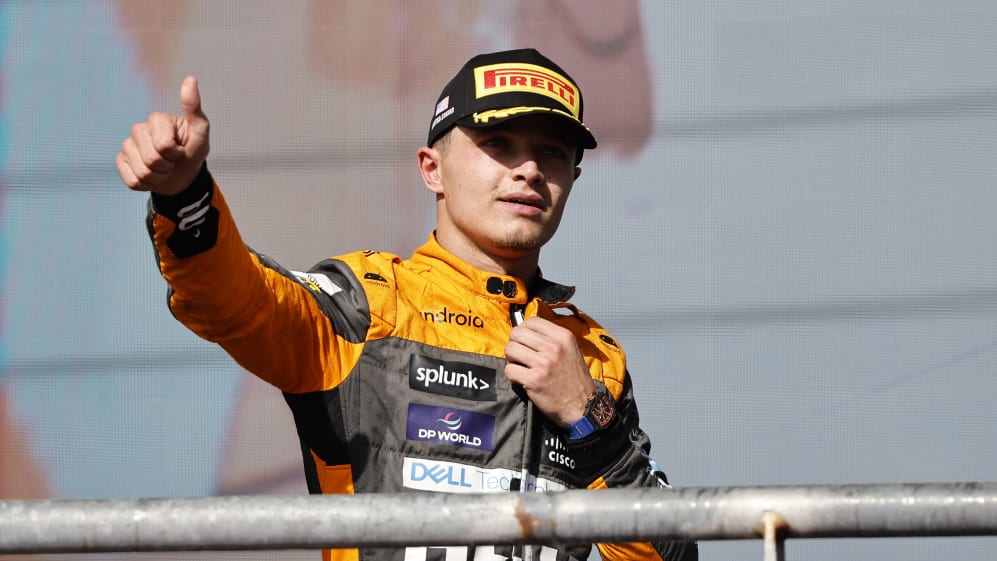 Lando Norris says McLaren are making progress but did not have enough to win this weekend's United States Grand Prix after the Briton came third – later promoted to P2 after a disqualification for Lewis Hamilton – despite having led the race for much of the afternoon.
Norris made a great getaway from second and got ahead of pole-sitter Charles Leclerc to take the lead on the opening lap. He led for the majority of the first half of the race before eventual race-winner Max Verstappen breezed past.
READ MORE: Verstappen holds off charging Hamilton to claim 50th F1 victory at the United States GP
The McLaren driver looked to be hanging on to the three-time world champion, but lost ground as the race wore on, before Lewis Hamilton on fresh medium tyres came racing past for second place.
Norris was able to hold on for third – his fourth podium in a row – but was later promoted to second following Hamilton's disqualification for a technical infringement. Reflecting on his performance in Austin, Norris said: "[I was] leading the race, I could control it a lot, but just not enough today.
"But I'm happy, it was a good race from my side. We knew our struggles; we knew what was going to be difficult today and it was just the degradation.
"But the pace over the first 10 laps of every stint, the pace in the beginning was strong. I just couldn't hold on long enough. We are getting there, progress, progress every weekend, just some more steps needed."
Norris put up a staunch defence to try and keep Hamilton behind when the two went wheel to wheel late in the affair. When asked about the battle with his compatriot, Norris said: "I mean I had to try right? But I just couldn't do it.
READ MORE: Leclerc left ruing 'wrong' strategy prediction after slipping from first to sixth in United States GP
"I didn't have enough tyres left at the end. You saw how quickly he pulled away at the end. I also had to look after my own race. I did the best that I could. I had to push and look after the tyres, and it was too difficult today.
"Maybe if it was a cooler track, it would have suited us a little bit more, but it wasn't. But I'm still happy, the team have done an excellent job. To finish on the podium here was better than we were expecting coming into the weekend, so very happy."
His team mate, Oscar Piastri, had an eventful but short outing in Austin, as he started 10th but made his way up to sixth on the first lap. However, on his way up the field he collided with the Alpine of Esteban Ocon at Turn 1.
Ocon retired a few laps later with terminal damage from the incident, while McLaren called Piastri in not long after to park his radiator-harmed MCL60 in the garage. However, speaking after jumping out of the cockpit, the Australian could not confirm what caused the issue.
FACTS AND STATS: Verstappen joins exclusive 50-wins club as Norris closes on Heidfeld record
"[I] just went round the outside," said Piastri as explained what happened at the start. "I don't know if [Ocon] had a bit of a moment on the bump or whatever, just a bit of contact on the exit and I think it must've broken one of the radiators or maybe it was an isolated problem, I'm not sure, but something on the right side of the car broke."
After scoring two consecutive podiums – in Japan and Qatar – as well as a Sprint victory in Lusail, Piastri endured a difficult weekend, as he failed to score a point across the Sprint and the race.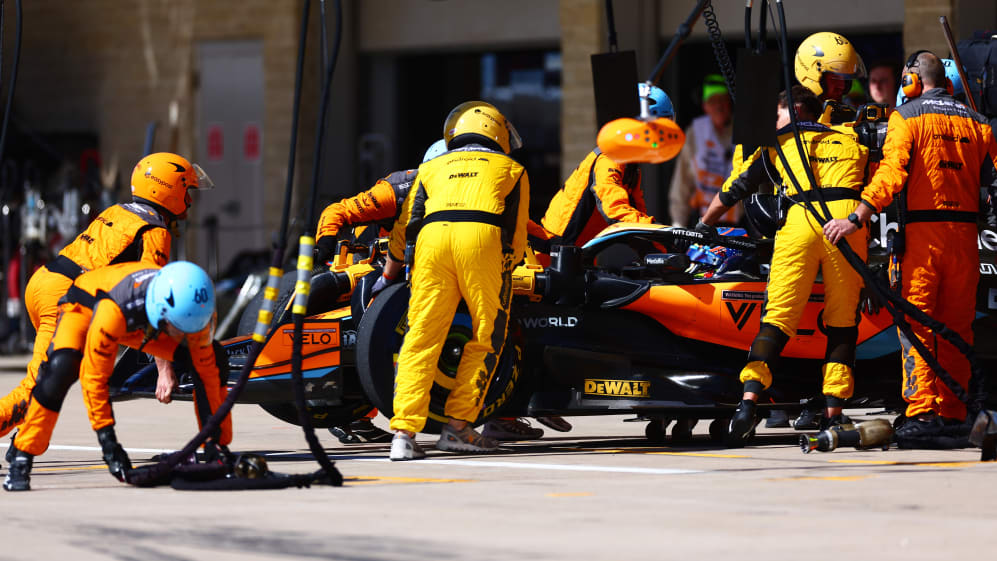 Reflecting on the weekend as a whole he said: "Definitely not one of my best weekends. I think [the Sprint] was clearly not very strong. I think today was looking a fair bit better but still some things to try and work and improve.
"I think I was improving throughout the weekend; I think around here it's so tricky to get it all together. So, character building weekend but these are the kind of weekends that are very important in my first season. So, definitely try and learn what I can."