Norris hails 'outstanding' progress as McLaren claim their first double podium of the season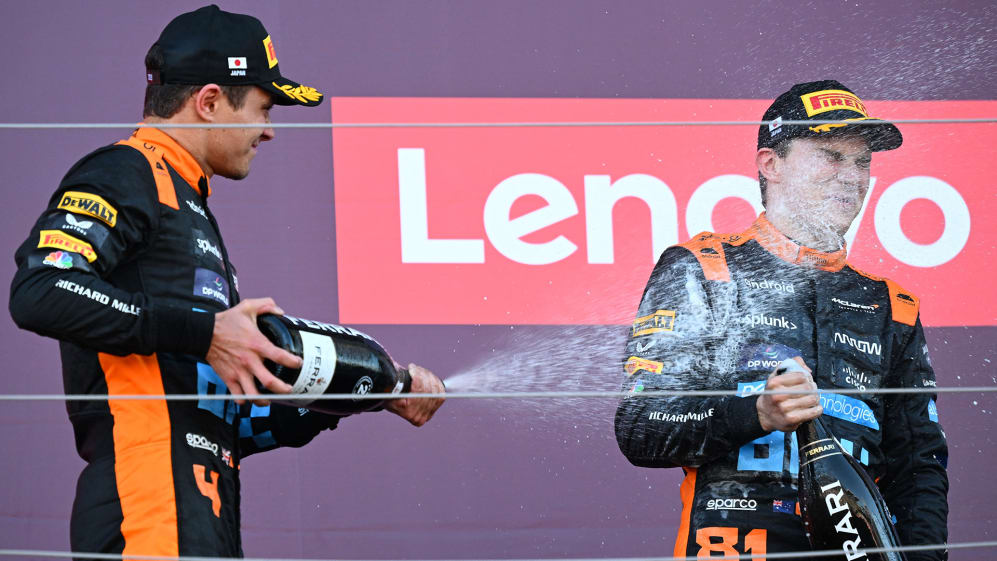 Lando Norris is confident that McLaren are "getting there" in their quest to dethrone Red Bull after he and team mate Oscar Piastri followed Max Verstappen home in the Japanese Grand Prix.
Piastri and Norris lined up second and third for Sunday's race and attacked Verstappen as the lights went out, with the Australian having a look on the inside line and the Briton attempting a move around the outside of Turn 1.
READ MORE: Verstappen dominates for Japanese GP victory as Red Bull secure back-to-back constructors' titles
After narrowly missing out, Norris settled into P2 and Piastri into P3. Their positions changed when Piastri pitted under a Virtual Safety Car, but Norris' strong pace after his own stop prompted McLaren to swap the pair around.
Crossing the line just under 20 seconds behind Verstappen, Norris said afterwards: "Another amazing day for us. A P2 and P3, so we couldn't have asked for anymore.
"My start was very good, I almost had Max, but Max is Max, so I didn't have a lot of chance into Turn 2. I tried, but the pace was extremely strong today, comparing to everyone.
"We are not close to Max, but we are not miles away either, so it was a very good day, and also for Oscar, it was his first podium in F1, so congrats to him."
READ MORE: 'I'm very proud of everyone' – Verstappen overjoyed as Suzuka win seals constructors' crown for Red Bull
Asked if he feels McLaren are getting closer and closer to the front, having now claimed back-to-back P2 finishes, he said: "We are pushing, we are getting there. The progress we've made is pretty outstanding.
"Like I said, I'm very proud of the team, the steps forward we are making every weekend. I'm sure there is going to be some tough times again, but we are getting there, step-by-step."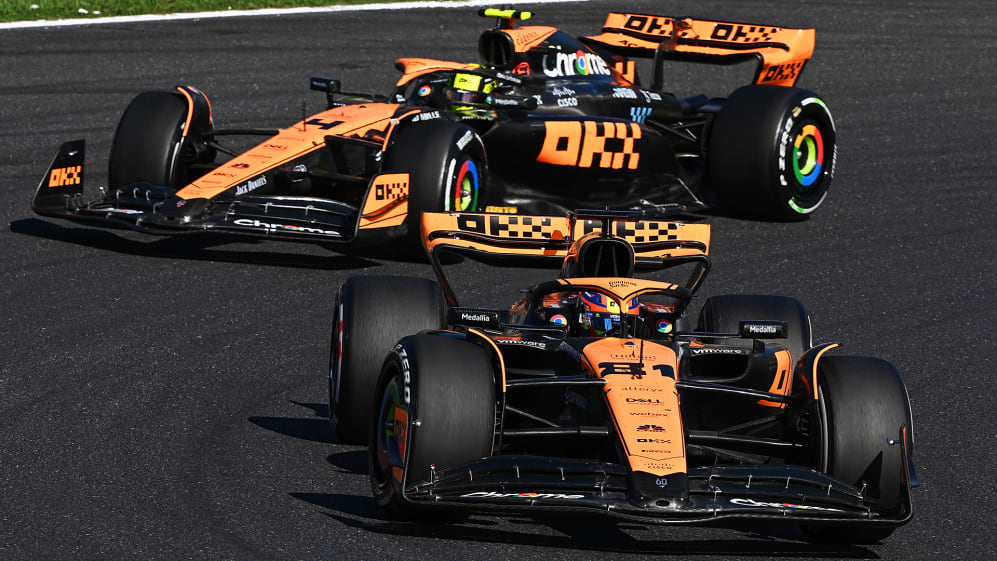 Piastri wound up 17 seconds further back but was nonetheless delighted to record his first podium finish in a Grand Prix – following on from his P2 finish in the Belgium Sprint race earlier this year.
"It feels pretty special, definitely," he commented. "I'll remember it for a very long time. I can't thank the team enough for giving me this opportunity.
AS IT HAPPENED: Follow all the action from the 2023 Japanese Grand Prix
"There's not many people in the world that get this opportunity in their whole life, and I've managed to have in my first season. It wasn't my best race ever, but it was enough to get a trophy at the end, so I'm super happy.
"In the second half of the race, I got more into a groove, more into a rhythm, and the pace was a bit better, so I'm very, very happy and excited to try and get some more."