'I'm very proud of everyone' – Verstappen overjoyed as Suzuka win seals constructors' crown for Red Bull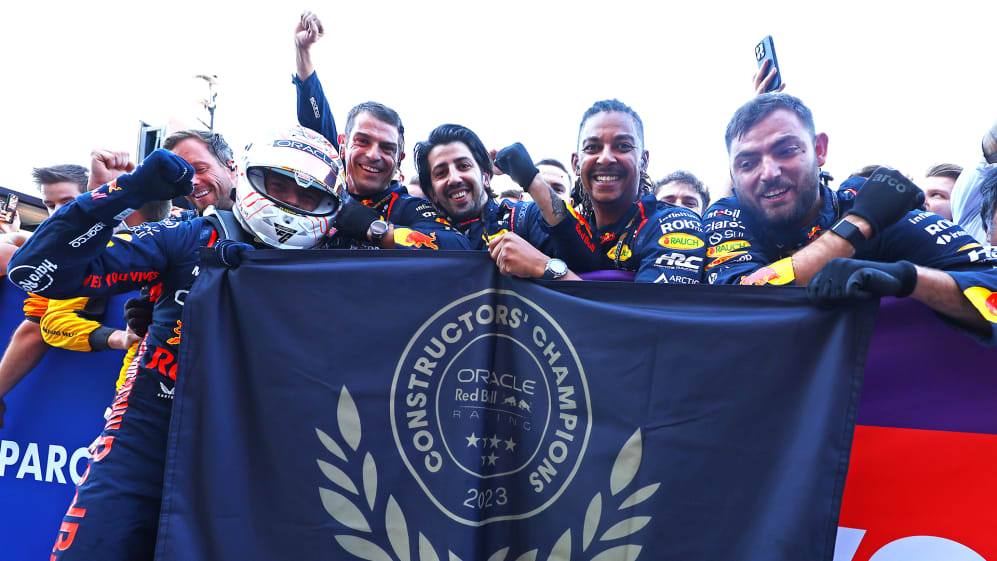 Max Verstappen expressed his pride at Red Bull's workforce after his dominant victory in Sunday's Japanese Grand Prix secured a second consecutive constructors' title for the team.
Verstappen survived an attack from McLaren pair Lando Norris and Oscar Piastri at the start of the race before taking control of proceedings and pulling almost 20 seconds clear.
READ MORE: Verstappen dominates for Japanese GP victory as Red Bull secure back-to-back constructors' titles
The result put the constructors' championship mathematically out of reach of Red Bull's nearest rivals, Mercedes and Ferrari, while giving Verstappen his first chance of winning the drivers' title in Qatar next time out.
"It's an unbelievable weekend," said Verstappen after jumping out of the car. "To win here was great. I think the car was working really well on every [tyre] compound.
"But of course, the most important was also to win the constructors'. I'm very proud of everyone working at the track but also back at the factory. We're having an incredible year."
Asked if there were any moments of concern, he added: "Only the start, probably a bit too much wheel spin, but after that it was quite a straightforward race luckily."
DRIVER OF THE DAY: Piastri impresses in Japan with first F1 podium
While Verstappen enjoyed a dream race, it was a nightmare for team mate Sergio Perez, who was caught up in a first-lap incident with Mercedes' Lewis Hamilton, picked up a penalty for breaching the Safety Car regulations and then another sanction for clashing with Haas rival Kevin Magnussen.
Perez retired from the action due to the damage sustained, despite fitting two new front wings, but made a late, brief reappearance to serve his penalties and ensure that no punishments will be hanging over him at the Lusail International Circuit next time out.
"It was just a disastrous weekend," Perez lamented. "It all started into Turn 1 with a really bad start. I was squeezed and was just a passenger there, in a sandwich. I think we carried a lot of damage in the car as well and that just made it a lot harder for us."
He did, though, draw some positivity from Red Bull's championship triumph, saying: "It's been an incredible year. I'm really happy to contribute to the constructors'. It's a very special day for the whole team, to finally clinch that constructors' title.
AS IT HAPPENED: Follow all the action from the 2023 Japanese Grand Prix
"It's been a tremendous year so far, the team has done an amazing job. It would have been really nice to clinch the championship with a one-two finish, but anyway it is what it is."