Norris hoping Singapore GP 'most difficult race in the history of F1 to overtake at' after claiming P6 on the grid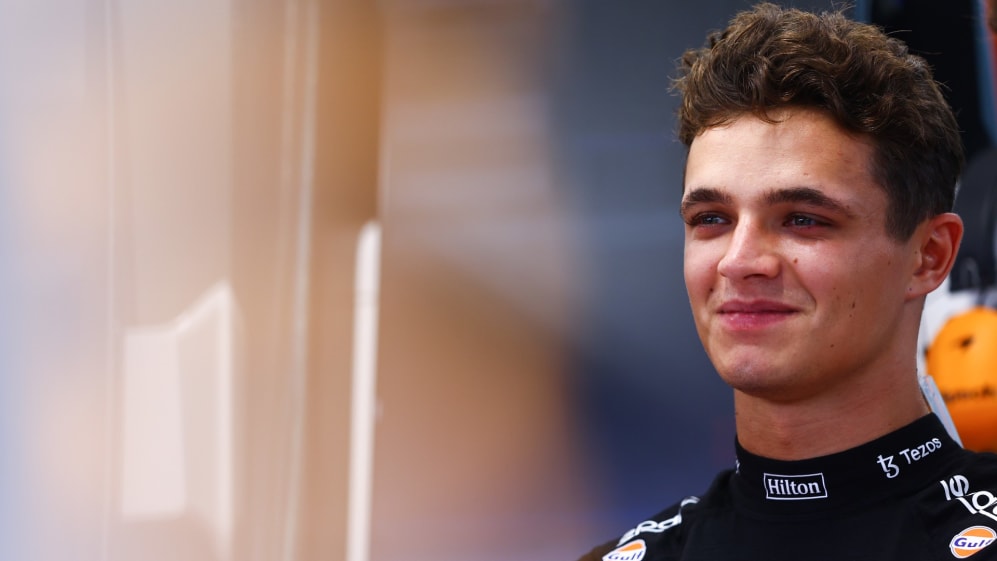 Lando Norris was delighted after qualifying in a "rewarding" sixth position for tomorrow's Singapore Grand Prix – the Briton hoping to keep cars behind him, as team mate Daniel Ricciardo rued being knocked out in Q1.
Norris qualified in the top six for the first since the Hungary – where he started in fourth – setting a time that was 1.172s behind pole-sitter Charles Leclerc. However, the Briton was at one stage on the brink of an early exit after making it into Q2 by under a tenth over Valtteri Bottas in 16th.
When asked how he was able to improve his performance from Q1 to Q3, Norris compared his Singapore showing to his maiden pole position in Sochi in 2021, saying: "It's just the conditions. I don't think we were necessarily that quick today, it's just these conditions I enjoy; I always perform well in these conditions, a little bit like Russia last year.
READ MORE: Leclerc claims pole position by 0.022s from Perez in stunning wet-dry Singapore qualifying as Verstappen takes P8
"When it's wet and you're on slicks, qualifying in Q3, you have to take risks, but you also don't want to take too much. It's such a fine line between being in the wall and completing a good lap so it's so tough but very rewarding at the same time and today was rewarding, so P6 was very good."
Looking ahead to tomorrow's Grand Prix, Norris joked that he was hoping for a static race, as while he does not expect to challenge the drivers ahead, he retained hope that the tight nature of the Marina Bay Street Circuit would make it difficult for him to be overtaken.
READ MORE: 'I'm here to win' – Pole-sitter Leclerc eager to banish 'frustrating' Singapore memories on Sunday
"I hope it's the most difficult race ever in the history of Formula 1 to overtake at, that would be a very good race for me tomorrow!" Norris joked. "I have no idea. I've not done so much following at all, so I don't know if it's going to be a lot better.
"It's always tough to overtake, it still is going to be tough to overtake; there is only one overtaking opportunity here, so I doubt I am going to be looking at cars ahead, hopefully I am just looking at some empty track and I'll be happy with that."
Team mate Daniel Ricciardo was knocked out in Q1 for the second time in the last three races – after qualifying in 17th at Zandvoort. Ricciardo later revealed that the damp nature of the circuit made it difficult for him to unleash the changes the team had made on Friday night
"Yesterday was certainly a struggle, no denying that. So, we made a lot of changes overnight and obviously very different conditions today but getting out into FP3 I felt actually we were in a more reasonable spot," said Ricciardo.
READ MORE: Hamilton says P3 in Singapore 'incredibly rewarding', as Russell left 'bitterly disappointed' with Q2 exit
"I felt like we were good enough to fight for whatever, the top 10 or thereabouts. So, like back in a respectable spot let's say. So then we basically just sent it for qualifying, obviously the track dried a bit, but otherwise not really much else, and just in those conditions especially as the track dried more and more I could just feel that we could not extract much more lap time."
McLaren head into the Singapore Grand Prix looking to close down the 18-point gap to rivals Alpine in the constructors' standings.