Norris left to rue extra pit stop as 'incredible pace' nets McLaren double-points finish in Monaco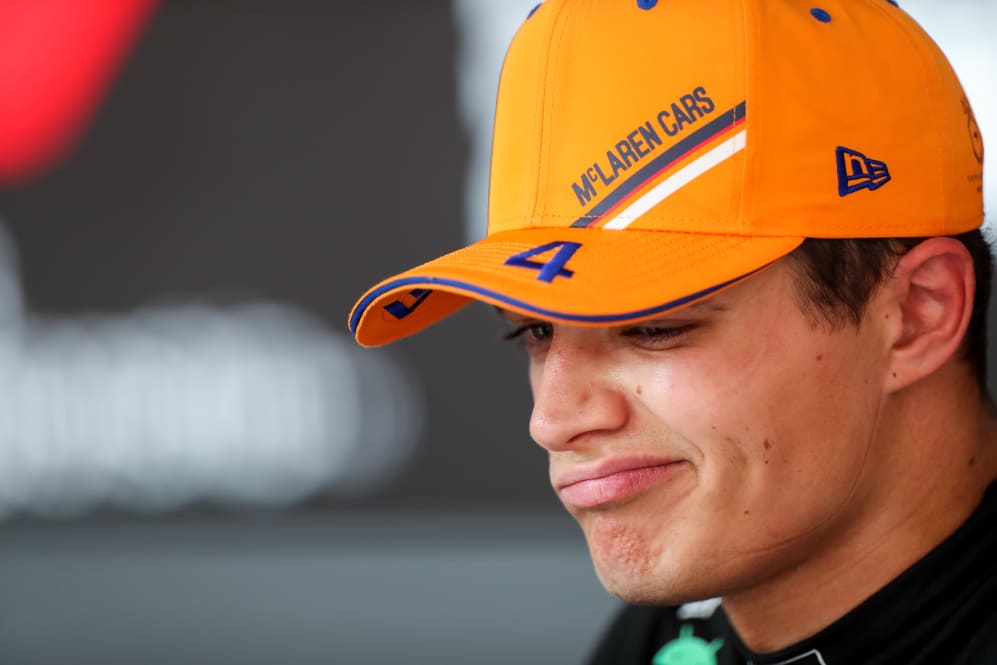 Lando Norris felt a top-five finish slipped through his fingers during Sunday's Monaco Grand Prix, having pitted for a fresh set of slick tyres just before rain arrived and forced him back in for intermediates.
Norris swapped his starting set of medium tyres for hards on Lap 50 of 78 but stopped again just four tours later due to initial drops of rain at certain corners intensifying and spreading to cover the entire circuit.
READ MORE: McLaren share progress across several key areas in latest sustainability report
Without the setback, Norris reckons he could have mixed it with the Mercedes and Ferrari cars ahead, but ultimately had to settle for ninth position as he reached the chequered flag, backed up by team mate Oscar Piastri in 10th.
Asked about making the right decisions at the right time, and whether he and McLaren did so, Norris plainly replied: "Nope. We just shouldn't have boxed for the hard tyre. I guess I'm talking in hindsight.
"With the information that I was given, which was that it was not going to rain a lot at all, I was happy with boxing onto the hard, but it rained a hell of a lot more. I don't know, we just didn't read the conditions right or something.
"I don't know what it was, maybe I should have questioned it more… It's hard to say, we'll review it all. We maybe lost 30 seconds from doing the pit stops, and 30 seconds easily would have put me P5 or something."
Norris and Piastri cleared AlphaTauri's Yuki Tsunoda in the closing laps to move into their P9 and P10 finishing positions, with the McLarens – and particularly the Briton – coming alive amid the mixed weather conditions.
TECH TUESDAY: McLaren's aggressive solutions to the challenges of 2023
"The pace on the intermediate was incredible," Norris continued. "I caught Max [Verstappen, who had lapped Norris] very quickly, I was quite surprised. I'm sure when you're leading a race it's a bit of a different feeling than when you're in P9 or something, but yeah, we were quite easily the quickest on track.
"I hate the conditions, because it's just so scary, and I feel like I'm going to crash every single corner, every lap, but at the same time, we were quick so I enjoy it. It's a lot more difficult than you can imagine, it's so difficult, but I do enjoy it at the same time."
On the other side of the McLaren garage, Piastri moved straight from hards to intermediates as the rain fell and cleared Norris during the flurry of pit lane activity, but could not keep his team mate behind on the final run to the finish.
"I think starting from 11th, getting into the points is a good effort around Monaco," he said. "I think we executed the race very well. We started on the hards and then [went] onto the inters I think at the right time as well, and just communicating very well on that. I'm happy with that, to get a point on my first Monaco weekend – very happy.
"On the inters I think we were both quite quick, obviously Lando was very, very quick, especially at the start of the inter stint. Other teams had good days as well, but no, [I'm] confident that we can try and make some progress from there.
READ MORE: Norris highlights where Piastri differs to Ricciardo and says he's being 'pushed more' by his new team mate
"To have both of us in the points is always a good result, especially with sort of the top four teams as quick as they are... When you can get both of us in the points, it's always a good day."
Alpine's podium finish and P7 result with Esteban Ocon and Pierre Gasly respectively saw the French team jump ahead of McLaren in the constructors' standings, with the latter now sitting sixth overall on 17 points.