Norris reckons P4 on grid was possible as he sets sights on picking off Gasly in Hungarian GP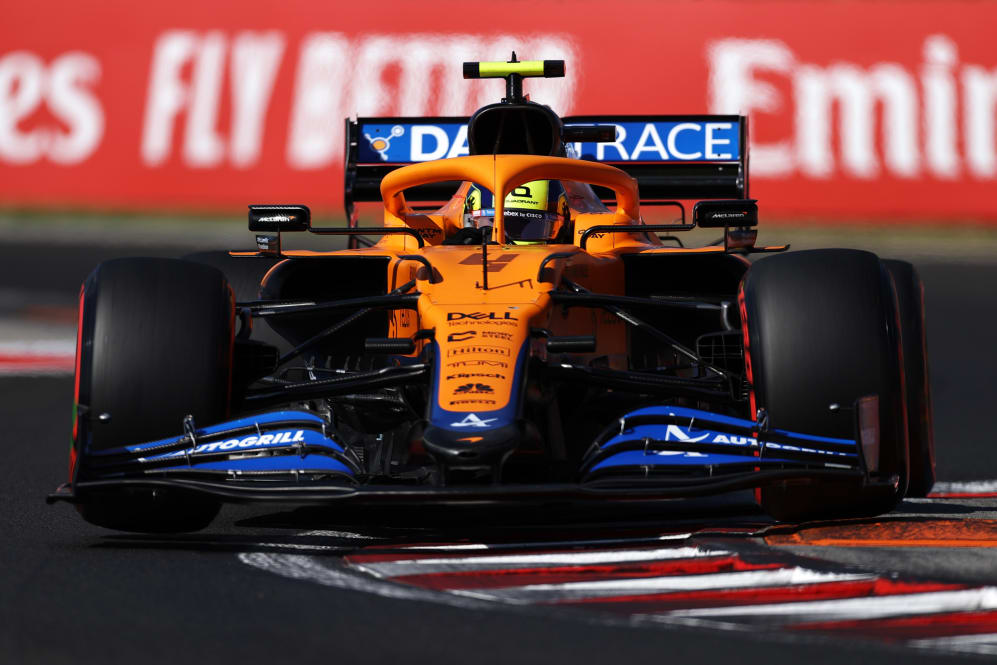 Lando Norris's fine run of form continues as secured his highest ever start at the Hungaroring with sixth - but it's a measure of how far he's come that the McLaren driver was left wanting more.
And it's easy to see why. The Briton's best lap was just 0.068s off Sergio Perez in fourth, with fourth through to seventh separated by a mere 0.075s.
"We could've done a little bit better," said Norris, who outqualified team mate Daniel Ricciardo for the seventh successive race. "Fourth or fifth was possible today.
READ MORE: Hamilton roars to Hungary pole, as Bottas denies Verstappen front-row start
"I am not unhappy because I think we are ahead of a lot of people we did not think we would be, mainly the Ferraris. It was a small chance because it was so close to fourth and fifth place, and that we could have been ahead of them. I'm not super happy but happy enough."
Norris added that the team made a "mistake" heading out on an extra run in Q1, putting a lap on the tyres "when we didn't need to do".
He added: "We put an outlap on the tyres, and when you're talking a quarter tenth gap to the people around, the chance of me having two perfect new sets of tyres, I want to say is half a tenth."
Our data suggests McLaren rank third in terms of race pace, based on Friday's data, behind Red Bull and Mercedes – but it's notoriously difficult to pass in Hungary, while the warm conditions could make it tricky with the tyres.
READ MORE: Verstappen explains why he's gone for the opposite strategy to Mercedes – and why he's fed up with questions about racing Hamilton
With that in mind, Norris is keeping his expectations in check – but he feels beating Pierre Gasly in fifth is feasible.
"We will just have to take our time and see," he said. "There are not many things you can do on this track because it is so difficult to overtake. We just make sure we keep concentrating and don't make any silly mistakes, and I think we can still score some good points.
"There is also a chance with the strategy to be ahead of one or two people, at least Pierre, so we will look into it tonight and see what we can do."
McLaren ran a host of upgrades in Friday practice, which is useful data gathering for the future but slightly compromises the weekend's preparations.
"It has not been the best car to drive all weekend," added Norris. "Of course we tried a lot of different things and we are still learning things for the rest of the season. For sure now if we try something a little bit different on the car, then they want to know if it is better or worse.
"So they are finding things out for now and also for the future. We had the best package we could today. Team are doing a good job and we are working hard."