Verstappen explains why he's gone for the opposite strategy to Mercedes – and why he's fed up with questions about racing Hamilton
Max Verstappen will start the Hungarian Grand Prix from third, behind the Mercedes duo, and on soft tyres to their mediums – so while he may have the advantage at the start of Sunday's race, he says he's done answering questions about what might happen if he and Lewis Hamilton go wheel-to-wheel once the lights go out…
Verstappen missed out on pole position in Hungary on Saturday as he finished third in qualifying with title rival Lewis Hamilton taking a 101st pole position and Valtteri Bottas taking second on the grid. However, both Silver Arrows will start on medium tyres while Verstappen set his Q2 flying effort on softs – meaning he will start on that same rubber. So why the differing strategy?
READ MORE: QUALIFYING: Hamilton roars to Hungary pole, as Bottas denies Verstappen front-row start
"It's just because the others were on the softs and they were improving their lap times," he said. "My lap time on the medium would really have been on the edge for a top-10 and that's why we decided to finish the lap [on soft tyres in Q2].
"At the end of the day it would have been safe to go through but only by two- or three-hundredths so I don't think you want to risk it that much, and that's why they told me to finish the lap. It is what it is; we'll find out tomorrow how the tyres are going to behave," he added.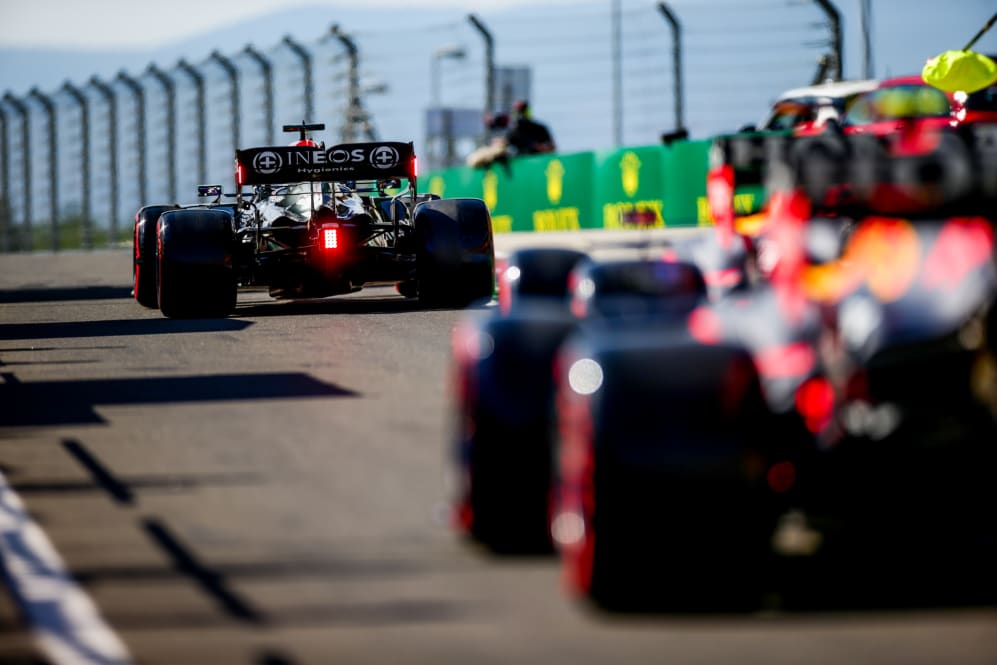 Those soft tyres could give the Dutchman an advantage at the start in Hungary and as he starts behind Hamilton, it means we could see another thrilling wheel-to-wheel battle between the pair. But after their Lap 1 clash with Hamilton at Silverstone, Verstappen was quick to shut down any questions about what might happen on Sunday if they find themselves together on the race track.
WATCH: Horner and Wolff face the press to discuss THAT Silverstone clash, Red Bull's unsuccessful appeal and more
He said in the post-qualifying press conference: "Can we just already stop about this because we had so many ******* questions about this. It's just ridiculous, honestly.
"Honestly, the whole Thursday, we've been answering this stupid ******* all the time, so can we just stop about it, please? We are racers, we will race but of course we are going to race hard but fair, so we are just going to keep pushing each other," he concluded.
The Dutchman is eight points ahead of Hamilton going into Sunday's Grand Prix – but who will come out on top in this intensely intriguing championship battle before the summer break?