Norris says he will 'pay the price' for using softs to reach Q3 as angry Ricciardo rues damage in qualifying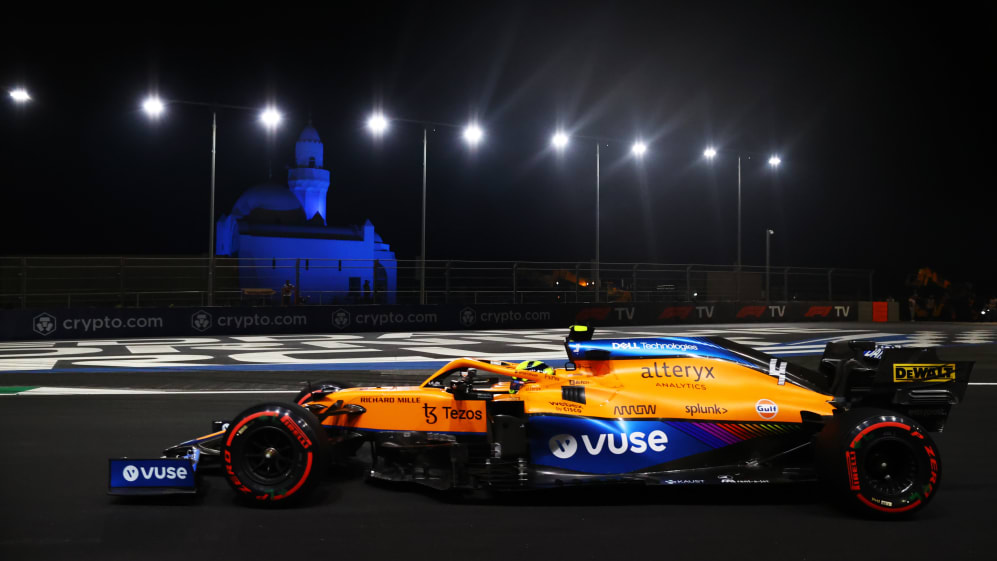 McLaren left Saturday's Saudi Arabian qualifying session wondering what could have been after Daniel Ricciardo took P11 on the grid and team mate Lando Norris qualified seventh, having used soft tyres to progress through Q2 – and with both drivers having their reasons to be frustrated in Jeddah.
Norris made it to Q3 while his team mate was left eliminated from Q2, but the Briton used the faster, less durable soft compounds to reach the top 10 shootout. As a result, he was left looking ahead to a difficult Grand Prix on Sunday that will see him on a contrary strategy to most, if not all, of the other drivers on the grid.
READ MORE: 'Max would have been ahead' says Hamilton, as title rival's qualifying crash hands him crucial Jeddah pole
"It's going to be very tricky, especially because I'm the only one on soft tyres," said Norris, "so it's going to be a difficult one, but I just thought I'd make my race even more difficult. Why not?" he joked.
"We wanted to go through on the medium. It's just risky. It obviously didn't work out for Danny, so that could have been us... if I didn't put a good lap in on the medium. So we decided to go for the safer option; go with the softs, which we'll pay the price for tomorrow, but it also put us three or four positions higher.
"But it's tough," added Norris of the all-new Jeddah Corniche Circuit. "It's super fun, it's nice to get out there and try and find every bit of lap time and take those risks and play with fire like that… Just, not happy with quali."
Ricciardo, who starts 11th alongside P10 qualifier Antonio Giovinazzi, said that he had the pace for far more on Saturday night and revealed that he picked up damage that cost him significant time in his final run of Q2.
"We damaged the car on the kerb the last run, the last lap, and then the floor was just dragging on the straights, so I lost, I don't know, tenths – lots of lap time," said the Australian. "It's a kerb I have used this weekend and... I can't help but feel unlucky right now. So it's pretty frustrating.
READ MORE: Hamilton snatches pole as Verstappen crashes in thrilling Saudi Arabian GP qualifying
"So we were easily through [to Q3] and I think we were fast," added Ricciardo, whose Q1 lap time would have been good enough for P5 in Q2. "We made some good set-up changes from P3 to quali. I'll obviously take some responsibility, like maybe I tried to use an extra inch, but in saying that… it was such a small thing, it hurts to be penalised that much.
"So I am just frustrated for everyone because we truly did make a really good step and I think we would have been very, very competitive in Q3," he surmised.
Ricciardo's frustration was all the more understandable given McLaren have scored just four points in the past three races, allowing rivals for P3 Ferrari to move 39.5 points clear of them in the constructors' – with Ricciardo himself now not having scored since Austin.