Norris says he's 'playing catch-up' to Ricciardo after McLaren test new upgrades in French GP practice
McLaren's Lando Norris and Daniel Ricciardo had mixed feelings about the team's new upgrades in France, neither driver going as far as saying the parts will drastically change McLaren's fortunes…
Among their upgrades for France, McLaren brought a new rear wing, engine cover and sidepods, giving the package to Ricciardo in FP1 before Norris took them in FP2. The Briton finished seventh in the first session and sixth in the second – though he said he had to change his approach to driving the car with the upgrades attached.
FP2: Sainz leads Ferrari team mate Leclerc by 0.1s in second French GP practice session
"It's not as much as what I would dream of but yes, I don't think we expected a lot of it," said Norris of the update. "We expected a small step and it's still too early to say. I've just driven it and things feel different – some things a little bit better and some things we have to optimise and figure out. But yes, reasonable.
"Daniel had it this morning for FP1, so he's understood a little bit more. For me, I've still got to figure out how to drive the car because it's a little bit different in that regard. I guess I'm playing a little bit of catch-up and trying to understand that compared to Daniel, but at the same time it's been good, we've been able to compare data easily today because we chose that strategy of me not having it, him having it, and therefore we can look at the data tonight and extract more performance for tomorrow."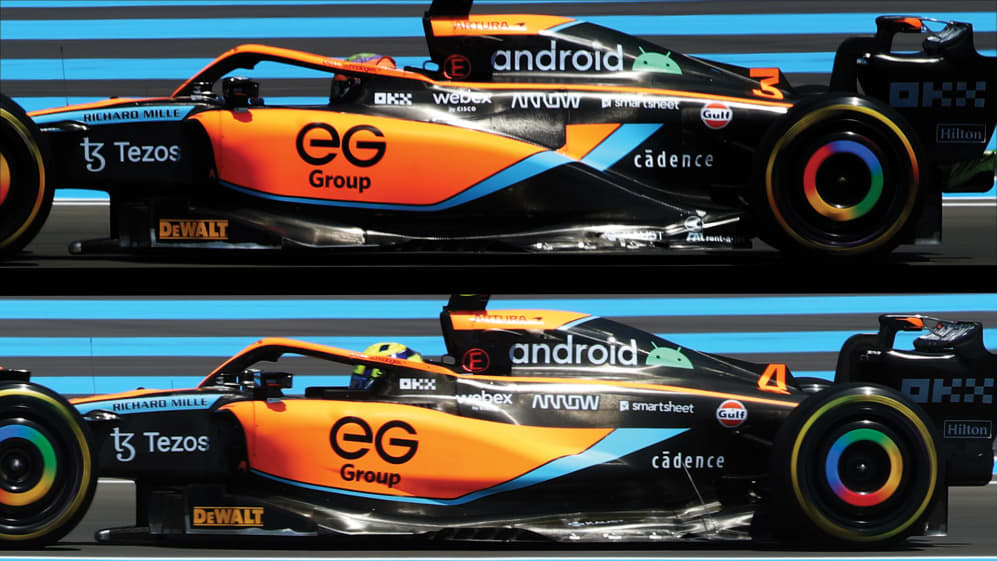 Norris refrained from divulging how different the car felt to drive, but explained: "Just the slight feeling you get behind the wheel, you know? You're so sensitive, you get so used to things, as soon as something feels just a little bit off, you have to figure out why that's happening, what it's doing, what the reasoning is for it and how to overcome it and maximise it again.
"It's nothing good or bad, it's just the limitation of the car is in different places throughout the corner and therefore you've got to adapt yourself to that."
READ MORE: Verstappen says Friday French GP practice sessions were 'very difficult' as Perez reveals issue that cost him in FP2
Ricciardo, who ran the parts in FP1 and finished 10th before taking P9 in FP2, said he wasn't quite sure where McLaren stand after bringing their new package to France – and that there's a lot of work ahead to optimise the car.
"[The parts] look different, don't they? Yes, you feel it, but it's also, we haven't driven on this track yet as well with these cars so the reference [is] to another track, so I do feel some differences but it's not like a back-to-back test if you will," said Ricciardo.
READ MORE: 'There's unfinished business' – Why Daniel Ricciardo looks like a man on a mission ahead of the French Grand Prix
"I think in the afternoon we made a bit of progress so that was better but I think there's more to get out of it, so we'll do some homework tonight – usual Friday night – but I think everything ran fairly smooth today so we got plenty of laps in and it wasn't too hot in the car actually – it felt okay.
"On the long runs, I'm not really sure where we stand yet, I haven't had a good look at that. I think I'm more worried about getting everything sorted from a set-up point of view and trying to understand that better after having had a whole day of running…"
McLaren are level with home team Alpine on 81 points in the battle for P4 in the standings at Paul Ricard.