Feature F1 Unlocked
PALMER: After another crash in Miami, 'win-or-bust' Leclerc needs to reset his expectations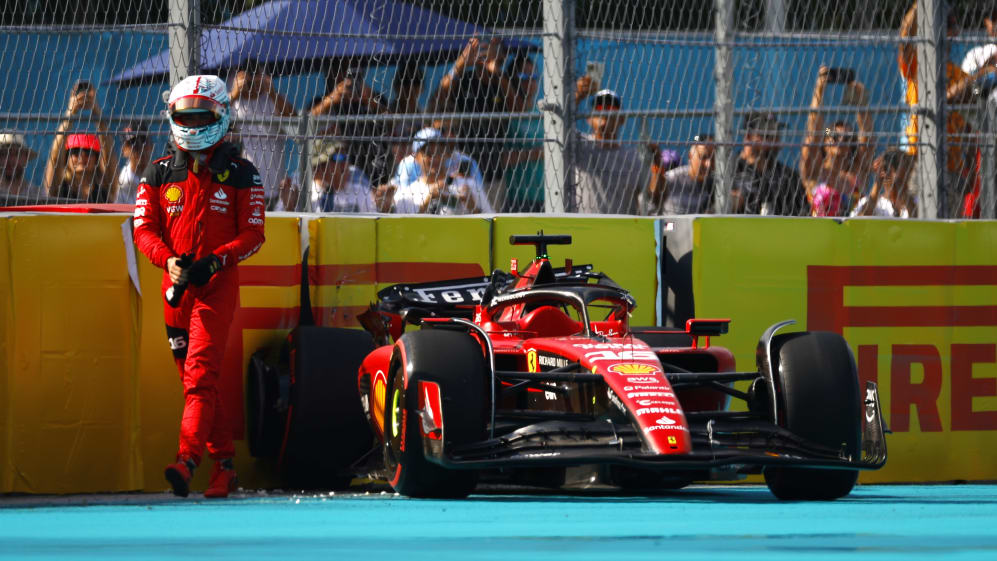 Charles Leclerc had a difficult weekend in Miami, crashing in practice, and again in qualifying, before having a lacklustre race to finish where he started in seventh.
It's been a tricky start to the season for the Ferrari driver who was fighting for the championship this time last year, barely putting a foot wrong. This season is unravelling quickly for him with only 34 points to his name, most of which were scored in the Baku Sprint weekend last time out.
It's the level of incident that has raised eyebrows. I still think he is the fastest man in the field when it comes down to one lap, and he showed that with his brilliant double pole in Baku. Yet too often it ends in tears for the Monegasque driver, who has only enhanced his growing reputation as a win-or-bust driver in the last couple of weeks.
In Miami, his two crashes were at the same corner, but were very different in nature.
TECH TUESDAY: How Ferrari tried to tame their SF-23 with new floor upgrades in Miami
In FP2, he was on a long run when he lost control of his Ferrari halfway around the long 180-degree Turn 6/7/8 left-hander. He carried a little too much speed in and with the car already on the edge of rear grip was downshifting and turning, which seemed to unsettle the car and pitch him into an oversteer which ended up causing the crash.
It always feels a bit needless for a team to see their driver crash in the practice long runs. These runs are about getting a feel for the tyres, measuring the limitations for the Grand Prix, whilst giving the drivers a chance to get their eye in on high fuel and work out tips and tricks they can do from the cockpit to help come race day.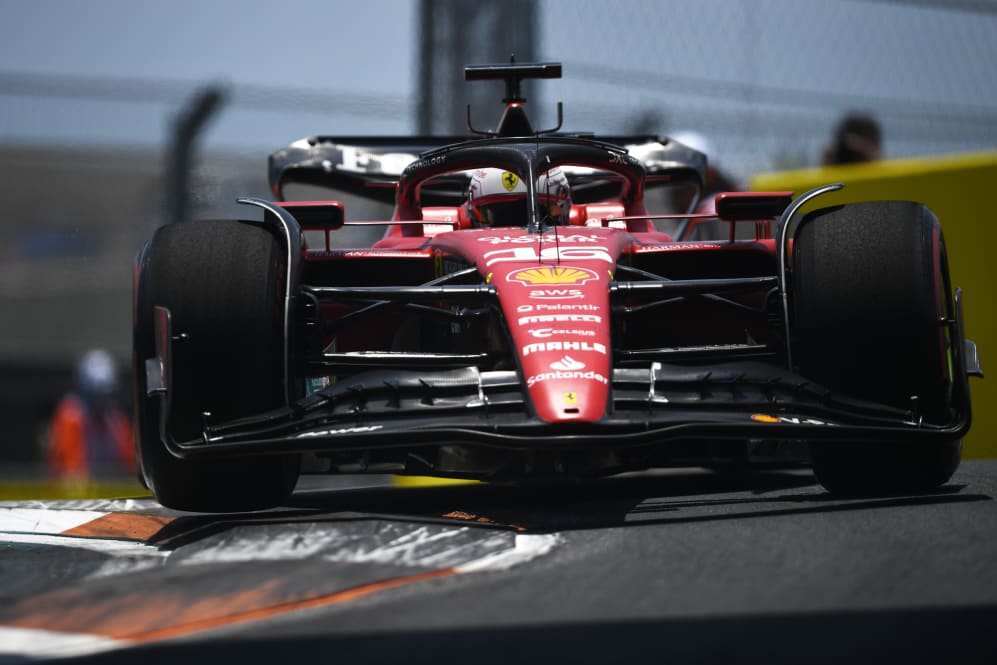 There's not quite the necessity to push for the last tenth of a second as there is on a quali simulation run, so it's always frustrating to end the day with significant damage.
In qualifying it was more the do-or-die Leclerc we're growing used to. His pace was fairly on par with team mate Carlos Sainz through the weekend and both Ferraris looked to be battling for a place in the top three.
READ MORE: 'We are very, very far away' – Sainz and Leclerc exasperated by 'incredibly difficult' Ferrari SF-23
Leclerc made his first mistake on run one of Q3, pushing the braking too late into Turn 17 and costing himself the lap by going offline on the tricky Miami surface. These mistakes happen from time to time – we saw plenty of lock-ups and missed apexes at that corner particularly throughout the weekend.
The bigger error, which compounded the misery, was on the next lap. Ferrari did the right thing sending Leclerc early for his second run to give him a clear track for a final push, but Charles was guilty of overdriving, searching for time that wasn't there. He was already marginally down on his previous lap by the time he got to Turn 6 and was walloping the kerbs through the preceding S-bends, desperately trying to make a difference.
At Turn 6, he was too greedy on the apex and, barrelling in at tremendous speed over the bumpy surface, he bottomed out and lost the rear, hitting the wall and consigning himself to a lowly seventh on the grid.
For such a talented driver, it's fair to say he makes a lot of mistakes. We've seen it all the way back from his first season at Ferrari in 2019, crashing out in Baku in Q2 needlessly when pole was on the cards, and admonishing himself with the infamous "I am stupid" radio message to his team (as you can see in the clip below).
THIS WEEK IN F1: 10 quiz questions on the latest F1 news after the Miami Grand Prix
Four years on and we've seen another crash in Baku qualifying (whilst already on provisional pole – much like Monaco qualifying in 2021) and now a Miami crash. On top of this we've seen a crash in Imola last year and a pivotal one from the lead in France, both of which while he was fighting for the win. We've also seen Charles have more than his fair share of incidents in practice sessions as well.
Leclerc has bemoaned the 2023 Ferrari as being inconsistent with balance, overly wind sensitive and overall tricky to drive, which it might well be, but his driving has also got to be questioned. In a car that isn't as fast as the Red Bull this year, is he searching for lap time that just isn't there? It seems to me he needs to reset his expectations a little bit.
I'd still put Leclerc in the mix with Verstappen and Hamilton as one of the best drivers in the field. But what sets those two champions apart is their consistency. Maybe they don't have the last ounce of speed that Leclerc has, but they also make a fraction of the mistakes, and when it comes down to putting together a sustained championship challenge, that is what counts.
It's not easy for Leclerc to just dial out the last 1% of hustle. It's in his driving DNA – he's always been on the edge and it's what has delivered so many flamboyant pole laps throughout his career. He's been breathtaking to watch and if he's on form in Monaco in a couple of races' time, it could be anyone's best hope of stopping Red Bull clean-sweeping the first half of the season.
WATCH – Jolyon Palmer's Analysis: Who got it right at lights out in Miami?
I think it's a case of risk assessment for him. It seems that he's driving on the edge from Lap 1 of practice until the end of the Grand Prix.
Maybe there are times where he can take some risk out, like in those practice long runs, or when he hasn't got a qualifying banker in, whilst keeping some of his attacking spirit when the time is right. With the next circuits being unforgiving though, he could desperately do with getting through them cleanly.
To read on, sign up to F1 Unlocked for free
You'll unlock this article and get access to:
Live leaderboard data
Epic experiences and rewards
Money-can't-buy competitions