Feature
PALMER: How Haas left Canada without points despite Magnussen and Schumacher's qualifying heroics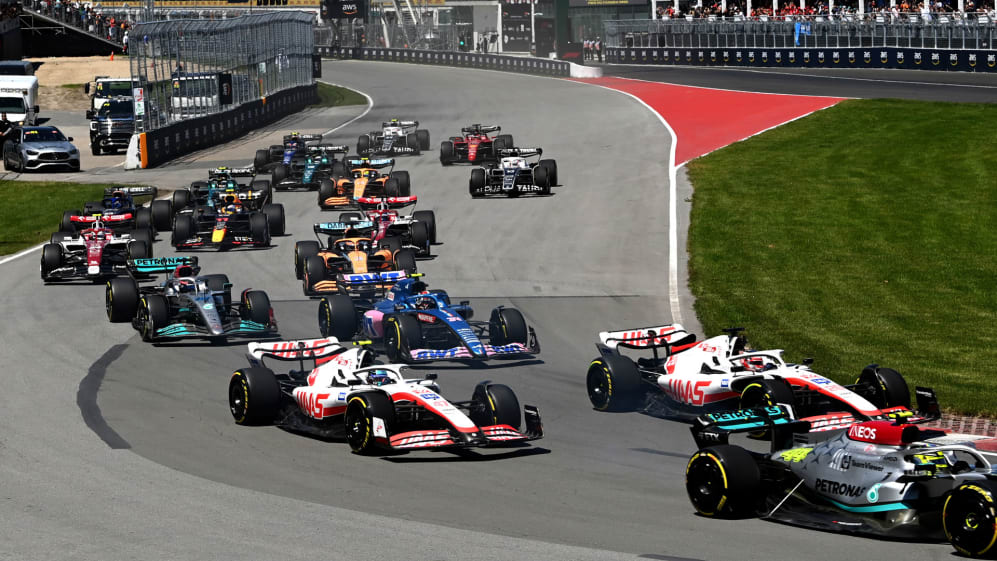 The start and first lap of the Grand Prix is the most exhilarating time for the drivers. Qualifying sets you in your grid slot and we all know what a huge outcome it can have on your race weekend, but the work can be undone in an instant as the lights go out. Alternatively, you can cement a good position, or even make progress from a disappointing Saturday immediately.
It's the time when all the cars are together and you have the most jeopardy in the race, both in terms of incidents, but also in terms of just getting a poor start and being shuffled out by a number of rivals, changing the whole outlook of your race, which has been meticulously planned in the morning team briefings.
SAY WHAT?! Tsunoda's despair, Zhou's joy and frustration for Alonso all feature in the best team radio from Canada
More and more often these days the starts are fairly uniform. With practice starts at the end of every session bar qualifying, engineers have a chance to calculate the grip level almost perfectly and then relay information to the driver about clutch positioning and throttle positioning for the race start. This effectively refers to the start procedure of how many revs to hold as the lights go out, where to drop your clutch paddle to, and then how quickly you can feed the throttle back in to accelerate away.
After that it's all eyes forward, or perhaps backwards, as you jostle for position and make those all important moves.
It's also important to assess where you are starting, know who is around you and work out who your main rivals and threats are in the Grand Prix. It's worth taking more risks with these drivers, rather than risking everything with an out-of-position Ferrari or Red Bull, for example.
READ MORE: 'Nothing went our way' says Norris as McLaren leave Canada empty-handed
On Sunday in Canada, it was less important for a driver like Alex Albon in the Williams to try to pull off a 50/50 move with Red Bull's Sergio Perez – who in a much faster car would be guaranteed to come back past the Williams shortly after – than someone like Esteban Ocon making a risky pass to clear Mick Schumacher in the Haas further ahead.
All this plays subtly into the mind of the drivers as they are fighting, but sometimes you can't help but get tussling with a faster car. It's just how the start of the race happens to pan out and you find yourself in a position to give it a go.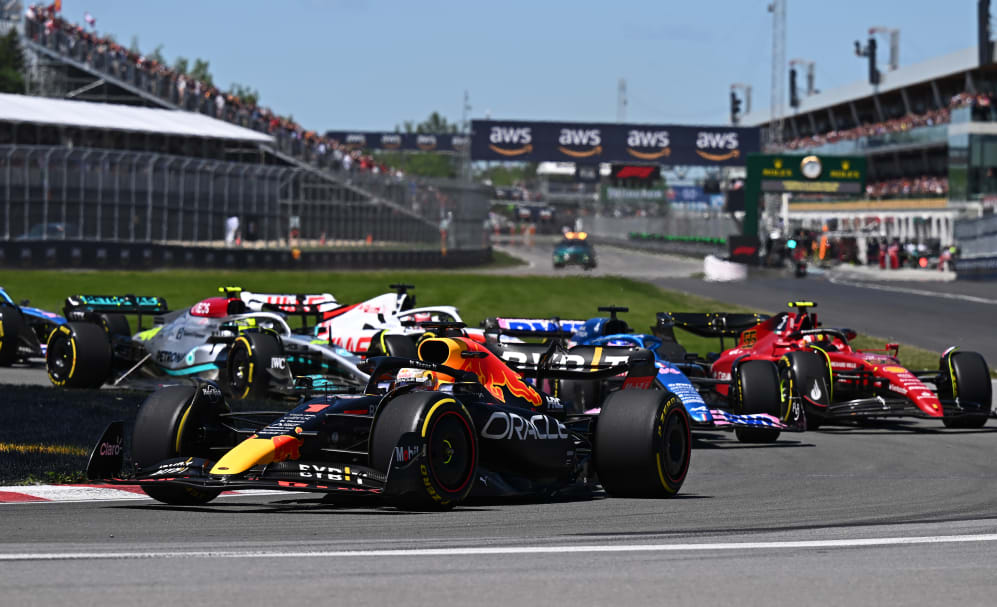 In Montreal, Haas had their joint best-ever qualifying, but somehow managed to end up with no points at all, for the fifth race in a row. Part of this was due to bad luck for Mick Schumacher, who retired early on with a mechanical failure, but I believe it was also in part down to Kevin Magnussen fighting too hard with Lewis Hamilton at the start, in a move that I'd say was off kilter in the risk vs. reward balance.
For the second time in four races Magnussen has been running alongside Hamilton, having had a superb qualifying, but both times they have ended in tears for the Dane.
READ MORE: Haas drivers lament difficult Canadian GP as team's point-less streak stretches to five races
In Barcelona, I felt he pinched the Mercedes too hard into Turn 4, which provoked contact and pitched the Haas driver though the gravel and out of points contention, despite starting eighth. In Montreal on Sunday it was a more subtle touch between the two, but from a more desperate position which damaged the Haas's front wing endplate and ultimately forced him to pit for repairs after a black and orange flag.
From behind a Mercedes on the outside into a very narrow chicane, it was a move that never had much chance of success and Magnussen left his foot in too long, risking the contact. It felt a little unnecessary to me.
Kevin has always been an incredibly feisty racer. I saw it first-hand even as team mates with him back in 2016, and I've enjoyed watching his racecraft ever since because it's always entertaining and you know he will always give it a go and rarely back down.
Maybe now, though, Guenther Steiner would be hoping he would back down every so often, because a couple of first lap touches have cost his team a large haul of points. With Schumacher still failing to get off the mark in 2022 for various reasons, Haas have fallen down to ninth in the standings, despite having a pretty solid qualifying record and banking early points in Bahrain.
READ MORE: 'One swallow doesn't make a summer' says Mercedes boss Wolff, as he warns of long road ahead for Silver Arrows
Undoubtedly, re-signing K-Mag has re-invigorated the whole team this year, and combined with having a better car they are looking like a force more comparable to their early 2019 or even perhaps 2018 form, when they were regularly mixing it with the best in the midfield.
ANALYSIS: Why Haas brought Magnussen back to F1
Magnussen has shown the value of midfield teams in having a pacy, known benchmark in the car, and I'm sure it has forced and helped Schumacher to kick on as well.
Despite coming under early pressure for some hefty early crashes and having failed to score yet this season, Mick put his car sixth on the grid in a perilous wet qualifying session on Saturday, which was a fantastic effort, and whilst Magnussen's overexuberance may have cost him points, for Mick it was bad luck with a car failure.