Feature F1 Unlocked
PALMER'S ANALYSIS: Was Sainz's five-second penalty in Melbourne too harsh or fair punishment?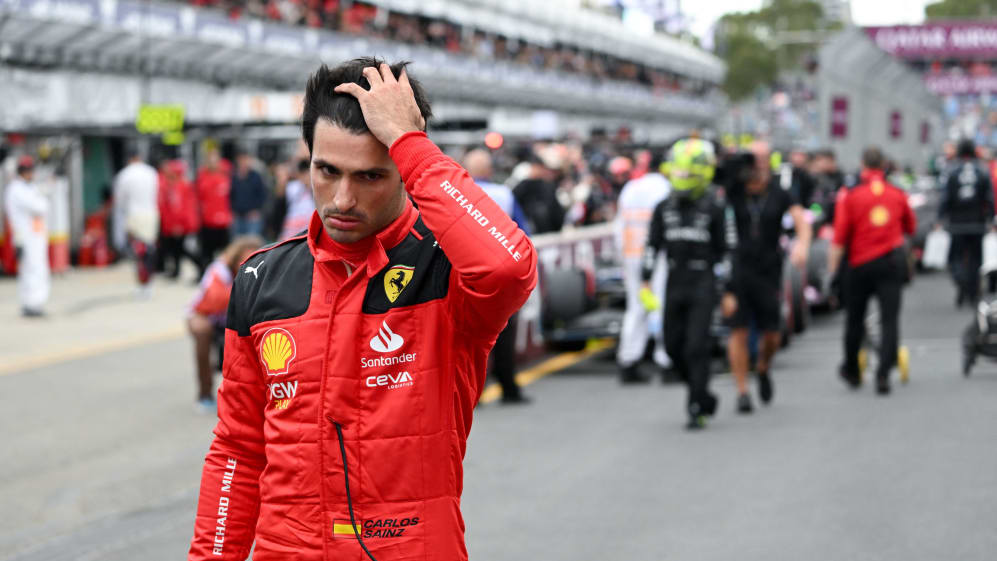 The Australian Grand Prix was a dramatic extravaganza full of moving parts that the drivers had to negotiate to survive to the chequered flag. If you managed that, you were likely to be scoring points by dusk on Sunday.
One driver who was in the thick of the action throughout was Carlos Sainz, whose Grand Prix comprised of the good, the bad and the unlucky – ultimately yielding no points for him or the Ferrari team after Charles Leclerc's lap one clash.
POWER RANKINGS: Team mates share the top spot as the judges' scores come in from a dramatic Australian GP
The Spaniard's final restart penalty became a major talking point after Carlos was heard pleading with his race engineer over the radio, describing it as the "most unfair" penalty he's ever seen in Formula 1.
I can understand Carlos' frustration and disappointment, because the fact that the race finished under the Safety Car meant that his five-second penalty knocked him from fourth all the way out of the points.
On that front it was a very harsh penalty, when the five seconds is actually supposed to be one of the more lenient penalties the stewards have available to them.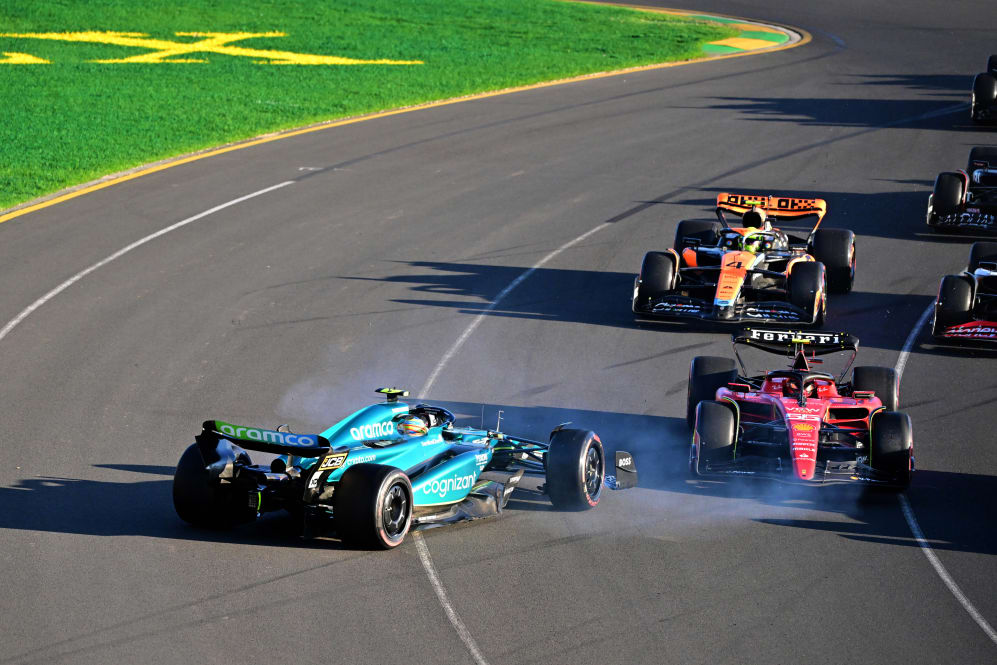 But my sympathy for Sainz only runs that far in this situation. Fundamentally he went in too deep into the first corner, playing dare on the brakes with the Alpine of Pierre Gasly on his outside. It was a game that both of them ended up losing as Sainz tipped his compatriot Fernando Alonso into the barriers, whilst Gasly went grass tracking and re-joined into his own team mates' path, ending the race of both Alpine drivers.
Whilst the grid was reset and Alonso managed to recover to take third place at the flag, you can't ignore the fact that all of the incidents happened, which resulted in yet another red flag, and they were duly investigated as per usual procedure.
STRATEGY UNPACKED: Bernie Collins dissects the red flag dilemma facing the teams in Melbourne
Occasionally in the past, drivers have been given more leeway for opening lap incidents for clashes that are generally more debatable. Mostly in the last couple of years that hasn't applied, as shown by George Russell's identical penalty for tipping Sainz into a spin in Austin last year – a similar incident with a similar initial outcome.
It was a shame for Carlos because he had actually had a very good drive in the Ferrari until that point.
It was the most competitive he had looked compared to his team mate all season and he out qualified Leclerc on Saturday, which is no mean feat considering the Monegasque driver took a dominant lights to flag victory in Melbourne 12 months ago.
When the first red flag was waved for gravel and debris on circuit after Alex Albon's crash, it really cost both Russell and Sainz. They had pitted once the Safety Car was called, in a bid to reduce their pit stop loss by six seconds as the rest of the field circulated at a lower speed. The subsequent red flag meant that everyone else then had a free pitstop though as you are allowed to change tyres under a red flag – a contentious rule in itself.
F1 NATION: Safety Cars, three red flags, eight retirements and a Verstappen victory – it's our Australian GP review
Personally I'm not against it. Like the timing of Safety Cars these things can change the race, it's luck of the draw, but it can mix up the order and provide some underdog results, like Gasly's win in Monza back in 2020.
On this occasion it was particularly unlucky for Russell and Sainz because it never looked like Albon's crash would require a complete race stoppage. To me, it seemed a slightly over the top reaction from race direction, who are clearly erring on the side of caution when it comes to Safety Cars or red flags this year. I think you can excuse Mercedes and Ferrari for pitting when they did.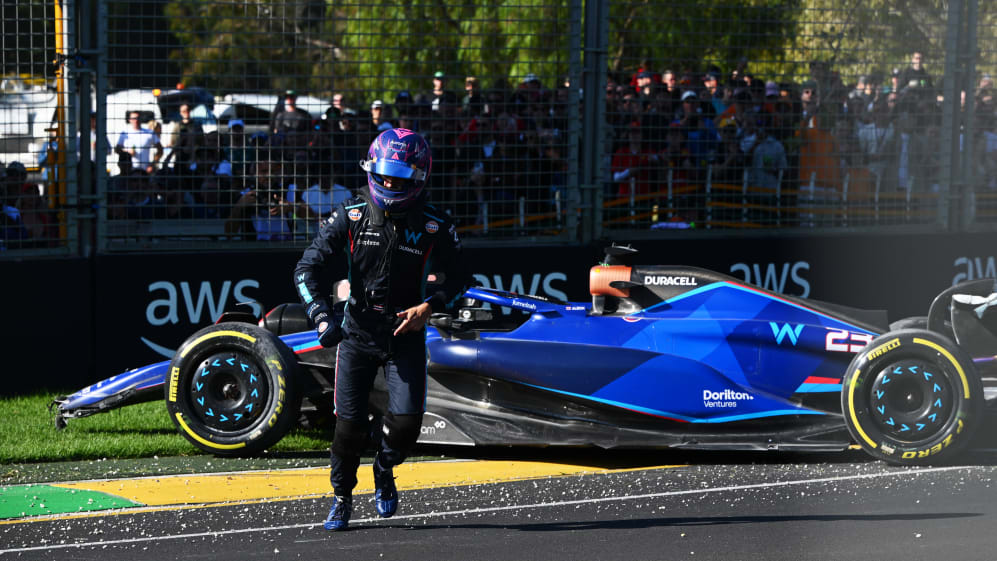 Whilst for Russell it was a moot point because of his fiery Mercedes retirement a few laps later, it did mean Sainz had to recover from 11th on the grid when the race restarted for the first time, and he put in the race's best overtake in my opinion amidst a decent charge.
Having dispatched a few midfielders, he found himself stuck in behind Gasly, in fifth. Some cars were able to pass easily, like the Red Bulls, who have incredible straight line speed with DRS open. Other cars were struggling more, and because Alpine also have a low drag car, it wasn't easy for Sainz to blast past into Turn 9, where a lot of other overtakes were taking place. He had to be creative.
ICYMI: The best social media moments from the Australian Grand Prix
His opportunity came into Turn 3. Having seen for a couple of laps previous that Pierre was only covering the middle of the road, when Carlos was close he set up the pass perfectly on Lap 25. Moving to the outside early set up the dummy as it lulls the defending driver into a false sense of security, thinking he's safe to return to the racing line, as there's nobody on the inside.
Sainz knew exactly what he was doing though and as Gasly moved to the left, he pounced to the right, sending it late on the brakes in the perfect dummy pass that was inch perfect. Thought out over a few laps, it was a move of superb execution, in a season that has seen plenty of great passes thus far.
READ MORE: 6 Winners and 5 Losers from Australia – Who finished on a high Down Under?
Whilst for Gasly, as well as Sainz, the late restart ended up in disaster and no points, both drivers can take heart from their relative performances against their teammates, looking the stronger of their pairings for the first time this season.
Sainz now will hope that Ferrari can find some form overall, after what has been a wretched start to the season for them. Next up is Baku, the race where things started really getting away from the Italian team last year. Maybe this year it will be the race where things start coming together instead.
To read on, sign up to F1 Unlocked for free
You'll unlock this article and get access to:
Live leaderboard data
Epic experiences and rewards
Money-can't-buy competitions