'People wouldn't expect it' – Russell reveals surprise area where Hamilton has impressed him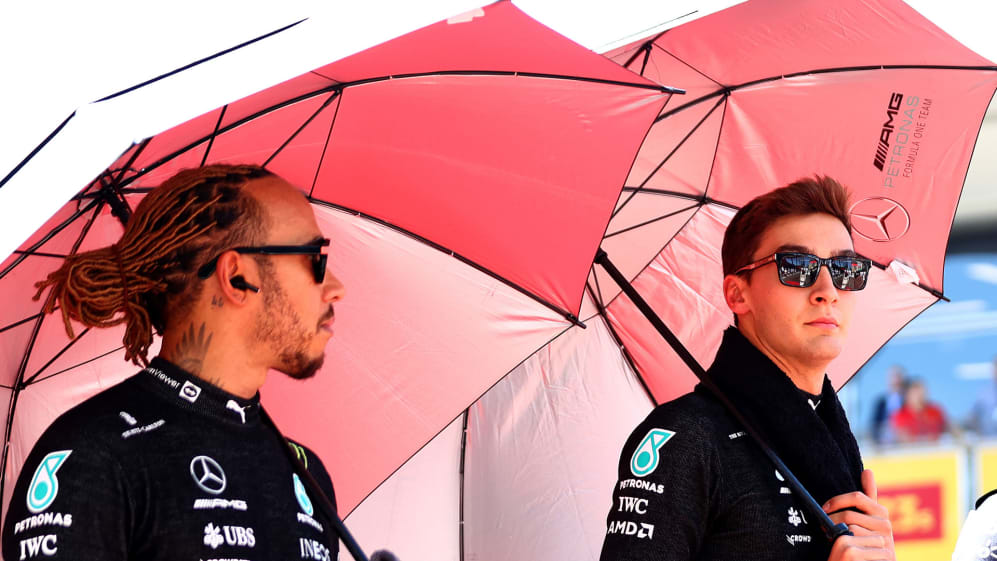 George Russell believes he is in a "privileged position" driving alongside team mate Lewis Hamilton at Mercedes, as he also revealed the qualities of the seven-time champion that have proven most impressive.
Russell has achieved three podium finishes in his first season as a full-time Mercedes driver, finishing no worse than P5 in every race of 2022 so far, and he currently leads Hamilton by 34 points in the drivers' championship.
And when he was asked to evaluate his 2022 season so far, Russell believes that there is room for improvement, but he quickly turned the attention to Hamilton, revealing that he has felt inspired by watching his team mate work behind the scenes.
POWER RANKINGS: Who made it into the top 10 after the Canadian Grand Prix?
"I think it's been not a bad start to the season personally," said Russell. "There is definitely room to improve in certain areas and I think obviously in a really privileged position being team mates with Lewis and learning so much from him – how he works, how he goes about his business with his engineers, how he gets sort of the whole team motivated – it's quite inspiring to see.
"Also on the technical side, he's pretty impressive, which a lot of people probably won't recognise or appreciate. Definitely room to improve but I think in terms of results it's been fine. I don't think we could have probably achieved much higher results when I look at the season rationally. Probably other than Bahrain, we've probably finished as high as we could in every single race."
Russell is the only driver on the grid to score points in every race so far, and while he might have hoped to have been a race winner by this point in the season, the Briton has been able to look at the positives, believing that he and Mercedes have achieved the best results possible as they develop their W13.
"You've got to look at the positives, and you've got to look at things rationally. And we can't be disappointed that we haven't won a race this season with the package we've had. And we're in this development phase and I think it's been pretty well optimised.
READ MORE: 'One swallow doesn't make a summer' says Mercedes boss Wolff, as he warns of long road ahead for Silver Arrows
"As a team, I think we've done a great job to maximise the points available to us. So, you've got to take that as a positive and try and continue this momentum forward. And hopefully when we have a faster car, we'll be in good shape to fight for those victories."
Mercedes, Russell and Hamilton enter their home race hoping to uphold a stellar record at Silverstone, the Silver Arrows having taken eight of the last 10 British Grand Prix victories.