Perez blames Verstappen and Norris incidents for missing out on Monza podium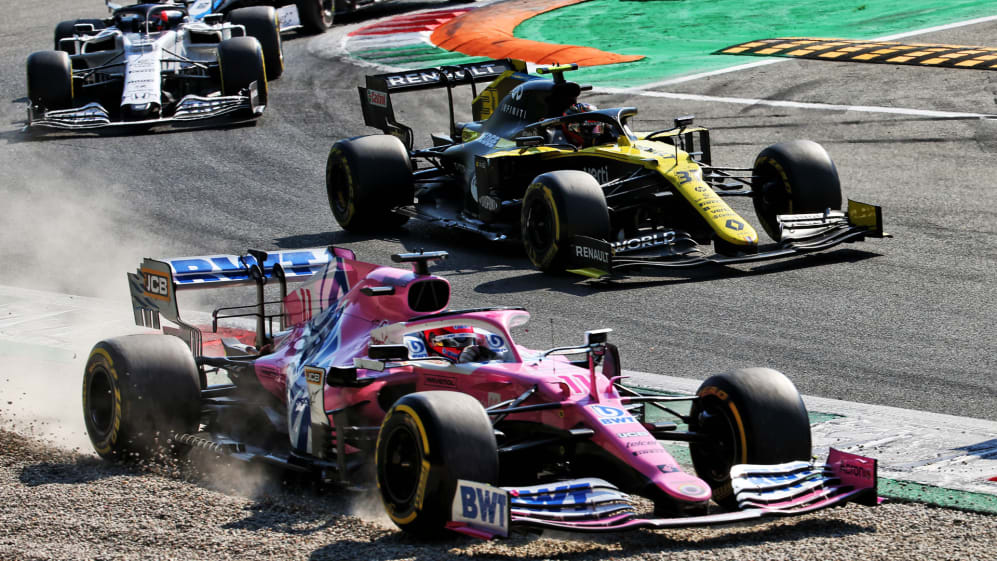 Racing Point's Sergio Perez had to watch on at Monza as his team mate Lance Stroll scored the squad's first podium of the year at the Italian Grand Prix. And the Mexican was left blaming incidents with McLaren's Lando Norris and Red Bull's Max Verstappen for preventing him securing his own top three finish last weekend…
Perez had done a fine job to qualify fourth, four places ahead of Stroll on the grid, and with the podium very much in his crosshairs. But a poor start set the tone for his afternoon, with the Mexican then held up under the Safety Car by the slow-moving McLaren of Norris, who was trying to cunningly create a gap behind his team mate Carlos Sainz to allow his team to double stack the cars in the pits.
READ MORE: Missing out on victory 'stings' says Stroll, despite sealing second F1 podium at Monza
And with Perez later colliding with Verstappen at Turn 2, he was left to come home in 10th place, as Stroll soaked up the plaudits for Racing Point's long-overdue podium this year.
"We were so unlucky today," lamented Perez after the race. "Everything that could go wrong went against us. Norris making the gap in the pit lane to Sainz under the Safety Car, I thought, was very dangerous – I'm surprised that he didn't get a penalty.
"Then we had a very bad stop, so we lost two places, and then at the restart, Verstappen just pushed me off into Turn 2, crashed into me and did a lot of damage to my car. So at the [Lap 28 race] restart, the car was very damaged and in the end we got one point, but it was a very bad afternoon for us."
READ MORE: It was a 'beep' day says Verstappen as he retires and Red Bull fail to score at Monza
Racing Point CEO and Team Principal Otmar Szafnauer shared his driver's disappointment at the end of the weekend. But with his squad celebrating their first podium since Perez's third place at Baku back in 2018, he couldn't be too downbeat...
"The luck didn't go Sergio's way today and his chances of scoring good points ended when the Safety Car came out," said Szafnauer after the race. "All in all though, it's a day of celebration for everybody at Racing Point. It's great to taste the champagne again and today's silverware is a fitting reward for the efforts back at base and trackside this year."
Despite their double points score, however, Racing Point's Monza performance wasn't enough to lift them back past McLaren in the constructors' standings, with the team now 16 points behind their third-placed rivals.