Perez brands blue flag penalty 'really unfair' after fifth place finish on F1 return
Racing Point's Sergio Perez may have finished fourth on the road at the Spanish Grand Prix, his first race back since Covid-19 ruled him out of two races at Silverstone. But that fourth became fifth, as the Mexican was handed a five-second penalty form the stewards for ignoring blue flags.
Perez executed a typically well-managed one-stop strategy at the Circuit de Barcelona-Catalunya to finish the race in the fourth position he'd started it in, a couple of seconds up the road from his two-stopping team mate Lance Stroll.
READ MORE: Dominant Hamilton eases to fifth Spanish GP win as Verstappen splits Mercedes
But Perez knew that it wouldn't last, after he was handed the blue flag penalty mid-race, having been deemed to have impeded the progress of eventual winner Lewis Hamilton – somewhat unfairly, according to Perez himself…
"I'm obviously very disappointed with the penalty because I thought that it was really unfair," he said. "I got told out of Turn 9 [that Hamilton was behind], and when I looked in the mirrors, I saw that it was hard to give him the place into Turn 10. But then the final sector is very narrow, so I thought it was quite dangerous to give the position there, so I waited until Turn 1 and then I got the penalty."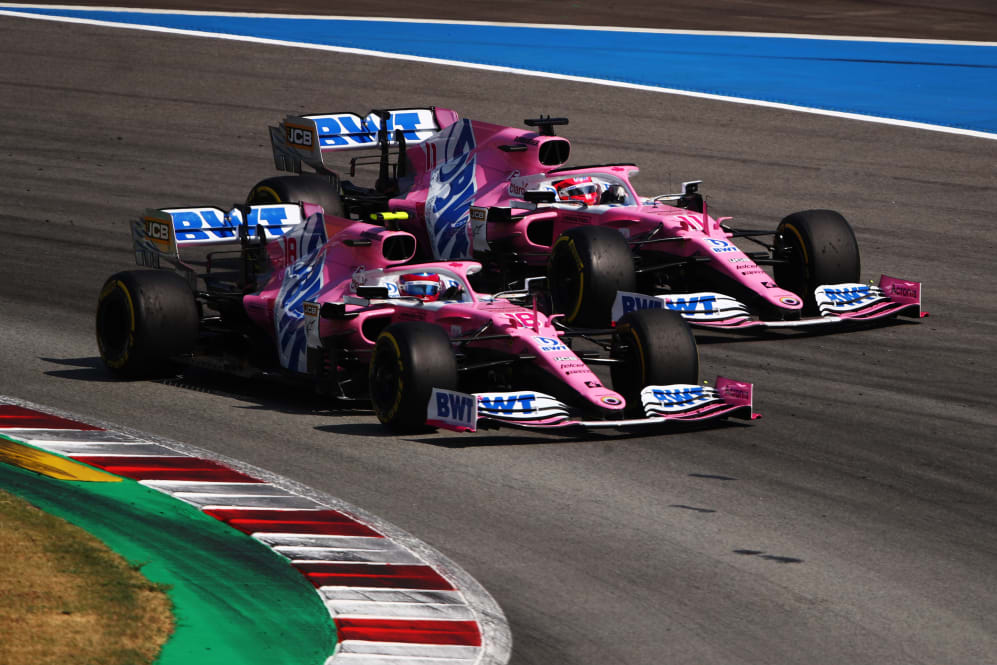 The silver lining to that cloud was that it was his team mate who inherited his fourth place rather than anyone else, and with Perez outpacing the McLaren of Carlos Sainz to claim fifth, Racing Point still came away with their best haul of points for the year so far – 22 for a P4 and a P5.
"At least it didn't cost us for a team result, because Lance got those points," said Perez. "It was quite tough to do the one-stop out there. I think we were one of the few to make it work. Overall it's a good result for the team. We maximised today's race."
DRIVER OF THE DAY: Gritty one-stop drive gets Vettel your vote
Stroll, meanwhile, enjoyed a fantastic race start, passing the Mercedes of Valtteri Bottas with an incisive move into Turn 1 to briefly hold third behind Hamilton and second place Max Verstappen, before eventually being re-passed by Bottas, and then being forced to make un unexpected second stop for tyres.
"It was a great start," said Stroll. "It was nice to be up there in third for a few laps, then the Mercedes, of course, just had better pace.
"From there, just managing the tyres. We were aiming for a one-stop and then I converted to a two. I need to look into why that happened because I didn't really maximise my second stint.
AS IT HAPPENED - Formula 1 Aramco Gran Premio de Espana 2020
"I was planning on going to the end, so it was really managing a lot, and I think in hindsight, there was definitely a much better two-stop strategy that we could have done by knowing how much I could have pushed on the second stint. But at the end great to pick up fourth, great points for the team."
Great points indeed, with that 22-point haul lifting Racing Point from fifth to third in the constructors' standings past Ferrari and McLaren, despite the team having been docked 15 points earlier in the year.