Perez details 'intense' finale after holding off Verstappen to win at Jeddah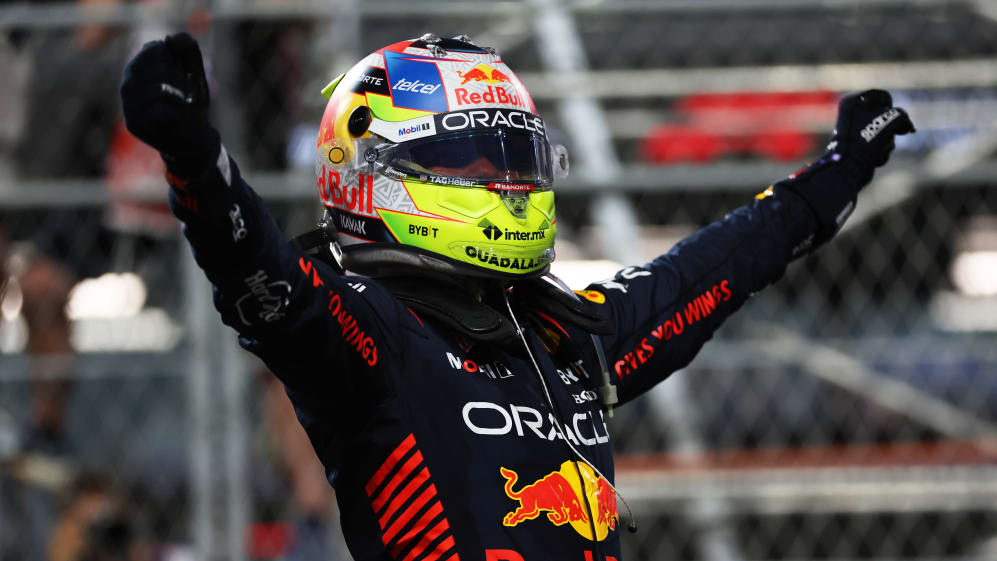 Red Bull's Sergio Perez held off a charging Max Verstappen to take his fifth career victory and first under the lights at Jeddah – and the Mexican driver said he enjoyed his drive to the top even if Verstappen was piling on the pressure.
Perez qualified on pole position as Charles Leclerc was 0.155s off the pace on Saturday and Verstappen was eliminated in Q2 with a driveshaft issue. The reigning champion scythed through the field but ended up second to Perez by 5.355 seconds.
READ MORE: Alonso loses P3 and 100th F1 podium after receiving 10s penalty in Saudi Arabian Grand Prix
"No, I did enjoy the race to be honest. I enjoyed it a lot, especially at the end, just pushing each other with the lap times knowing that he went a tenth faster, tenth slower, tenth slower, and it was all pretty intense. Then we were told to maintain a certain pace, then I was told again to push then to maintain the pace – so it was just a bit all over the place," said the race winner.
Perhaps the only blip on his almost perfect day was the start, which saw Fernando Alonso get past Perez through the opening corners.
"I didn't get a good launch, something I need to work on with the engineers to make sure we fix that, and Fernando just had a better start, and we lost a position, but I knew that it was not the end of the world – it's a 50-lap race, it's a pretty long one, and it's more important to manage my tyres at the time, don't get mad and making sure I was able to do my own race," said Perez.
The winner did admit that he had flashbacks to the 2022 Saudi Arabian GP, which saw Perez lose out from pole position when a Safety Car emerged and gave rivals an opportune time to pit for tyres. This year, there was a Safety Car at Jeddah – but this time, Perez capitalised on it.
HIGHLIGHTS: Watch the action from a thrilling Saudi Arabian Grand Prix as Perez leads a Red Bull 1-2
"Once I got past Fernando, I could do… my race, but once again when that Safety Car came out, it reminded me all over of Jeddah last year again and I was like 'not again' but luckily we hadn't pitted at the time so yeah, it was a new race after the Safety Car again.
"Very early on, Max came back and we were basically towards the end just making sure we get that healthy gap between myself and Max but that meant we were pushing quite hard and trying to get to maintain the gap," concluded Perez, who heads to Melbourne just one point behind his team mate in the drivers' standings.