'I am happy in the end with the result' – Alonso relieved after 100th career podium reinstated in Jeddah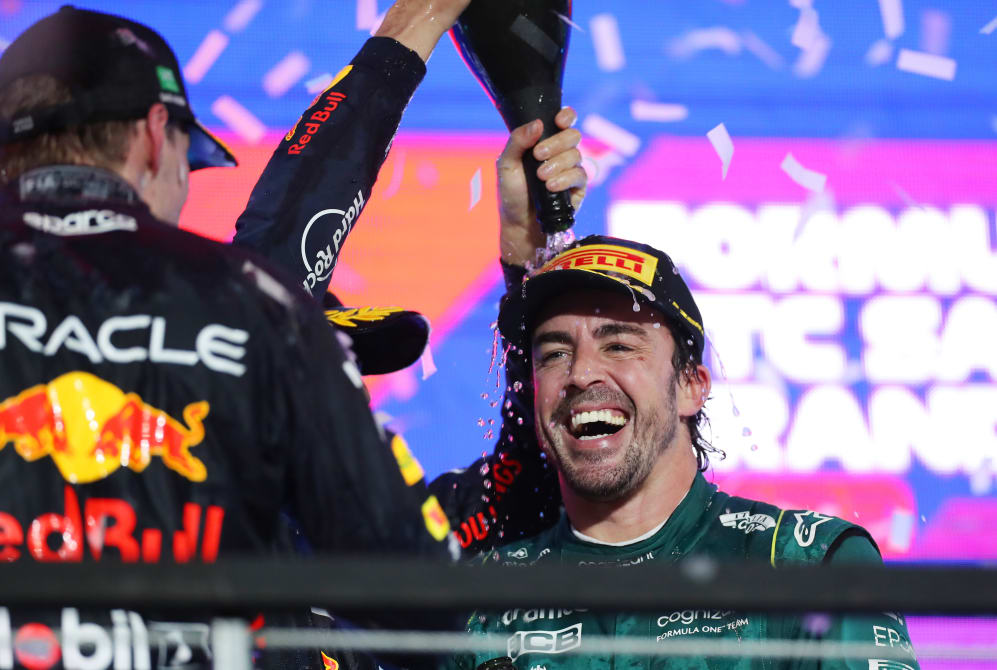 Fernando Alonso's joy at taking his 100th Formula 1 podium in the Saudi Arabian Grand Prix turned briefly sour on Sunday evening, after he was handed a 10-second time penalty after the race for incorrectly serving a previous five-second penalty – a decision which demoted him from the podium, only for the stewards to reverse their call hours later.
Alonso leapt into the lead of the race at the Jeddah Corniche Circuit from P2 on the grid – having been promoted to that position by a grid penalty for Ferrari's Charles Leclerc – but was later ruled to have been out of position on the grid and handed a five-second time penalty.
READ MORE: Perez fends off Verstappen to win action-packed Saudi Arabian GP as Alonso loses podium
That penalty served – under a Safety Car brought out to clear up team mate Lance Stroll's car, which he'd been forced to stop out on track – Alonso then drove a determined race to hold off the Mercedes of George Russell and take his 100th podium in the sport, behind the Red Bulls of winner Sergio Perez and Max Verstappen.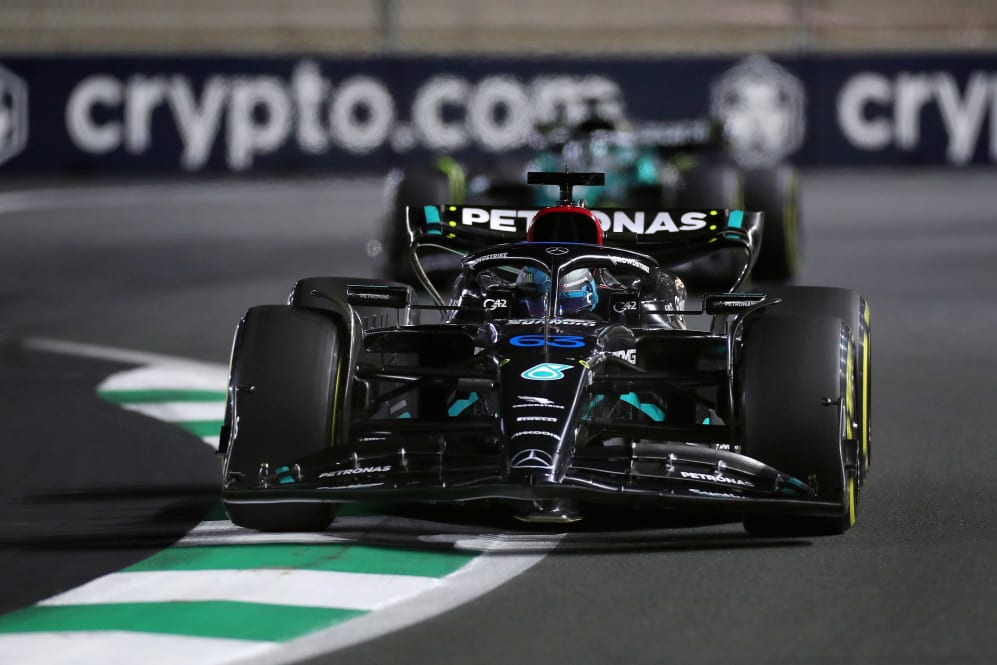 However, with the cheers of his Aston Martin mechanics still ringing in the air after the podium celebrations, the stewards ruled that, while serving his five-second penalty, the rear jack to lift Alonso's car up for its subsequent tyre change had made contact with the AMR23 before the five-second penalty had been served.
READ MORE: Fernando Alonso's Saudi Arabian Grand Prix podium reinstated after review
The stewards were swift in handing down an additional post-race 10-second penalty, dropping Alonso to P4 – and giving Russell and Mercedes their first podium of the campaign.
However, following a Right of Review by Aston Martin, the stewards later overturned their decision, writing: "There was no clear agreement, as was suggested to the Stewards previously, that could be relied upon to determine that parties had agreed that a jack touching a car would amount to working on the car… In the circumstances, we considered that our original decision to impose a penalty on Car 14 needed to be reversed and we did so accordingly."
Oops! Error retrieving Twitter post
After being informed of the 10-second penalty, Alonso initially told Sky Sports F1: "It doesn't hurt much, to be honest. I was on the podium, I did the pictures, I took the trophy, I celebrated with the champagne. Now I have apparently three points less; I don't have 15, I have 12."
However, once the decision had been reversed and Alonso's podium reinstated – making him just the sixth driver, behind Lewis Hamilton, Michael Schumacher, Sebastian Vettel, Alain Prost and Kimi Raikkonen, to take 100 Grand Prix podiums in F1 history – Alonso said: "I am happy in the end with the result tonight and our second podium.
RACE START: Alonso pinches the lead from pole-sitter Perez as the Saudi Arabian Grand Prix gets under way
"We showed that we can be the second fastest team and we had good pace throughout the race. It was my mistake at the start with the position on the grid, but we pushed to make up that time. Coming into this weekend we were not sure exactly where we would be, so this is good news for us going into the next few races. I am looking forward to Australia next."
"It is very satisfying to score our second podium of the year with Fernando here in Jeddah," added Team Principal Mike Krack. "It is Fernando's 100th career podium, which is a very impressive milestone. The car has been competitive throughout the weekend and we showed strong race pace once again tonight."