Perez explains FP2 crash at Monza as Verstappen admits there's 'work to do' at Red Bull
Sergio Perez has moved to play down the effects of his accident during Friday practice for the Italian Grand Prix, saying damage "doesn't look too bad" and that it should not impact the remainder of his weekend.
Perez was the fastest of the Red Bulls in FP2 at Monza as he posted a lap time quick enough for third behind Ferrari's Carlos Sainz and McLaren's Lando Norris, only to end the session in the barriers when he ran wide at the Curva Alboreto late on and lost control of his RB19.
FP2: Sainz leads Norris as Perez crashes out during second practice at Monza
Explaining the incident post-session, Perez said: "I understeered off at the exit and tried to keep it nailed. I thought I had it under control but then I touched a little bit the gravel and that was game over.
"It doesn't look too bad the damage; it was fairly small, and I don't think we lost anything there at the end, two laps, so nothing representative in that regard."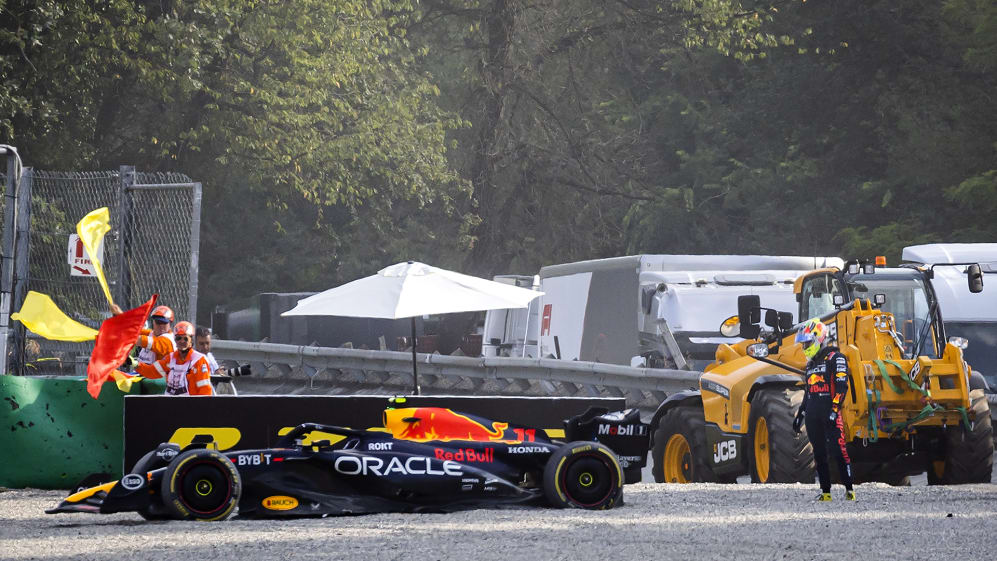 He continued: "The positive is that the car is performing well, I'm feeling comfortable with it and I feel that we're in a good position for the rest of the weekend. I really felt that we had a very strong Friday.
"This has been the best Friday in a while for us. We've been working really hard, I think we've found some positive steps in the car, so hopefully we can show it tomorrow and Sunday."
READ MORE: Brand new 'Hybrid Energy System' graphic set to debut at Italian Grand Prix
On the other side of the Red Bull garage, Max Verstappen posted only the fifth quickest time after the reigning double world champion got caught out by traffic during his soft tyre run.
"We've been trying a few different wing levels and I think we still need to analyse a bit what way to go," he said afterwards. "It's sometimes a bit of a tricky thing around Monza.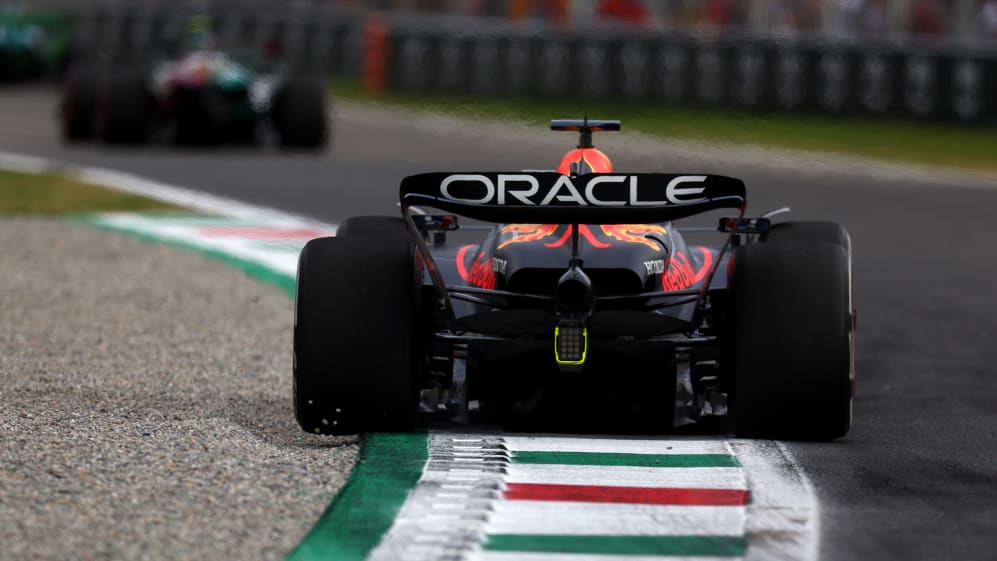 "From my side, it probably could have been a little bit better, so still fine-tuning a bit the low-speed to the high-speed, but I'm quite confident of course that we'll get there. Also, I was a bit interrupted in FP2 to get a proper read on a few things, [so there's] still a bit of work to do.
"I think the running in general was okay, but in the short run I was blocked a bit in sector two, then in the long run we didn't really get to do a lot of laps, so you don't really get a good idea on it. At the end of the day, in the long run, that's the same for everyone."
PADDOCK INSIDER: Why Mercedes opted to stick with Lewis Hamilton and George Russell
As for the potential pecking order when the event unfolds, Verstappen added: "We'll have to wait and see until everyone ramps up their engines as well. I think from our side of course we can do a better job but it's not been the end of the world as well."
Verstappen and Red Bull head into the weekend aiming to extend their respective winning runs, with the Dutchman going for a record-breaking 10 victories on the bounce and the team going for 14 in a row including last year's season finale in Abu Dhabi.