Perez pleased with debut Red Bull test despite bizarre car failure that triggered a red flag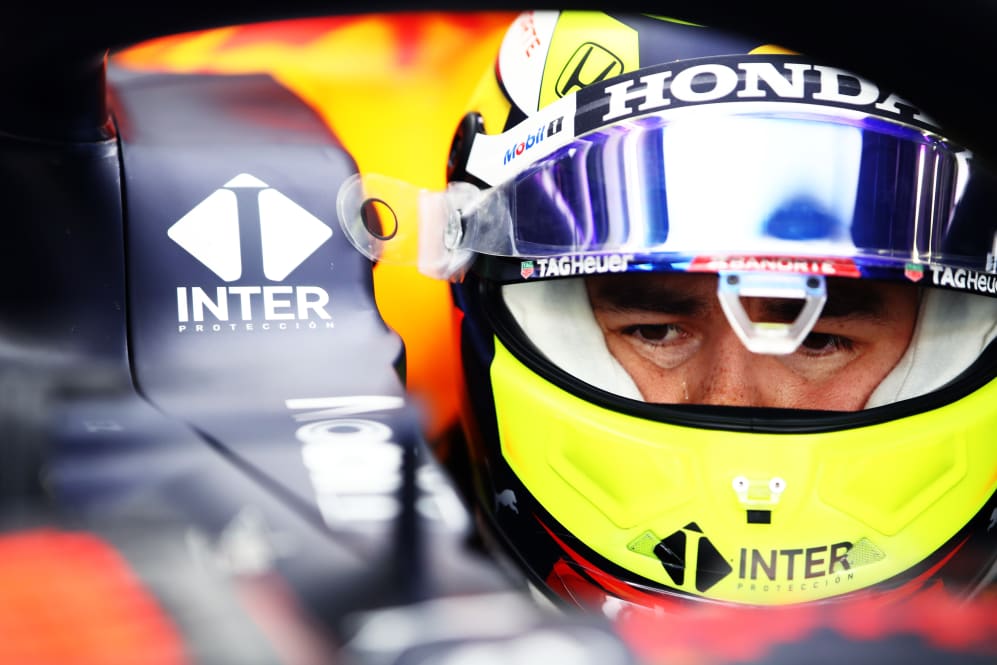 A bizarre failure caught the eye but Sergio Perez's first day in the Red Bull also saw a more reserved reaction than his team mate offered on the opening day of testing.
Max Verstappen topped the times when testing got underway in Bahrain on Friday, and completed the most laps of any individual driver as Red Bull hit the ground running. When Perez took over for day two, he still clocked up over 100 laps but the Mexican caused a red flag after leaving debris all over the track.
Perez was following the Williams of Nicholas Latifi closely and pulled out to overtake on the main straight using DRS. As soon as the Red Bull emerged from the slipstream, half of the engine cover broke away, breaking up and causing running to be stopped while the debris was cleared.
FULL REPORT: Bottas goes quickest on Day 2 as Mercedes begin recovery from tricky start to testing
As strange as the incident was, Perez was philosophical as it meant he didn't lose out on track time compared to anyone else while the track was closed.
"I couldn't feel when that happened, just the car felt a bit more difficult, but other than that I think the team is sorting it out," Perez said. "We didn't lose much track time actually, it was the same for everyone as there was a red flag. Given that we lost some track time earlier in the morning I think overall it has been a good day. Conditions are very tricky out there, very different to yesterday, so yeah plenty of work and developing to do there on."
Having been signed to replace Alex Albon in December, Perez admits he's still getting to grips with the driving style required at Red Bull but is excited by what the RB16B has shown so far.
"Well it's always when you are so track limited you know, this is my final [full] day, tomorrow I have the morning. It's not ideal missing any track time but I think we've done alright and hopefully tomorrow we can do even more.
"I'm getting used to [the balance], obviously I can see the potential in the car, and just looking forward to it."
HIGHLIGHTS: See all the key on-track moments from Day 2 of pre-season testing
And Red Bull's Head of Race Engineering Guillaume Rocquelin insists the team wasn't focusing on headline pace on day two, having topped the times on Friday.
"We had a couple of small issues – nothing huge and it didn't affect our engineering programme, so in a way these are things you want to find out about in testing," Rocquelin said. "Those niggles aside, it was another solid day. It is clear that we have not been chasing lap times and have only run one of the harder compounds, so there are no real conclusions to be drawn from the overall time sheet."