Perez says losing P2 at the start meant 'game over' for his victory hopes in Bahrain
Sergio Perez was pleased to back up Max Verstappen in a Red Bull one-two as the team enjoyed a perfect start to the season in Bahrain – but the Mexican driver wasn't so happy to finish 11 seconds off his team mate.
Perez started the race from second on the grid but when the lights went out he was immediately passed by Charles Leclerc (see the clip below), who stayed ahead until Perez made a pass on the Ferrari on Lap 26 of the race. Leclerc ended up retiring from but Perez said the time he spent behind the Monegasque driver cost him a shot at fighting for victory.
READ MORE: Verstappen says winning start to 2023 for himself and Red Bull is 'exactly what we were dreaming of'
"Yeah it was a nice comeback," he said. "It was a shame that we lost a position to Charles because that really prevented us to be able to fight for the win. Once we lost so many seconds to Max it was game over, it was more about getting Charles, because he was very strong in that first stint with his new tyres.
"It was just too late – few laps too many too late… and we basically maintained the gap throughout the race. We had no chance to fight for the win. It was all about minimising the bad start. We have plenty of things to analyse and improve and get the consistency for the rest of the season."
There was a benefit to being stuck behind the Ferrari, however, as Perez said: "You actually learn a lot, about their car where they are weak and stronger than us, and I think I need make sure this stays fresh for my engineers in the briefing."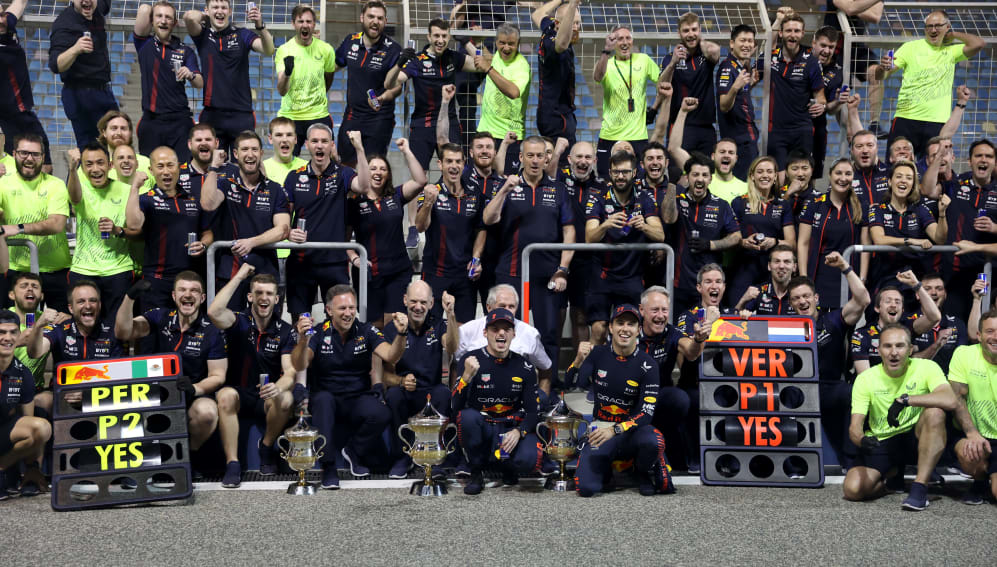 Despite such a dominant display from Red Bull, Perez couldn't guarantee such a performance in the next round at Jeddah on March 19.
"Well it's a very unique circuit, we cannot forget that, we will go to very different circuits, so I think after four or five races we will have a bit more of an idea – so let's wait and see.
"When we look back at last year how we started here, it's really nice. It's a nice comeback as a team, we worked really hard over the winter. It's great to see all the [team] enjoying the first race. We have a strong package, so it was important today to get both cars until the end," he concluded.
HIGHLIGHTS: Watch the action from the 2023 Bahrain Grand Prix as Verstappen and Red Bull start the new season in style