Perez thought 'race was lost' after Verstappen collision before recovering to P7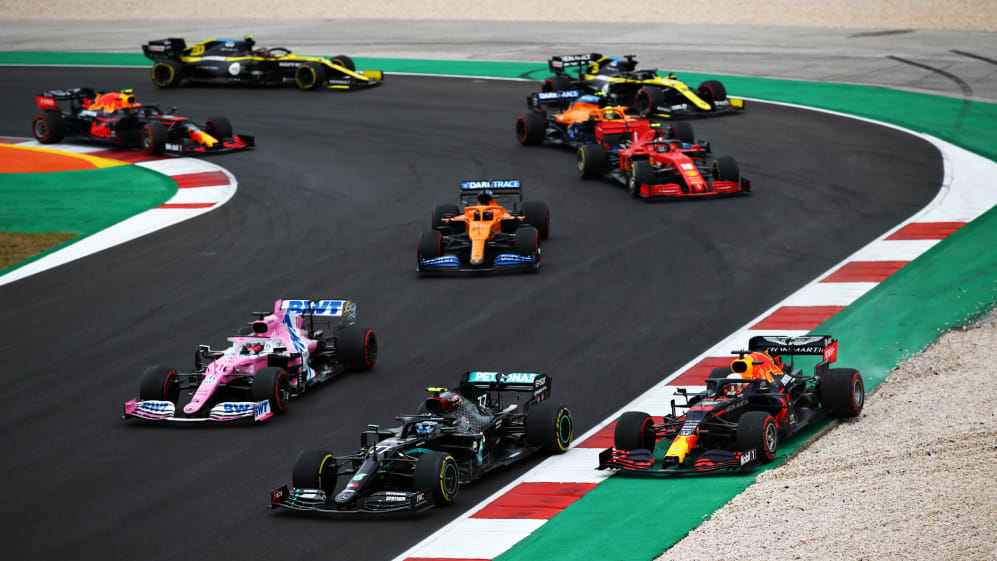 Sergio Perez went from hero to zero and back to hero again over the course of the Portuguese Grand Prix, recovering from running last after a collision with Max Verstappen on lap one when fighting for P3 to finish an impressive seventh…
After Valtteri Bottas squeezed Verstappen wide at Turn 2, Perez sensed an opportunity to capitalise and went for a move around the outside at the next corner – but he made contact with the Red Bull driver, spinning off the track and rejoining in last place.
READ MORE: Hamilton takes record-breaking 92nd win with dominant drive in Portuguese GP
He recovered to the pits, having picked up a puncture, and then showed blistering place as he flew up into the top 10 with a series of brilliant overtakes. He was running fifth, but ran out of tyres at the end, ultimately dropping to seventh as first Pierre Gasly and then Carlos Sainz came past late on.
"It was extremely busy, especially after lap one," said Perez. "I thought my race was lost we had a puncture, it just made it worse. We had to box. From there, we recovered and we had a tremendous first stint.
"I think we lacked a lot of information on the soft tyres. We could have done a bit with the set-up to protect it a bit more towards the end. Just at the end, I just died completely, when I lost temperature [in the tyres], I couldn't hold Gasly and Sainz.
"It was close, but still when you consider where we were after lap one, it's still a good result."
READ MORE: Norris says Stroll 'doesn't seem to learn' after Portuguese GP collision
Giving his view of the clash with Verstappen, Perez said: "I think I gave him enough space, but I have to see. It was a very difficult lap one, cold tyres, it was drizzling a bit.
"Especially the Mercedes, they were struggling a lot with the medium tyres. Bottas pushed him wide into two, I tried to on the outside but probably not enough space."
Verstappen admitted he was worried about his car after the contact, which the stewards noted but took no further action, but laid the blame squarely with Perez.
"Probably he didn't exactly know where I was," he said. "Clearly he didn't give me enough space, and took himself out. And from there, I'm checking if the steering is still straight but luckily everything was still fine and we could continue."
With the other Racing Point of Lance Stroll retiring after a messy race that involved contact with Lando Norris, Perez's six points were enought to keep the pink team third in the contructors' standings - by just two points. Renault, meanwhile, lurk in fifth, a further four points back with five races to go.
The only black spot on Perez's day was a reprimand he was handed for his aggressive defence of Gasly late on, with the stewards declaring the Mexican had "moved in a manner potentially dangerous". It is his second reprimand of the season - a third will earn him an automatic 10-place grid drop for the next race.