Perez unsurprised by Racing Point's rapid Belgium pace – but concerned by engine issue
Sergio Perez said it shouldn't come as a shock that Racing Point were fastest of the midfield in Friday Practice for the Belgian Grand Prix, given the team's history of success at Spa-Francorchamps.
Perez was ninth-fastest in FP1 before finishing an impressive fifth in FP2 – although the session ended on a sour note when his RP19 went up in flames with an unexplained engine issue. Apart from that hurdle, however, Perez – who's finished fifth on three occasions at Spa-Francorchamps, most recently in 2018 – believes the team are heading for a strong qualifying performance on Saturday.
"I think we're making good progress – historically this is a good circuit for us – so I'm not surprised we're competitive. And yeah, we're looking good as a team and hopefully tomorrow, when everybody puts it together, we can be up there," he said.
READ MORE: Leclerc heads Vettel in FP2 as Ferrari finish 1-2 again in Spa
Racing Point have continued their run of upgrades that were implemented in Germany and Hungary, bringing new wings to suit the high-speed nature of Spa.
"We've brought a front wing and new things that suit us," he said. "A couple of new pieces that I think is helping the whole balance of the car. [We] found a good balance today, things are looking solid."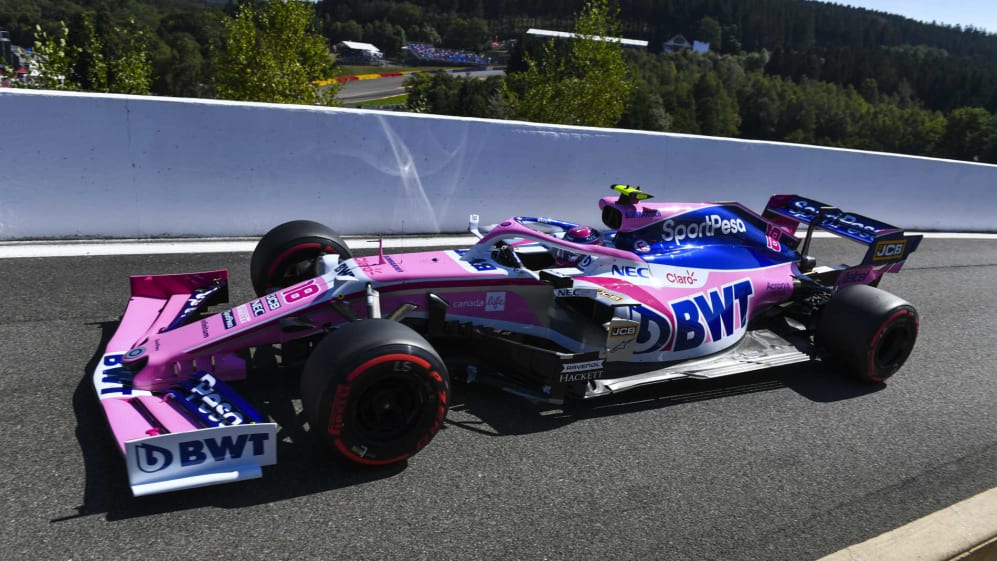 The penalties are a bummer but at least you can overtake
As for the engine trouble, which affected Perez's new Mercedes internal combustion engine, he had no explanation after being forced to retire his car at the end of FP2.
"It doesn't look good – we'll see what's going to happen and what we have to do in order to get it back in qualifying… I have no clue about it, not even the team does yet, but not looking too optimistic."
Team mate Lance Stroll, seventh in FP1 despite his engine cover dramatically blowing off and eighth in FP2, also took a new Mercedes ICE, but the Canadian faces penalties that will see him tumble down the grid for Sunday, having exceeded the allocation already this season. Despite that, he too was optimistic.
"Yeah, [the penalties are] a bummer but at least you can overtake. I got a good feel for the car in the long runs so I'm happy. Bummer about the penalty but we'll be able to overtake for sure," concluded a confident Stroll.
It's been 10 years since the team formerly known as Force India took pole position at the Belgian Grand Prix through Giancarlo Fisichella. But with Ferrari flying in the Spa sun, it'll take something special for Racing Point to replicate that result this weekend.