Pirelli confirm cause of Verstappen's dramatic Imola retirement
Max Verstappen was looking all set to claim an impressive second place in the Emilia Romagna Grand Prix when on Lap 51 his right-rear tyre appeared to suddenly deflate, sending the Red Bull driver spinning out of the race. Pirelli immediately launched an investigation into the issue, and have now concluded that cuts in the tread and sidewall of Verstappen's hard tyre were the cause of his retirement.
The Dutchman drove a brilliant race at Imola, passing the Mercedes of Valtteri Bottas with 20 laps to go en route to what looked set to be his sixth second place of the season, when his tyre issue sent him spinning off into the gravel at the Villeneuve chicane. And speaking at this weekend's Turkish Grand Prix, Pirelli's Head of F1 and Car Racing Mario Isola confirmed the results of his company's investigation into Verstappen's DNF.
READ MORE: Verstappen says he had no warning of tyre issue before sudden spin, as Horner suggests debris possibly to blame
"We made an investigation on the tyre and the part of the tyre that we have been able to collect… as a priority," said Isola. "We found some cuts on the tread and the sidewall, both inside and outside.
"We believe that the reason of the failure was damage on the centre of the tread that caused the damage on both the belts and the carcass plies, so the belts started to detach following this damage and at a certain point when the carcass was not able to keep the load, we had the deflation that everybody saw on television.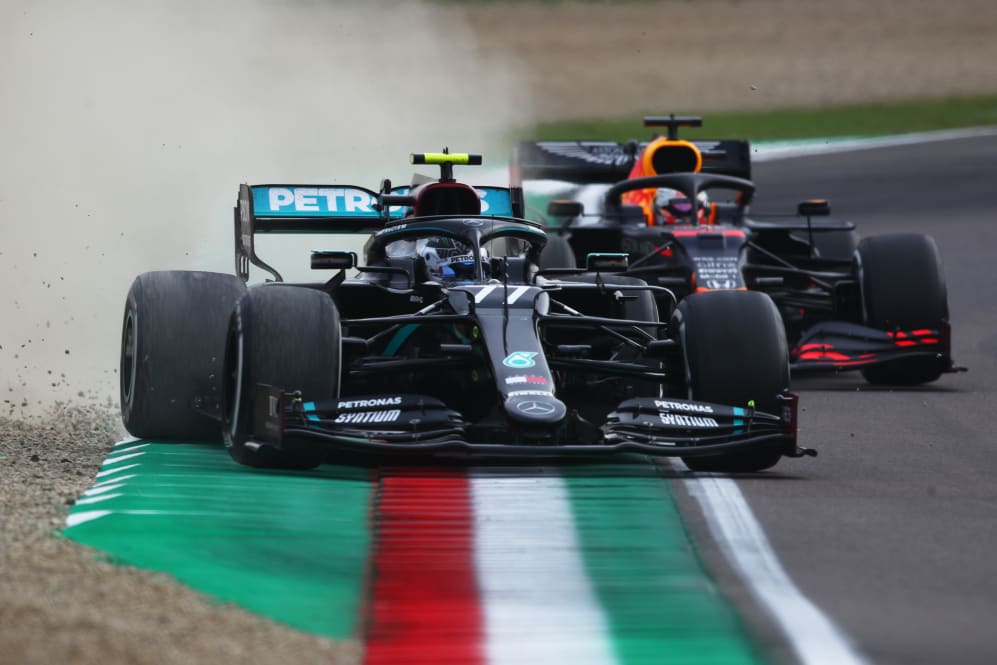 "We shared also the analysis with the FIA and the team and this is the evidence that we have. Obviously, it's difficult to analyse a tyre that is in pieces, but we sent immediately the tyre back from Imola to our laboratories in Milan."
Verstappen's retirement allowed Mercedes to claim a comfortable one-two, with Lewis Hamilton leading home Bottas.
But Mercedes had had their own tyre worries prior to Verstappen's issue, with their drivers having reported vibrations on their rubber – which, in a stroke of fortune for them, they were then able to change under the Safety Car brought out for Verstappen's retirement. And Isola confirmed that Pirelli had also carried out a second investigation into the Mercedes issues at Imola.
READ MORE: The tantalising alternative scenario that could have given Verstappen victory at Imola
"I can confirm that that we are analysing the tyre with [Mercedes], so the findings will be shared with the team," said Isola in Istanbul. "There was no loss of pressure, just vibration increasing during the run. We are investigating the construction, and obviously in this case, it is possible to investigate the tyre, because it's available."