Polesitter Bottas happy to hit sweet spot but wary of unpredictable race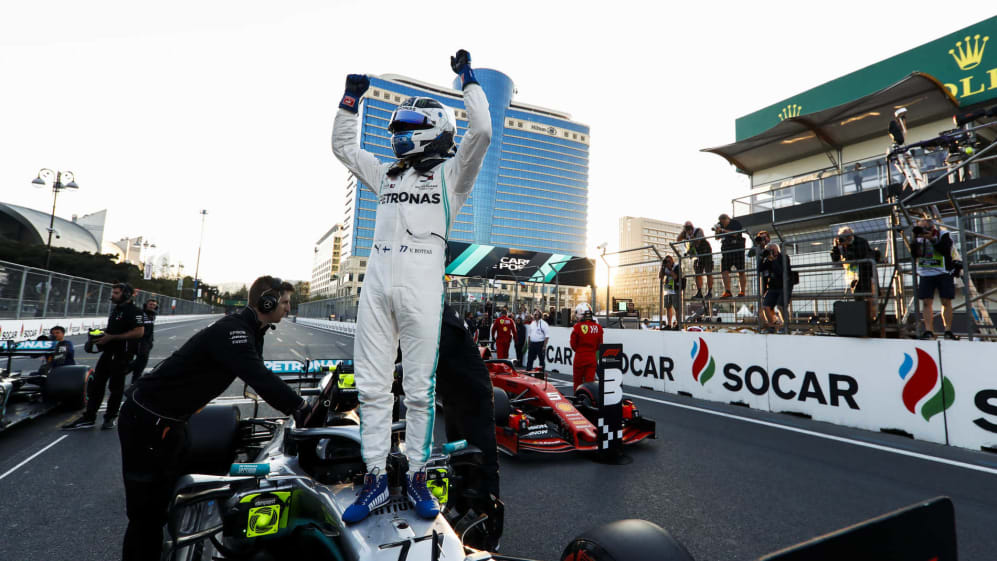 Charles Leclerc looked nailed on to take pole in Baku, but when he crashed his Ferrari, qualifying suddenly opened up. And as the temperatures started to drop, and the field left the pits tightly bunched up, it was Valtteri Bottas who got everything right to take his second successive pole position in 2019…
Sebastian Vettel was the first to cross the line in the final runs, the German not doing enough to better provisional polesitter Lewis Hamilton. Hamilton crossed next, but he had lost too much time in the first sector and that left realistically only Bottas who could challenge – and he snatched the opportunity.
The Finn ended up just 0.059s clear of Hamilton, with Vettel a quarter of a second further back. It was something of a surprise, with Mercedes chief Toto Wolff admitting: "Charles should have been on pole and I think if he had made it to Q3, he probably would have been, but 'would haves' don't count in Formula 1".
As a result, Bottas will start Sunday's race from pole, having outqualified a team mate in Baku for the first time in his career. "I'm really happy," said Bottas. "It was a nice feeling to get it on the last lap. Ferrari have been really strong. Obviously Charles was out by a mistake and as a team, we did really good to be where we are now after such a difficult practice.
"It's all about small margins and I did get a good tow in the last lap. Of course, the corners I had to drive as well, but it's all about fine details and I managed to hit the sweet spot."
Baku has proved unpredictable in the last two seasons, though, as Bottas is all too aware having snatched second almost on the line in 2017 but then led the race in the closing stages last year, only to suffer a puncture that robbed him of victory at the death.
"In some races, you feel you've done 50 per cent of the job, here it's nowhere near 50 per cent and anything can happened, as we've seen," said Bottas. "Once I was one lap behind and finished second in the race, once I was leading three laps from the end and I didn't finish, so I'm glad that as a team where at the front and it will be fun tomorrow.
"It's a very unpredictable race, but we are very happy starting one-two as a team. We have a strong car for the race but here anything can happen, it's a very eventful race. Whose tyres are going to last the best? Who's going to have the best pace? Also, with the Safety Cars, how is everything going to pan out? You can get lucky or unlucky, so we'll see.
"Many unpredictable things can happen, so we need to keep the focus as a team and also, for me, as a driver, focusing corner by corner."
If history is anything to go by, Bottas will have his work cut out to get victory – only one polesitter has converted for victory in three attempts in Azerbaijan...