Polesitter Bottas wary of Ferrari threat despite Mercedes qualifying advantage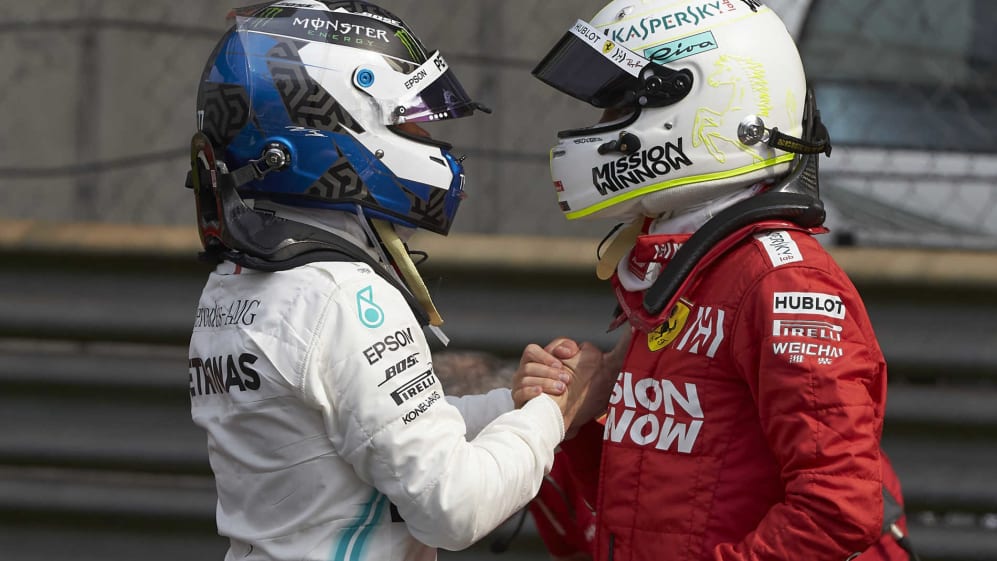 Valtteri Bottas felt he left time on the table during qualifying in China on Saturday, despite the Finn ending up with pole position, a full three-tenths clear of Ferrari's Sebastian Vettel in third. But if that advantage sounds comprehensive, Bottas was taking nothing for granted in Sunday's race, where he reckons the Prancing Horse will provide a much bigger threat.
Bottas and Mercedes team mate Lewis Hamilton had predicted a four-way fight for P1 in Saturday's qualifying session. In the end, though, the Silver Arrows duo fought between themselves, with Bottas eventually winning his first pole position of 2019 by just 0.023s.
"It's nice to be on pole – I haven't had that many of those in my career," said the world championship leader after taking top spot in qualifying for the seventh time.
"It's been a strong weekend. I have to say, in Q3 both of the laps I felt there was something I could do better – I knew exactly where I could still improve, I just didn't get it right on the soft tyres. It was good enough for pole so I'm happy, and as a team we were super strong today.
"[Ferrari] are quick in the straights and there are some really long straights here so for sure they are going to be a big threat and I'm sure they are going to have good race pace as well. So it'll be a tough fight for the win, but we are going to fight for it."
After jumping out of his Ferrari, Vettel was asked if he would try to lean on Ferrari's apparent straight-line speed advantage to beat Mercedes in the race. "But they are bloody quick in the corners!" was his quick-fire response.
Asked if Mercedes would try to use that strength to run and hide, Silver Arrows chief Toto Wolff said: "That's exactly what we want to do!"
"I think the start is going to be very exciting – hopefully not too much. And then if - if - you have a decent start, it's then about trying to survive the first few laps."
Wolff added that he intended to talk to Bottas and Hamilton about their approach to the first lap to ensure Ferrari wouldn't get a chance to take advantage.
"It's a very important discussion to have, and we've had that discussion since Monza 2014 – the race after Spa [when Hamilton and then team mate Nico Rosberg collided]."
Hamilton echoed the importance of a good start being crucial to Mercedes' race plan, but added: "Starts have not been my strength, so I've got to try to figure out if I can pull off a good start tomorrow. That's the key.
"I think we really made strides and leaps throughout the weekend [with the car]. Valtteri's generally been comfortable in the car all weekend but for me it's been a real struggle and something that I've been having to work on."
So, fast in the corners versus fast on the straights. We can't wait to see how this one will play out…