Qualifying - Bottas beats Vettel to pole after Hamilton's early exit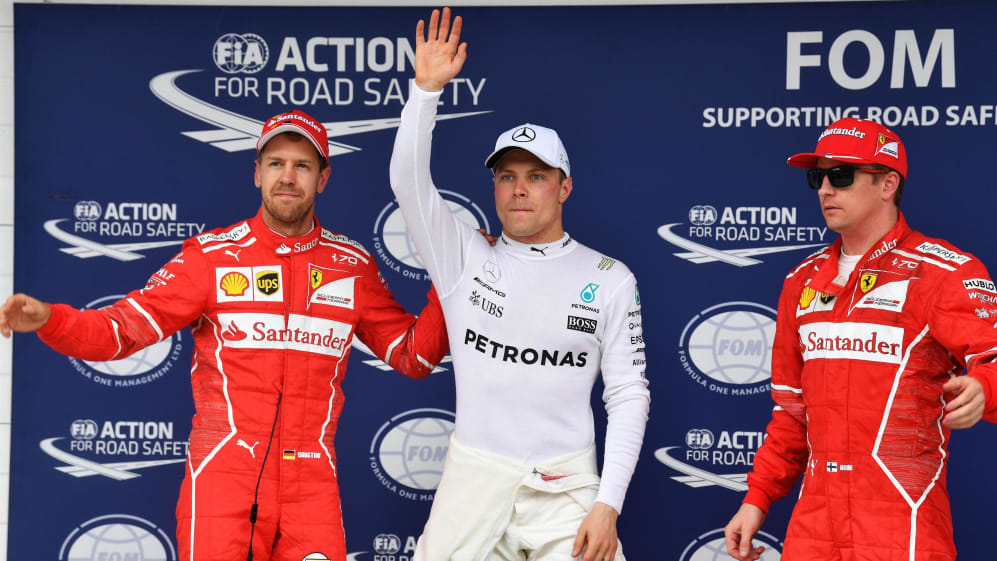 Valtteri Bottas ensured Mercedes will start Sunday's Brazilian Grand Prix from pole position, despite team mate Lewis Hamilton crashing out in Q1. Bottas won a thrilling battle for P1 with Sebastian Vettel at Interlagos, edging out the Ferrari star by just 0.038s
Newly-crowned champion Hamilton was not part of the top-ten shootout, after a rare error saw him put his car into the Turn 7 barriers at the start of Q1.
Kimi Raikkonen will start third on the grid for Ferrari, with the Red Bulls of Max Verstappen and Daniel Ricciardo qualifying fourth and fifth. Ricciardo will drop ten places due to an engine penalty.
Sergio Perez was sixth for Force India, followed by McLaren's Fernando Alonso and Renault duo Nico Hulkenberg and Carlos Sainz, with Williams' Felipe Massa completing the top ten.
Q1 began in the same overcast, low-temperature conditions as FP3, with the forecast rain holding off. And immediately there was drama, as the back end of Hamilton's Mercedes snapped out of line going into Turn 6, and the F1 W08 then slid for a long way sideways before impacting the tyre wall.
After a repeated request from his crew over the radio to confirm he was okay, Hamilton sounded winded as he responded: "I'm okay, guys."
He was unharmed, however, and no medical checks were required. Instead, he began an inspection of the rear end of the car, as if he thought something had gone wrong there.
It was the first time he was out in Q1 since Belgium last year, and immediately put a wholly new complexion on the rest of qualifying and the race.
After an eight-minute delay, the session resumed. And after Bottas had briefly held sway on Pirelli's supersoft tyres, Raikkonen went to the fore on softs, an ominous development for both Mercedes and Red Bull, especially as Verstappen complained that something was wrong with his engine after briefly going fastest.
Thus Raikkonen headed the session with 1m 09.405s from Bottas on 1m 09.452s, Vettel on 1m 09.643s and Verstappen on 1m 09.789s.
As Toro Rosso's Brendon Hartley got through to Q2, Pascal Wehrlein led those who didn't make it with 1m 10.678s in his Sauber, then came Pierre Gasly in the second Toro Rosso on 1m 10.686s, a disappointing Lance Stroll in 1m 10.776s and Marcus Ericsson in the second Sauber on 1m 10.875s. Hamilton, of course, had no recorded time.
Bottas was the first to dip below the 1m 09s barrier in Q2, but his best lap of 1m 08.638s was beaten by Vettel with 1m 08.494s, as Verstappen was third on 1m 09.050s.
As Alonso improved at the end to sixth, Force India's Esteban Ocon found himself bumped with 1m 09.830s and was 11th ahead of Haas's Romain Grosjean on 1m 09.879s, McLaren's Stoffel Vandoorne on 1m 10.116s and Haas's Kevin Magnussen on 1m 10.154s. Hartley practised race starts by going through the pit lane each lap, but didn't record a time.
Bottas set the early pace in Q3 with 1m 08.442s, but Vettel beat that with 1m 08.360s to take the provisional pole. Raikkonen was third on 1m 08.767s from Verstappen on 1m 09.065s. Could Vettel take his 51st pole?
He could not, it transpired. His 1m 08.418s failed to better his first run time, but Bottas grabbed the pole as he went quicker with 1m 08.322s. Mercedes had salvaged something from a tough session.
Raikkonen stayed third after improving to 1m 08.538s, as Verstappen joined the aces with 1m 08.925s but stayed fourth. Ricciardo, who ran softs in Q2 and has a 10-place engine penalty, was fifth with 1m 09.330s.
Further back, Perez took sixth for Force India with 1m 09.598s, ahead of Alonso on 1m 09.617s, and the Renaults of Hulkenberg and Sainz in 1m 09.703s and 1m 09.895s. Local hero Massa will start his final Brazilian Grand Prix from ninth (after Ricciardo's drop), with 1m 09.841s.
Thus, with grid penalties included - 5 for Stroll, 10 for Ricciardo, 10 for Hartley and 25 for Gasly - the provisional grid is set to line up as: Bottas, Vettel; Raikkonen, Verstappen; Perez, Alonso; Hulkenberg, Sainz; Massa, Ocon; Grosjean, Vandoorne; Magnussen, Ricciardo; Wehrlein, Ericsson; Stroll, Hartley; Gasly, Hamilton.
WATCH: Qualifying highlights from Brazil