Qualifying - Bottas beats Vettel to pole; Hamilton to start eighth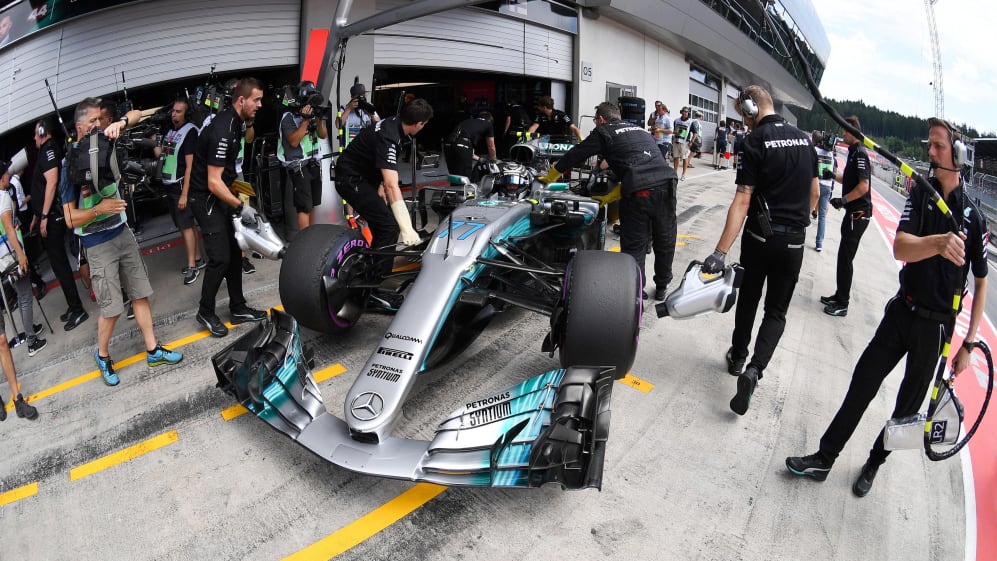 Mercedes' Valtteri Bottas clinched his second F1 pole in Austria on Saturday, just four-hundredths of a second ahead of Ferrari's championship leader, Sebastian Vettel. Lewis Hamilton was third in the sister Mercedes, but will be eighth on the grid tomorrow thanks to a five-place gearbox penalty.
A late on-track stoppage for Haas's Romain Grosjean (seventh) and then an off for Red Bull's Max Verstappen (sixth) prevented improvements in the dying seconds of Q3. It left Ferrari's Kimi Raikkonen fourth ahead of Red Bull's Daniel Ricciardo, while the Force Indias of Sergio Perez and Esteban Ocon and Toro Rosso's Carlos Sainz completed the top ten.
Hamilton ran Pirelli's ultrasoft tyres to head the supersoft-shod Vettel and Bottas initially in Q1, ahead of Verstappen and Ricciardo, his Mercedes's brake system repaired after his FP3 dramas. First he did 1m 05.238s to Vettel's 1m 05.585s, then 1m 05.064s, the fastest lap so far this weekend.
Haas had set the early pace, but then Grosjean went off in Turn 6, and Kevin Magnussen crawled into the pits with suspension failure, the Dane thus unable to participate in Q2 despite a time good enough to carry him through.
Raikkonen and Sainz subsequently moved to second and fourth on 1m 05.148s and 1m 05.675s respectively, each on utrasofts, as Grosjean claimed eighth. Further back Jolyon Palmer's 1m 06.345s left him 16th, two-tenths down on Renault team mate Nico Hulkenberg. Thus he was the first runner not to make Q2.
Then came the Williams duo after a complete disaster of a day saw Felipe Massa and Lance Stroll stuck on 1m 06.534s and 1m 06.608s respectively. That left them only ahead of the Saubers of Marcus Ericsson and Pascal Wehrlein, on 1m 06.857s and 1m 07.011s.
Ominously McLaren's Fernando Alonso, who'd switched back to a Spec 2 Honda engine and been 13th overall, reported that he had "no more power."
Mercedes sent Hamilton out on supersofts initially in Q2 to give him the best possible race strategy with his gearbox penalty, and he put in a superb lap of 1m 04.800s before Bottas then went fastest on 1m 04.640s on ultrasofts. Vettel was third on ultrasofts on 1m 04.823s ahead of the similarly-shod Verstappen on 1m 04.948s.
Vettel moved ahead of Hamilton with 1m 04.722s on his second run, and the Englishman didn't improve, but Bottas cut down to 1m 04.316s to stay top.
Further back, Hulkenberg failed to make Q3 with 1m 05.597s, ahead of the McLarens. Alonso found some power to do 1m 05.602s ahead of team mate Stoffel Vandoorne on 1m 05.741s, with Daniil Kvyat 14th for Toro Rosso on 1m 05.884s and Magnussen not running.
After the first runs in Q3 Bottas and Hamilton were first and third on 1m 04.251s and 1m 04.424s, with Vettel on 1m 04.293s in second, all of them on ultrasofts, with Raikkonen fourth on 1m 04.779s from Ricciardo on 1m 04.896s and Verstappen on 1m 04.983s. That meant an eighth place start for Hamilton.
It stayed that way. He ran wide in Turn 1 on his second effort, but when Grosjean ground to a halt and brought out the yellows in Sector 2 near Turn 3, nobody was going any faster. Meanwhile, Verstappen spun in Turn 8 and went bouncing into the gravel. Behind the top six, Grosjean maintained seventh with 1m 05,480s from the Force Indias of Perez and Ocon on 1m 05.605s and 1m 05.674s, as Sainz rounded out the top 10 on 1m 05.726s.
Thus the provisional grid reads: Bottas, Vettel; Raikkonen, Ricciardo; Verstappen, Grosjean; Perez, Hamilton; Ocon, Sainz; Hulkenberg, Alonso; Vandoorne, Kvyat; Magnussen, Palmer; Massa, Stroll; Ericsson, Wehrlein.