Report
QUALIFYING: Hamilton beats Verstappen to seal top grid slot for F1 Sprint in Brazil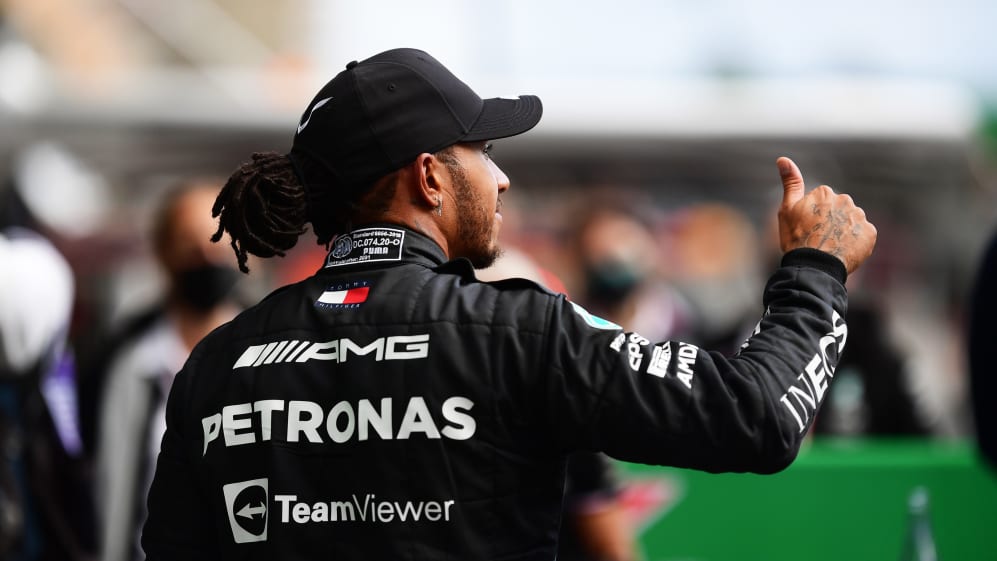 Lewis Hamilton dominated qualifying to secure P1 on the grid for the Saturday Sprint at Sao Paulo ahead of Red Bull rival Max Verstappen and Mercedes team mate Valtteri Bottas.
This being a Sprint weekend, qualifying took place on Friday afternoon to set the grid for tomorrow's 100km dash – which will then set the grid for the Sao Paulo Grand Prix.
Having led Q1 – Verstappen 0.6s off in P6 – Hamilton then topped Q2 to leave the Dutchman third and 0.4s off. In Q3, the Mercedes driver squeezed everything out of his new engine to set the fastest time of 1m07.934s and leave his rival second by 0.438s and Bottas third, another tenth off. With Hamilton's new engine, however, comes a five-place grid penalty for Sunday's Grand Prix.
Sergio Perez took fourth for Red Bull having closed the gap to Bottas ahead, while Pierre Gasly took a stellar fifth on the Sprint grid for AlphaTauri.
The Ferraris lined up sixth and seventh – Carlos Sainz ahead of Charles Leclerc – having outpaced the McLarens with Lando Norris ahead of Daniel Ricciardo in P9.
FORMULA 1 HEINEKEN GRANDE PRÊMIO DE SÃO PAULO 2021
Brazil
2021
Qualifying results
POSITION
TIME

66666

Lewis

Hamilton HAM

Mercedes

1:07.934

1

Max

Verstappen VER

Red Bull Racing

1:08.372

2

Valtteri

Bottas BOT

Mercedes

1:08.469

3

Sergio

Perez PER

Red Bull Racing

1:08.483

4

Pierre

Gasly GAS

AlphaTauri

1:08.777
Neither Alfa Romeo made it to Q3, missing out in Q2 alongside AlphaTauri's Yuki Tsunoda in P13, Sebastian Vettel of Aston Martin in P12 and Esteban Ocon of Alpine in P11 – behind team mate Fernando Alonso in 10th.
Lance Stroll was eliminated in Q1 and starts 16th on Saturday while, for the first time in a qualifying session, Williams' George Russell was outpaced by his team mate Nicholas Latifi – the pair lining up 17th and 18th for the Sprint. The Haas cars of Mick Schumacher and Nikita Mazepin line up on the back row.
AS IT HAPPENED
Q1 – Hamilton sets the pace, Verstappen sixth and 0.6s behind
Ferrari's Carlos Sainz and Charles Leclerc led the soft tyre-shod field out for the opening session, clouds hanging thick above Interlagos, with a 40% chance of rain perhaps the reason for their decision to set early banker laps. But it was Max Verstappen who fired the first shot with a time of 1m09.329s.
FP1 leader Lewis Hamilton, who emerged alongside Mercedes team mate Valtteri Bottas later than his rivals, then eclipsed Verstappen's time by half a second while Bottas slotted into third, 0.050s behind the Dutchman. The time to beat was 1m08.824s but there was plenty of time left on the table given rapid track evolution.
That proved to be the case, with Sainz and the AlphaTauris jumping up the table – but Sainz's team mate Leclerc was well into the dropzone having had a time deleted for Turn 4 track limits. He had it all to do but with two minutes left, he emerged to set a time ultimately good enough for fourth.
Hamilton found a tenth to top Q1 with an effort of 1m08.733s, his team mate three-tenths off in second, while Sainz was 0.006s behind Bottas in P3. Leclerc's late jump therefore left Sergio Perez fifth and his Red Bull team mate Max Verstappen sixth (0.596s off the pace), while Alfa Romeo's Antonio Giovinazzi set a blistering lap for P7 to eclipse the AlphaTauris and McLarens.
George Russell improved – but team mate Nicholas Latifi's effort ended up 0.056s quicker and the Canadian had the better of the Briton for the first time in qualifying. But neither were close to leaving Q1, Russell finishing 18th and Latifi 17th behind Aston Martin's Lance Stroll in 16th – who was a under a tenth away from safety.
Kimi Raikkonen of Alfa Romeo therefore made it into Q2 behind former team mate Sebastian Vettel (Aston Martin) and the Alpine duo.
The Haas drivers, Mick Schumacher 19th and Nikita Mazepin 20th, rounded out the Q1 standings, with the Russian visibly upset having put in an impressive show until his Turn 12 error.
Knocked out: Lance Stroll, Nicholas Latifi, George Russell, Mick Schumacher, and Nikita Mazepin
Q2 – Verstappen improves but Hamilton and Bottas put on another show
Hamilton shot out of the garage to set an early benchmark of 1m08.659s but that was deleted for Turn 4 track limits, moments before Verstappen set a legally acceptable lap of 1m08.567s to go top early on. Gasly followed by three tenths, Leclerc, Bottas and Sainz making up the rest of the top five.
The championship protagonist went out again, his first sector showing no improvement but the next two proving purple to put him top, 0.181s ahead of Verstappen. Game on.
Hanging around the dropzone were Alpine's Fernando Alonso in P9 and McLaren's Lando Norris in 10th; Alonso's team mate Esteban Ocon and AlphaTauri's Tsunoda were on the other side of the line.
The final laps came in and Hamilton improved to 1m08.068s with a solid tow, his team mate Bottas going second-fastest but 0.358s behind. That left Verstappen, who also went faster, third and 0.431s off top spot. Leclerc took fourth for Ferrari and Pierre Gasly fifth for AlphaTauri while Perez finished P6 – and 0.9s off P1.
The McLarens of Norris and Daniel Ricciardo sandwiched P8 Ferrari driver Sainz. As for Alonso, he had made it through to Q3 by 0.052s at the expense of his team mate.
Knocked out: Esteban Ocon, Sebastian Vettel, Yuki Tsunoda, Kimi Raikkonen and Antonio Giovinazzi
Q3 – Hamilton sets a stunning lap but Verstappen limits the damage
Perez's opening effort was easily outdone by Hamilton, Verstappen – who was frustrated by his front tyres having overheated – and Bottas, who lined up in that order after their first Q3 runs to leave the Mexican fourth.
The drivers emerged in pairs for their final flying laps while Gasly and Alonso were their teams' sole ambassadors in the top-10 shootout. Who had the pace up their sleeve to take P1 for the Sprint?
Hamilton provided a resounding answer with a lap of 1m07.934, taking top spot by 0.438s over Verstappen – while Bottas couldn't deny the Red Bull driver a front-row start as he took third. Perez upped his pace but settled for fourth, a hundredth behind Bottas ahead.
In P5 was a delighted Gasly, who outdid Ferrari's Carlos Sainz (P6) and his team mate Leclerc (P7). The Scuderia will however smile having left Norris and Ricciardo in eighth and ninth, respectively – Alonso rounding out the top 10 for Alpine.
The key quote
"Today was a really good qualiufying session, I'm super happy with it. We've got the penalty but we'll give it everything we've got," said Hamilton. "It feels crazy, because it's been a while, so it feels like the first."
"It's not easy to follow, but I guess Max is starting on pole now so it's going to be very hard to catch him but I'll do my best to try and go through the field. I don't know what tomorrow will hold."
What's next?
Hamilton will start Saturday afternoon's Sprint from the front but is braced for a five-place penalty in Sunday's Grand Prix – meaning Verstappen could start the race from pole position if he finishes second to Hamilton tomorrow.
The drivers have a free choice of tyres for the following sessions, which gives them a fighting chance of points despite the qualifying order.
First, we have FP2 at 12pm local time on Saturday.