Report
Qualifying - Hamilton edges Vettel for Spanish pole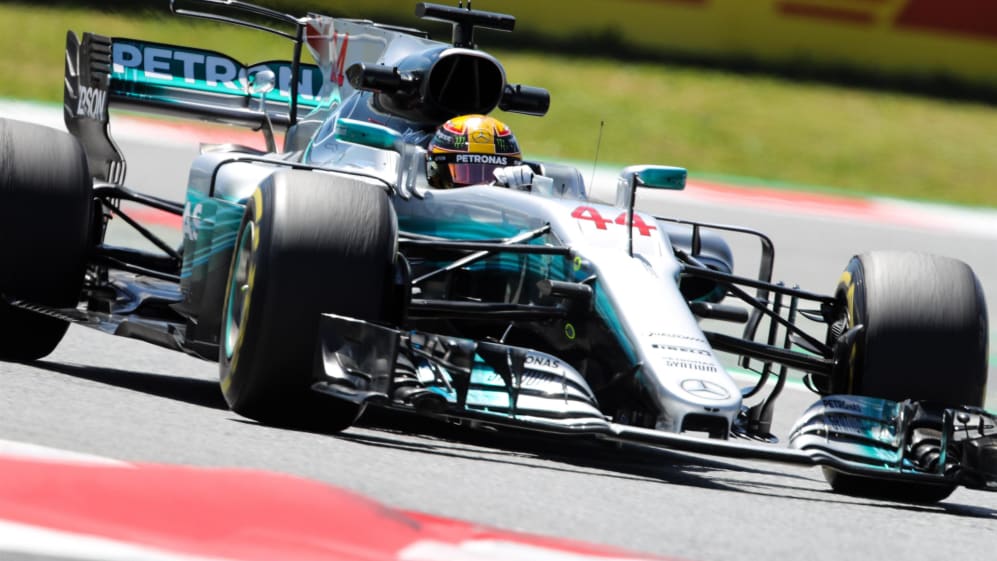 Just 0.051s separated Mercedes and Ferrari in qualifying for the Formula 1 Gran Premio de Espana Pirelli 2017 as Lewis Hamilton defeated title rival and points leader Sebastian Vettel in the battle for pole position in Barcelona. Their respective team mates Valtteri Bottas and Kimi Raikkonen will fill the second row of the grid for Sunday's race.
The Red Bulls of Max Verstappen and Daniel Ricciardo were fifth and sixth, with local hero Fernando Alonso a remarkable seventh in what was arguably the drive of the day for McLaren. The Force Indias of Sergio Perez and Esteban Ocon, split by the Williams of Felipe Massa, completed the top ten.
In track temperatures nudging 44 degrees Celsius and an ambient of 26, Vettel was one of the first out, on soft tyres, in Q1, which was a credit to Ferrari who had changed his engine routinely for Saturday morning, but then changed to a third unit after FP3 as a precaution when the new one developed a water leak towards the end of the morning session.
But he had only just embarked on a quick lap when he was instructed first to stop the car, then to pit, or at last to make it as far as the pits. Instead, however, he stayed out and banged in the fastest time of 1m 20.939s, which suggested that what he had been able to monitor in the cockpit overrode concerns the team were having.
Bottas failed to match that with 1m 20.991s, but Hamilton beat it with 1m 20.551s to go to the top, while Raikkonen only managed fourth with 1m 21.120s on his first try, but improved to second subsequently with 1m 20.742s. The Red Bulls were fifth and sixth, Verstappen just ahead of Ricciardo.
Pascal Wehrlein was a star for Sauber, getting into Q2 with 15th fastest time, which left team mate Marcus Ericsson as the first faller in 16th on 1m 22.332s. The Swede was followed by a struggling Jolyon Palmer in a Renault four-tenths slower than his team mate's in 1m 22.401, Lance Stroll's Williams on 1m 22.411s, Stoffel Vandoorne's McLaren on 1m 22.532s and Daniil Kvyat's Toro Rosso on 1m 22.746s.
Q2 saw Bottas spoil his first run by going wide in Turn 1. That left him behind Hamilton on 1m 20.210s and Raikkonen on 1m 20.621s. Bottas then made amends by going second with 1m 20.300s.
Vettel went second, with 1m 20.295s, as Verstappen and Ricciardo took their customary fifth and sixth places ahead of Toro Rosso's Carlos Sainz and Ocon, leaving the Haas drivers to battle with Alonso, Massa, Renault's Nico Hulkenberg and Perez to get into Q3.
This battle got even more heated as the wind picked up, and finally saw Ocon spring up to seventh from Massa, Perez and Alonso, in a tremendous performance in the McLaren. That left Kevin Magnussen 11th for Haas on 1m 21.329s ahead of a bitterly disappointed Sainz who had been seventh prior to the final runs, taking 12th on 1m 21.371s. Hulkenberg couldn't work his magic for Renault and was next on 1m 21.397s ahead of an unhappy Romain Grosjean's off-roading Haas on 1m 21.517s and Wehrlein's Sauber on 1m 21.803s.
So, as ever, it all came down to Q3, with Mercedes and Ferrari apparently still neck and neck, having brought upgrades of almost equal value.
Hamilton won the first round, with 1m 19.149s to Bottas's 1m 19.390s, Raikkonen's 1m 19.639s and Vettel's 1m 19.661s. Verstappen was also a threat with 1m 19.767s, but Ricciardo fell short at 1m 20.265s.
Hamilton failed to improve on his second run but Vettel did, moving past Bottas into second place with 1m 19.200s as the Finn also improved, to 1m 19.373s. Raikkonen went faster too, but 1m 19.439s left him fourth.
With Verstappen going faster but keeping fifth with a great 1m 19.706s best and Ricciardo staying sixth with 1m 20.175s, the other star was Alonso who put a McLaren Honda seventh on a power track in 1m 21.048s just ahead of Perez in the lead Force India with 1m 21.070s. Massa put Williams ninth with 1m 21.232s and the impressive Ocon dropped to 10th with 1m 21.272s.
Thus the provisional grid will line up: Hamilton, Vettel; Bottas, Raikkonen; Verstappen, Ricciardo; Alonso, Perez; Massa, Ocon; Magnussen, Sainz; Hulkenberg, Grosjean; Wehrlein, Ericsson; Palmer, Stroll; Vandoorne, Kvyat.