Qualifying - Hamilton equals Schumacher's all-time pole record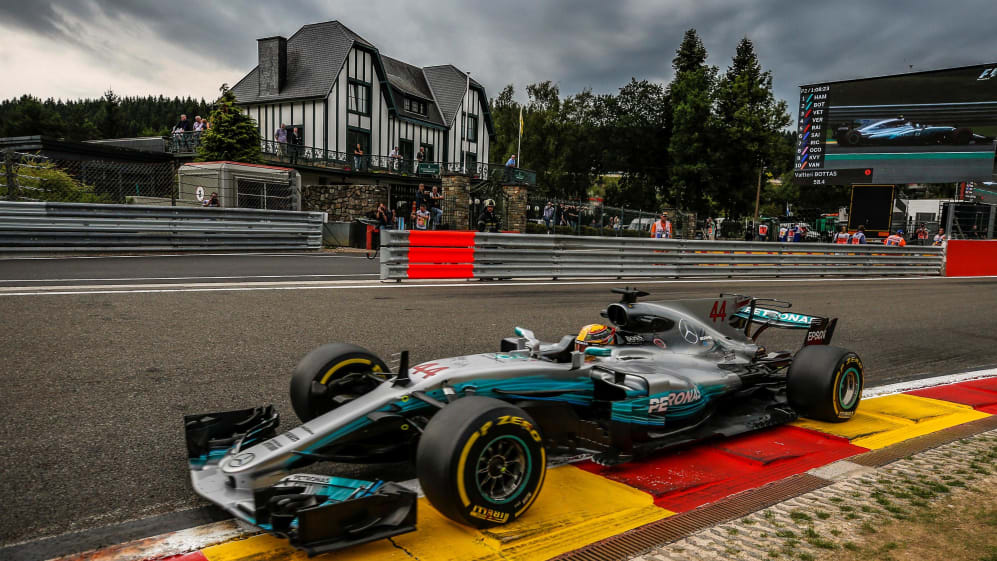 Mercedes' Lewis Hamilton beat Ferrari's Sebastian Vettel to first place in Saturday's qualifying session for the 2017 Formula 1 Pirelli Belgian Grand Prix at Spa-Francorchamps. It is the 68th pole of Hamilton's F1 career, matching Michael Schumacher's outright pole-position record.
A scintillating lap of 1m 42.553s – the fastest ever here – put the Briton, who starts his 200th Grand Prix on Sunday, 0.242s ahead of his championship rival, with team mate Valtteri Bottas third and Kimi Raikkonen, complaining of vibrations in the second, Ferrari fourth.
The Red Bulls of Max Verstappen and Daniel Ricciardo were fifth and sixth respectively, followed by Renault's Nico Hulkenberg and the Force Indias of Sergio Perez and Esteban Ocon. A disappointed Jolyon Palmer completed the top ten, his Renault's gearbox having failed at the start of Q3.
Hamilton owned the session and never looked like being beaten, but in the end it was a close-run thing between the three-time champion and points leader Vettel, after a gripping hour of action.
As Raikkonen immediately suffered serious vibrations on his Ferrari in Q1, Vettel set the initial pace with 1m 44.275s before Hamilton did a second run that yielded 1m 44.184s. Verstappen got closest to them, with 1m 44.535s, but had to run ultrasoft tyres to do it whereas they had both run supersofts.
Neither of the Williams made it through to Q2 – bad news on a track where their Mercedes engines should have helped. Felipe Massa recorded 1m 45.823s to head Toro Rosso's Daniil Kvyat on 1m 46.028s, team mate Lance Stroll – hampered by bodywork issues – on 1m 46.915s, and the Saubers of Marcus Ericsson and Pascal Wehrlein on 1m 47.214s and 1m 47.679s.
Hamilton narrowly headed Raikkonen, 1m 43.539s to 1m 43.700s, at the start of Q2, but a subsequent run yielded 1m 42.927s for the Briton as Bottas improved to 1m 43.249s to head the Finn, who was still complaining of vibrations. Verstappen was fourth from Vettel and a disappointed Ricciardo. To his delight, Palmer was seventh, ahead of Perez, Hulkenberg and Ocon, despite a clutch problem on his Renault.
That left Fernando Alonso as the first to be out in the cold despite a decent tow up Kemmel from McLaren team mate Vandoorne. The local boy, who will start from the back of the grid thanks to engine penalties, did not record a time, while the Spaniard crossed the line complaining of no power. Nevertheless, his 1m 45.090s left him ahead of the Haas drivers Romain Grosjean on 1m 45.133s and Kevin Magnussen on 1m 45.400s. Sainz was 14th, on 1m 45.439s.
Palmer's wretched luck returned the moment Q3 began, when his gearbox expired on his out lap. That left some oil out the back of the track, but that didn't stop Hamilton from blasting the Ferraris with a lap of 1m 42.907s compared to Raikkonen's 1m 43.270s and Vettel's 1m 43.426s. Bottas split the red cars with 1m 43.358s, as Verstappen led Ricciardo with 1m 43.778s to 1m 43.925s.
Could Hamilton keep the advantage, or would Ferrari find something? He could, and they did. But not enough.
Hamilton's next run brought him down to 1m 42.553s, which was just as well as Vettel improved to 1m 42.795s to move up to second as Bottas' improvement to 1m 43.094s was not enough. The Finn will start alongside fellow countryman Raikkonen, who aborted his attempts to go faster, still suffering vibrations.
Verstappen and Ricciardo both improved but stayed where they were, as Hulkenberg's 1m 44.982s left him seventh ahead of Perez and Ocon on 1m 45.244s and 1m 45.369s respectively. The luckless Palmer will start 10th, having been unable to record a time.
A total of five drivers have grid penalties to be applied: 65 places for Vandoorne after a new gearbox and multiple power unit element changes; five places for Massa for ignoring yellow flags in FP3; five apiece for Ericsson and Wehrlein due to unscheduled gearbox changes; and 20 for Kvyat for using several new power unit elements.