Qualifying - Hamilton on pole as Ricciardo crashes out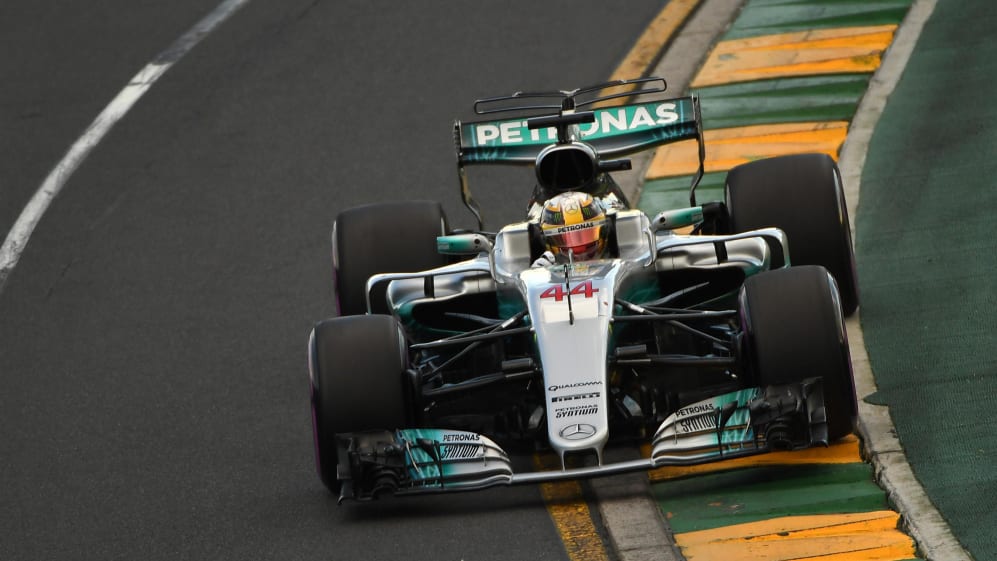 There was huge disappointment for the Melbourne crowd on Saturday afternoon, as local hero Daniel Ricciardo ended his qualifying session for the 2017 Formula 1 Rolex Australian Grand Prix in the wall. Ahead of him, Mercedes and Ferrari duked it out for pole, with Lewis Hamilton edging Sebastian Vettel by a quarter of a second.
Vettel's result means the Scuderia will start a race from the front row for the first time since Singapore 2015. On the second row will be the respective Mercedes and Ferrari of Valtteri Bottas and Kimi Raikkonen.
With rain threatening, Ricciardo lost the rear of his Red Bull at Turn 14, skating across the gravel and planting the back of the car into the tyre barriers. That brought out the red flags with eight minutes of Q3 to go and the Australian ended up 10th on the grid.
Max Verstappen was thus left to uphold Red Bull's honour, which he duly did in fifth ahead of Romain Grosjean, who was a superb sixth for Haas. Williams' Felipe Massa took seventh, followed by the Toro Rosso duo of Carlos Sainz and Daniil Kvyat.
Q1 had seen Hamilton fastest on 1m 24.191s from Raikkonen on 1m 24.352s and Verstappen on 1m 24.482s, all three on ultrasoft tyres, ahead of Bottas, Renault's Nico Hulkenberg and Force India's Sergio Perez, with Williams' Felipe Massa pipping supersoft-shod Vettel for seventh.
Running wide in the final corner cost rookie Antonio Giovinazzi his chance of Q2 for Sauber, as team mate Marcus Ericsson went ahead for P15. The Italian - standing in at late notice for Pascal Wehrlein - was thus the first Q1 faller with 1m 26.419s, ahead of Kevin Magnussen, who ruined his chances by running his Haas wide exiting Turn 12 and lapping in 1m 26.847s.
McLaren's Stoffel Vandoorne lost crucial time with a fuel pressure issue and then tyre warm-up problems while following 12th fastest team mate Fernando Alonso, and was 18th on 1m 26.858s ahead of rookie Lance Stroll on 1m 27.143s for Williams. The Canadian is set to start last, however, as he will get a five grid-place penalty for a gearbox change after his FP3 accident.
Jolyon Palmer's horrible weekend continued as he was only 20th for Renault, on 1m 28.244s.
Bottas went to the front in Q2 with 1m 23.215s from Hamilton on 1m 23.251s. Intriguingly, Raikkonen and Vettel were right there too, on 1m 23.376s and 1m 23.401s, but Ricciardo lagged with 1m 23.989s ahead of Verstappen, Massa, Grosjean, Kvyat and Sainz. Everyone used ultrasofts.
Perez was the first to lose out, for Force India, on 1m 25.081s ahead of Renault's Hulkenberg on 1m 25.091s. Alonso was 13th for McLaren on 1m 25.425s despite loss of power, as Esteban Ocon took his Force India to 14th on 1m 25.568s ahead of Ericsson's Sauber on 1m 26.465s.
There was thus huge expectation as Mercedes and Ferrari set off to slog it out for pole in Q3, with Red Bull waiting to see what pieces they might pick up. Just to spice things up, some felt a few drops of rain.
For a few minutes we had some grand driving that held the promise of the great season that lies ahead. Bottas set the pace with 1m 22.798s, only for Vettel to snatch away the advantage with 1m 22.796s, before Hamilton got it back for Mercedes with 1m 22.496s. Raikkonen was left a trifle breathless on 1m 23.435s, but things were worse for Ricciardo, as he spun his Red Bull out of contention. Ironically, by the time the session restarted the sun had come back out.
This time Bottas went back ahead, with 1m 22.481s, before Hamilton once again dramatically undercut him with 1m 21.188s for pole. But Ferrari were close, and Vettel's 1m 22.456s put the red car alongside the silver arrow at the front. With Raikkonen improving, but only to a below-par 1m 23.033s, the two big teams shared the honours and set the stage for a great race.
Behind them, Verstappen lined his Red Bull up fifth on a disappointing 1m 23.485s, while the sensational Grosjean planted the Haas solidly in sixth place with 1m 24.074s.
Massa put Williams seventh with 1m 24.443s, ahead of the Toro Rossos of Sainz and Kvyat on 1m 24.487s and 1m 24.512s. The subdued Ricciardo was 10th, without a time.
Thus the provisional grid will line up: Hamilton, Vettel; Bottas, Raikkonen; Verstappen, Grosjean; Massa, Sainz; Kvyat, Ricciardo; Perez, Hulkenberg; Alonso, Ocon; Ericsson, Giovinazzi; Magnussen, Vandoorne; Palmer, Stroll.