Report
QUALIFYING: Home hero Hamilton edges Vettel to Silverstone pole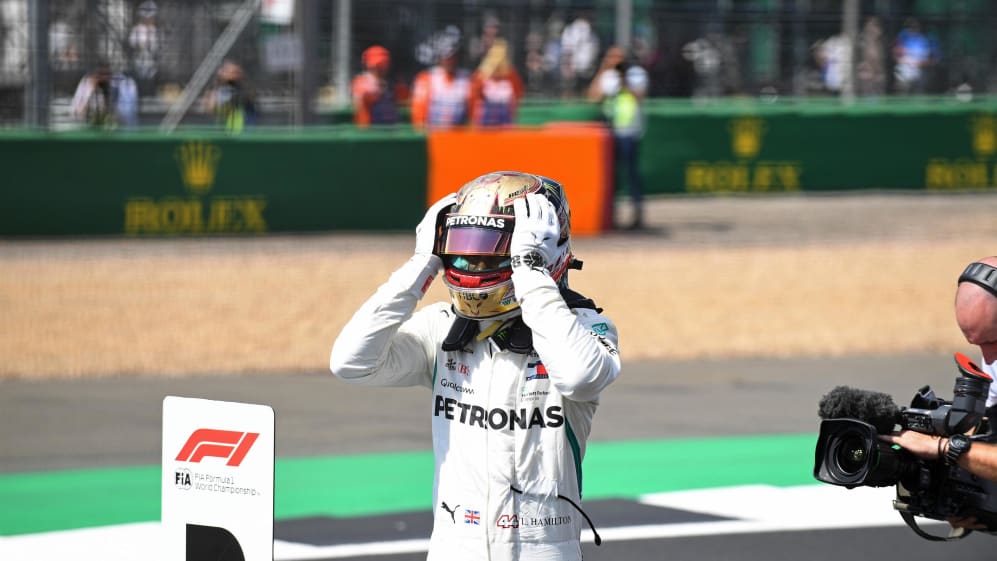 A massive crowd was on hand at Silverstone on Saturday, and they were treated to the closest qualifying session of the 2018 F1 season, with the top three drivers separated by just a tenth of a second. And much to their delight, it was home favourite Lewis Hamilton who delivered when it mattered most, snatching a brilliant pole position to finish just a fraction ahead of F1 title rival Sebastian Vettel…
Vettel was the man to beat in the first segment of qualifying, but that was slightly misleading given he had the soft tyres bolted to his Ferrari while the Mercedes duo were on the mediums. When the Silver Arrows switched to the softest compound, Hamilton showed once more why Silverstone is his manor.
The four-time champion was quickest in the second phase and then soaked up the pressure on his second run in qualifying to shatter Vettel's benchmark and set a new track record. Vettel could not respond and settled for second, with Ferrari team mate Kimi Raikkonen only half a tenth further back in third.
That gave Hamilton his 50th pole for Mercedes, the second-most by a driver-team combination in history behind Michael Schumacher and Ferrari's 58. It was also a British GP record sixth pole for Hamilton.
With Ferrari and Mercedes closely-matched on race pace, Sunday's race is beautifully set up. Red Bull locked out the third row, with Max Verstappen beating Daniel Ricciardo to fifth, with Haas' Kevin Magnussen seventh ahead of team mate Romain Grosjean. Charles Leclerc and Esteban Ocon completed the top 10.
Here's how the sessions unfolded beneath beautiful blue skies and amid scorching temperatures…
Q1 – Williams' misery continues on home soil
Qualifying was only a few minutes old when Lance Stroll got it all wrong at the end of the Wellington Straight and spun off into the gravel. The Williams driver tried to escape but the car was beached and that forced FIA F1 Race Director Charlie Whiting to red-flag the session while Stroll's car was recovered.
When the session restarted, things got worse for Williams on home soil as Sergey Sirotkin lost the rear end of the car at Stowe, pitching him into the gravel, in an incident very similar to team mate Stroll. Fortunately, for the Russian, his rear wheels ended up on the run-off and he was able to retreat to the pits.
Up front, Vettel set the pace, two tenths quicker than Lewis Hamilton – but the Ferrari driver did his best lap on the softs, while Hamilton and Mercedes team mate Bottas, in third, opted to run the mediums to save an extra set of the softest compound for later in the session.
At the other end of the field, Carlos Sainz and Stoffel Vandoorne found themselves in the elimination zone in the final minute of qualifying. Sainz made an improvement but he was then shunted back down, missing out by just half a tenth of a second to Gasly, who did a remarkable job after his Toro Rosso team changed his front suspension in time to get him out on track.
Sainz, who hadn't been eliminated in Q1 since Bahrain 2017, and Vandoorne, who failed to escape Q1 for the third successive race, were joined by Sirotkin, Stroll and Brendon Hartley, who didn't take any part in qualifying. The Kiwi's Toro Rosso suffered significant damage when he crashed at high-speed following suspension failure in final practice earlier on Saturday morning.
Q2 – Haas and Leclerc shine as Hamilton hits the top
Friday's single-lap data signalled we were in for a two-car, four-driver fight for pole position and the performances of Mercedes and Ferrari in Q2 suggested it was bang on the money. Vettel went quickest, but Hamilton jumped him by a tenth on his second attempt, having abandoned his first after a mistake.
Bottas was third, a fraction ahead of Raikkonen with the top four separated by just one-and-a-half tenths of a second. Red Bull are out on their own in fifth and sixth, with Verstappen appearing to have the edge on Ricciardo, though the Australian complained his DRS was not working correctly.
Haas meanwhile converted their strong pace, with Grosjean and Magnussen making it through, too.
Heading into the final minute of qualifying, Charles Leclerc and Esteban Ocon were on the bubble, but no one managed to improve on their final runs, which meant Leclerc made it into Q3 for the second time in the last three races.
Nico Hulkenberg missed out on the top 10 shootout by just half a tenth of a second as Renault failed to get one car into Q3 for the first time this year. However, the German described 11th as a "sweet position", referring to him being the best-placed driver who can choose his starting tyre.
He was joined by Sergio Perez, Fernando Alonso, Pierre Gasly and Marcus Ericsson, who was six tenths slower than Sauber team mate Leclerc, in taking an early bath.
Q3 – Hamilton delivers when it matters
Hamilton backed off before the start of his first flying lap to give himself some space before putting the hammer down and setting a flurry of personal best sectors to go quickest, but he lost some time when he clobbered the orange kerb on the exit of the penultimate corner. His title rival Vettel did exactly the same, but his combination of sectors was better as he snuck in front by just 0.057s of a second. First blood to Vettel.
The duo headed back to the pits for fresh rubber before heading back out for one final run, both knowing there is more lap time to come if they could keep it clean. Hamilton was the first to head out and despite being down in the first sector, number 44 kept it neat and tidy in the next two sectors to edge a rather fitting 0.044s clear.
Vettel made a mistake on his final run and did not improve to stay second, while team mate Raikkonen looked like he might snatch pole after setting the fastest first sector. But he lost two tenths in the second sector and even though his final sector was the best of the field, it wasn't enough and he ended up third.
Bottas was fourth, ahead of Red Bull duo Verstappen and Ricciardo, with Magnussen outperforming Grosjean to take seventh. Leclerc was a brilliant ninth, nearly three tenths ahead of Force India's Ocon.
Saturday was all about Hamilton – who took his fourth successive pole at Silverstone. Can he convert that into his fifth successive victory at Silverstone? If he can, more history beckons: a record sixth British Grand Prix victory.
The key quote
"That lap took everything out of me, it was the toughest lap I've ever had to do in a qualifying session. I had to go over the limit to get that time out of the car and I could have easily not pulled that lap together, so I'm thankful that I was able to do it. I knew that the fans were right there with me. Every time I go out I see them cheering. The support I get at this track is phenomenal, it means the world to me and it really lifts me up. The start and the tyre management will be key for the race. I'm going to see my guys tonight and tell them to keep pushing so that we're as good as we can get tomorrow." – Lewis Hamilton
The key stats
Lewis Hamilton scored his 50th pole for Mercedes, the second highest of any driver for one team and just eight behind Michael Schumacher's record of 58 for Ferrari.
It was also Hamilton's sixth British Grand Prix pole, a record for the race.
Alongside Hamilton will be Sebastian Vettel, with the German not having been on the front row at Silverstone since 2014. It's also the first time that Vettel has outqualified Raikkonen at Silverstone since they've been team mates at Ferrari.
Just 0.098s covered the first three cars in qualifying.
Carlos Sainz was knocked out in Q1 for the first time since Bahrain 2017 – and failed to make it through to Q3 for the first time in 2018.
Meanwhile, Sainz's Renault team mate Nico Hulkenberg chalked up his worst qualifying at Silverstone since 2013.
McLaren's Stoffel Vandoorne has now failed to make it through to Q2 in three consecutive races.
One notable absentee from the front row is Valtteri Bottas. The Finn misses out on the top two in qualifying for the first time in four races, having never qualified in the top three at Silverstone.
Silverstone marked the third time in three races that Haas have got both cars through to Q3.
It's the fourth time in six races that there has been one car absent in qualifying, with Brendon Hartley failing to make it onto the track during the session after his FP3 crash.
What's next?
Sunday's race begins at 1410 local time – that's 1310 UTC – and it's going to be parasols at the ready, with temperatures at Silverstone set to be around 28 degrees Celsius during the race.