Qualifying improvement vital for Ferrari - Vettel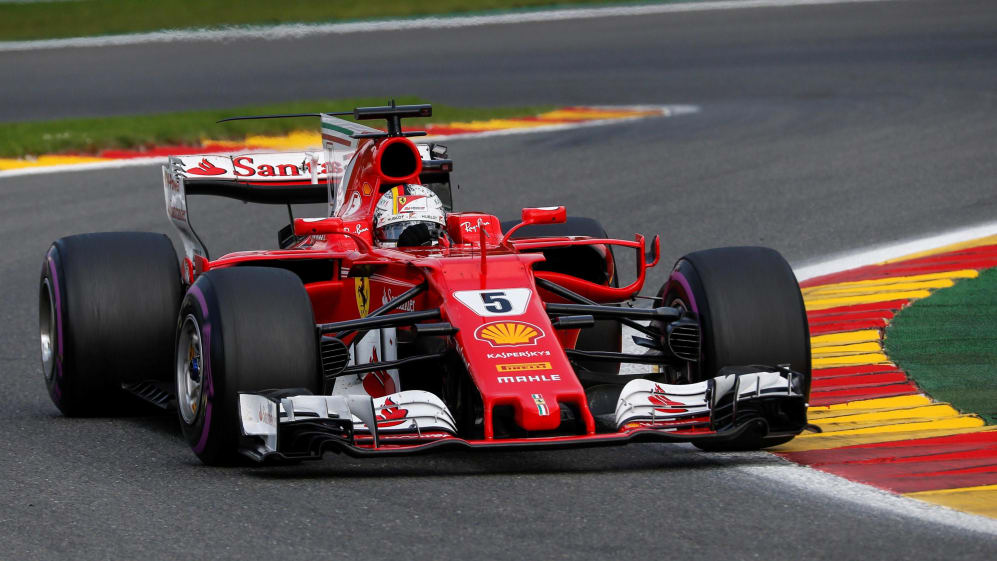 Championship leader Sebastian Vettel says Spa proved Ferrari must improve their qualifying form in order to defeat closely-matched rivals Mercedes over the latter part of the season.
The German qualified second on the grid for Sunday's race in Belgium, but despite matching Lewis Hamilton for pace throughout the Grand Prix, was unable to find a way past and ultimately had to settle for P2 behind the Briton.
Vettel said he had no complaints about the car's performance during the Grand Prix - despite his championship lead to Hamilton being slashed from 14 to seven points - but believes Saturday is a different matter.
"I think overall the satisfaction is really there," Vettel explained afterwards. "We had the pace, we were pushing them the whole race. I think we had no time in the race where we were slower, I think we had phases though where we were a bit faster.
"And we were, I think, better with the tyres - I was following close the whole first stint, so plenty of positives and that's where we need to continue.
"We know we need to improve in qualifying. They [Mercedes] are able to turn up the engine compared to everyone else by at least three or four tenths which does make a difference.
"If we'd had a better day yesterday with pole, it's a different story. Or if at some point you end up in front, then it's a different story, because then I think it would have been difficult for them to get past.
"Similar for us to get past them - we are more or less the same on pace, so usually if you are the same on pace you fight for the same bit of track and that's what we did, we were very close but struggled to overtake."
Ferrari added several upgrades to the SF70H for Spa, and although he was edged for victory Vettel said he still has faith that his car is the best package on the grid.
"I think overall we have built a better car – that's my conviction - but that's for everyone to judge. There are circuits where we might have an advantage, circuits where they might have an advantage, but if we can change that trend in qualifying where life for them is maybe a bit too easy, then it's a different Sunday.
"Everyone knows it, we know it – but if it's that easy to change you would do it. But it's not. The level is very high - we are fighting the best team in Formula 1. They have won the championships the last couple of years fighting more or less on their own, so I think we've done a very good job to be where we are.
"But that's not enough - we want to clearly be at the front and there is a long way to go still. But everybody is fired up and I am pretty confident that we will have some good races coming."
The next round of the championship takes the teams to Ferrari's home track of Monza. The Prancing Horse have not won at the venue since 2010, while Mercedes have been victorious in the last three races at the high-speed circuit.