Report
QUALIFYING: Raikkonen beats Vettel to pole at Monza
The fastest lap in Formula 1 history. That's what it took to snatch pole position for Sunday's Italian Grand Prix and it was Kimi Raikkonen, rather than his more decorated Ferrari team mate Sebastian Vettel who achieved the feat…
Ferrari were the overwhelming favourites for pole position - and indeed their first front-row lockout at Monza since 2000 - after showing stunning pace at the Temple of Speed throughout the weekend's practice sessions. And they delivered on their promise, to the delight of their loyal fanbase, the Tifosi.
Raikkonen left it until the death, finally converting the brilliant turn of speed he has shown this year, to take his first pole since last year's Monaco Grand Prix and only his second in the last decade. It was also the fastest lap in F1 history and a Monza track record. His team mate Vettel was left frustrated, having seemingly given Raikkonen a tow on that final run.
He'll still start second, though, ahead of main title rival Lewis Hamilton. His team mate Valtteri Bottas made it an all-Mercedes second row, with Max Verstappen slotting into fifth for Red Bull. Haas driver Romain Grosjean was best of the rest in sixth, edging out Renault's Carlos Sainz and Force India's Esteban Ocon. Pierre Gasly and Lance Stroll produced impressive. drivers to complete the top 10 for Toro Rosso and Wiliams respectively.
Q1 – Perez caught out as Williams earn small win
The early morning rain was just a distant memory as glorious conditions greeted the field for the opening segment of qualifying. Vettel picked up where he left off in final practice, setting an impressive benchmark early in the session and then improving on that second time around before retreating to the pits – his work done for Q1.
His Ferrari team mate Raikkonen rode shotgun in second. What of Mercedes? Well Hamilton was the closest challenger, but he was half a second off the pace after his first run. He sliced that deficit in half next time around and that was comfortably enough to see him through.
Red Bull's Daniel Ricciardo was a surprise fourth, 0.738s off the pace. His time matters little, though, as he'll be starting from the back after a series of engine component changes triggered a hefty grid penalty for Sunday's race.
As the clocked ticked down, Williams' Sergey Sirotkin and Sauber's Marcus Ericsson sat on the bubble, with Stroll in the drop zone by just 0.037s. And Sergio Perez looked vulnerable in 12th, considering he was sat in the Force India pits. Quite remarkably, it was the two Williams who improved considerably, with Sirotkin popping into 11th and Stroll 13th – with Perez making a shock exit.
The Mexican missed out by just 0.001s, with Romain Grosjean sneaking through in the Haas. Sauber's Charles Leclerc, Toro Rosso's Brendon Hartley, Sauber's Marcus Ericsson and McLaren's Stoffel Vandoorne were the other four drivers to take an early bath. Leclerc was frustrated on team radio, but the margins were so fine. Just two-tenths separated Sainz in eighth and Hartley in 18th.
Q2 – Vettel edges it as Stroll stars
Friday's form guide suggested Ferrari would cruise to the front row, but as we've seen so often in Hamilton's career, he can turn it on when it matters and outperform the car. His lap in Q2 was one such moment. The Briton pumped in the fastest lap time of the weekend by far, breaking into the 1m19s, and though Vettel pipped him a few moments later, the deficit was just 0.013s.
Admittedly, there was more to come from Vettel, as he ran wide at Parabolica – but it highlighted that Hamilton was still in the hunt for pole if he could get everything right. Bottas was fourth, six-tenths off his team mate, with Verstappen fifth and Force India's Esteban Ocon a superb sixth.
The Williams duo chose to do just one run in the closing stages of the session. And Stroll made it count with a stunning effort to reach Q3 for the first time this season.
Impressive, too, was Toro Rosso's Pierre Gasly, who made it through in P10. That'll give confidence to Red Bull, who will switch to Honda power next year. Elsewhere, Vettel improved his advantage over Hamilton to 0.17s while McLaren's Fernando Alonso and Haas's Kevin Magnussen tangled into Turn 1 as they battled for track position, which in turn ruined their final runs.
Both were knocked out of Q2, along with Sirotkin, plus Ricciardo and Renault's Nico Hulkenberg who opted not to run, given they have sizeable grid penalties for engine component changes.
Q3 - Raikkonen shocks Vettel to take pole
Could anyone beat Juan Pablo Montoya's 14-year-old 1:19.525s qualifying lap record today – and in the process set the fastest lap in F1 history? Yes, they could. First Vettel smashed it. Then Raikkonen bettered that. Then came Hamilton. The trio separated by just 0.107s after the first runs, setting up a nail-biting finale.
Vettel looked quick on his final run and sneaked into provisional pole position, but Raikkonen was flying. And for the first time in a long while, the Finn made no mistake!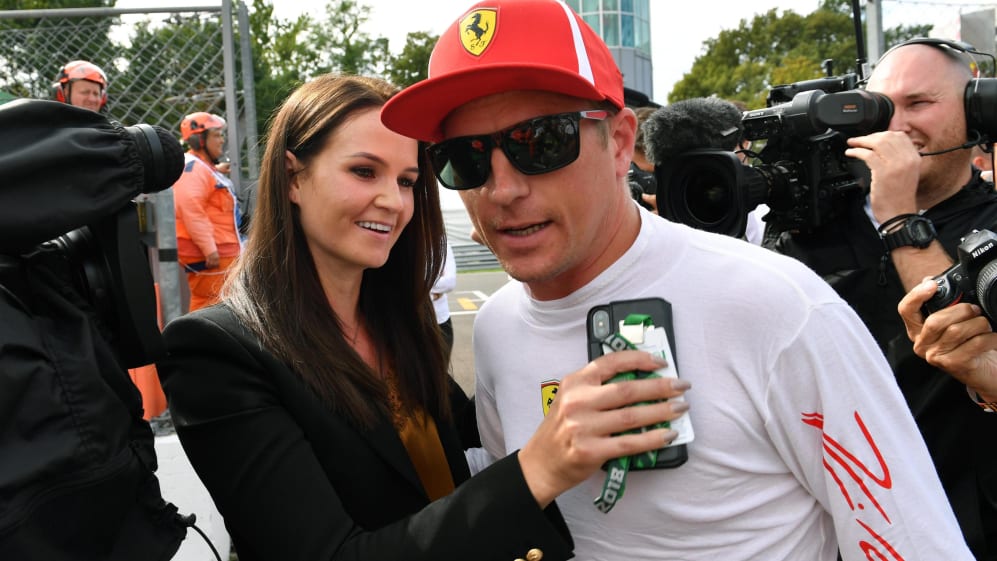 The key quote
"Obviously it's great for tomorrow, but it's only half the job done. There couldn't be a better place to be on pole position, at our home Grand Prix in front of all the Tifosi. Hopefully tomorrow everything goes smoothly and we end up in the same positions." – Kimi Raikkonen
The key stats
At 38, Raikkonen is the oldest polesitter in F1 since 41-year-old Nigel Mansell at the 1994 Australian Grand Prix.

Team mate Vettel is on the front row at Monza for the first time in his Ferrari career.

Mercedes have led every lap of every Italian Grand Prix since the start of the current turbo hybrid era.

Hamilton has 8 front-row starts at Monza but has never previously started 3rd here.

Fifth on the grid, his best since Silverstone, Verstappen will be trying to match or beat father Jos's 4th place for Arrows in the 2000 Italian Grand Prix.

Ricciardo was eliminated in Q2 for the 3rd time in the last 4 races, having only missed Q3 once in the previous 58 race.

After reaching Q3 for the second time in the last 3 races, Gasly clinches the season head-to-head battle against Toro Rosso team mate Hartley.

Ocon's P8 on the grid makes it the 3rd year in a row that a Force India has started in the top 8 at Monza.

Until today, Hulkenberg's only Q1 elimination in the last 3 years was at the 2018 Spanish Grand Prix.

Perez missed out on a Q2 place by just 0.001 - the 2nd time in 3 races that he's been eliminated in the opening phase.
Onboard pole lap
What's next?
The racing will kick off at Monza at 1510 local time on Sunday, 1310 UTC. Join us then to find out whether the Tifosi will have as big a reason to celebrate as they did today...