Report
QUALIFYING: Ricciardo snatches Mexico pole from Verstappen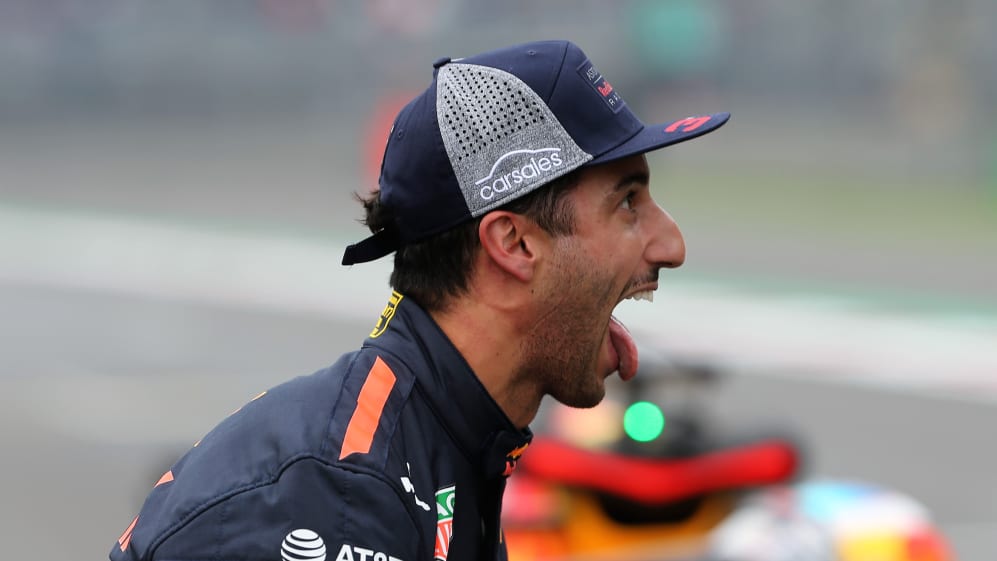 Ahead of the final segment of qualifying in Mexico, all the talk was of whether Max Verstappen would become Formula 1's youngest ever pole-sitter, after the Dutchman had set a scorching pace all weekend around the Autodromo Hermanos Rodriguez. But in the event, it was his team mate Daniel Ricciardo who claimed P1, securing Red Bull's first ever front-row lock-out in the post-2014 hybrid era with a scintillating final effort that seemed to come from nowhere.
History wasn't made, but it was hard for anyone watching to be disappointed, after a thrilling pole position shoot-out which saw six drivers genuinely gunning for pole position. "Thanks legends," was Ricciardo's succinct message to his team after securing the third pole of his career, and the first at a track that wasn't Monaco.
In the end, Verstappen lost out on the youngest pole-sitter mantle by just 0.026s, heading off the title contenders of Lewis Hamilton in third and Sebastian Vettel in fourth as Red Bull capitalised on the searing pace that they've demonstrated in Mexico so far to make the front-row theirs and theirs alone for the first time since the 2013 United States Grand Prix.
The second Mercedes and Ferrari of Valtteri Bottas and Kimi Raikkonen were fifth and sixth, while Renault also backed up the impressive speed they showed in Friday practice, Nico Hulkenberg taking 'best of the rest' in P7 ahead of team mate Carlos Sainz, while the Saubers of Charles Leclerc and Marcus Ericsson will be paired up on the fifth row of the grid after claiming ninth and tenth.
Q1 – BOTTAS SETS THE EARLY PACE TO GET MERCEDES ON TOP
The drivers headed out on onto an Autodromo Hermanos Rodriguez track that, for the sensitive hypersoft rubber that all the runners set their best laps on in the first segment, was blissfully dry and cool.
With the track evolving dramatically throughout Q1, Mercedes finally found themselves at the top of the timesheets, knocking Red Bull off for the first time this weekend, Bottas heading Hamilton by just 0.093s, while Verstappen was P3, 0.176s adrift, Ricciardo P4 and Sebastian Vettel fifth. To the delight of the Mexican crowd, Sergio Perez was best of the rest in sixth, ahead of his own Force India team mate Esteban Ocon in P7 and the second Ferrari of Raikkonen in P8.
Despite going an impressive P10, Toro Rosso's Brendon Hartley was not a happy racing driver, taking to team radio to accuse team mate Pierre Gasly of backing him up, as intra-team tensions looked to be escalating. Meanwhile, after going an impressive sixth in Free Practice 3, Sauber's Charles Leclerc found himself right on the cusp of the drop-out zone in P15. The reason? A lairy moment through Turn 11 and a magnificent save from the Monegasque. Ay caramba indeed…
At the bottom of the pile, Haas lost both cars for the second year in succession in Mexico, Romain Grosjean P16 while Kevin Magnussen was P18. In between them was the McLaren of Stoffel Vandoorne, outqualified by Fernando Alonso for the 23rd consecutive race, while the two Williams of Lance Stroll and Sergey Sirotkin were P19 and P20 – although Stroll will benefit once he's pushed up by Grosjean's three-place penalty carried over from Austin, while both will move forward following Gasly's 15-place drop for changing power unit elements and his gearbox.
Q2 – VERSTAPPEN FASTEST AS TOP RUNNERS GET THROUGH ON ULTRASOFTS
With 'bubblegum' the most commonly used adjective to describe the pink hypersoft tyres so far this weekend, all three top teams of Red Bull, Mercedes and Ferrari elected to try and get through Q2 on the slower but more durable purple ultrasofts.
They all managed it too, which rather negated any of the six drivers' advantage, but means that they'll all be able to lock-in a more optimised strategy when they start the race on those tyres on Sunday afternoon. Max Verstappen led the way with a 1m 15.640s, just 0.004s ahead of Hamilton, Vettel a further 0.071s further back.
With those sort of tactics not an option for the midfield teams, it seemed that there was a split between drivers trying to go for Q3 glory and those aiming for P11, knocking them out of Q2 but allowing them the best possible position whilst having a free tyre choice for tomorrow.
The man who managed that was Esteban Ocon, ahead of the McLaren of Fernando Alonso in P12, the second Force India of Sergio Perez – in his worst ever home-race qualifying – in P13. The two Toro Rossos of Hartley and the yet-to-be-penalised Gasly were the final two runners in P14 and P15, Gasly not bothering to run, while Hartley made a mistake heading into the Foro Sol stadium section on his final lap, meaning he wasn't able to capitalise on his impressive Q1 pace.
The Renaults were the two fastest 'best of the rest' runners, Hulkenberg ahead of Sainz, the Spaniard making it into Q3 for the first time in five races, while the two Saubers of Leclerc and Ericsson rounded out the top 10.
Q3 – RICCIARDO STRIKES BACK IN QUALIFYING TO DENY VERSTAPPEN
He'd been out-paced by his team mate all weekend in Mexico. But when it came to crunch time in Q3, it was Ricciardo who got the job done, outqualifying Verstappen for the second time in two races on a day when the Dutchman - who was fastest after the first Q3 runs, with Ricciardo only fourth behind Vettel and Hamilton - had looked likely to poach the 'youngest-ever pole-sitter' title that Vettel claimed for Toro Rosso a decade ago.
It was a sweet result for the Australian, who's endured a miserable second-half of the season that's been blighted by mechanical failures – his most recent coming at the United States Grand Prix just a week ago. Yet while the blue cars with the yellow noses will have the front row covered at the start of Sunday's race, all eyes will likely be on the row just behind, as title contenders Hamilton and Vettel line up alongside one another, the former having jumped his rival on the second runs in Q3. Each will have their Finnish stable mate ready to back them up (or not, as the case may be…) directly behind them on the grid. And with Mexico having witnessed its fair share of first-lap action in recent years, it could make for quite the opening-lap fiesta.
Renault know that Mexico represents their best chance in the last three races to take a strong finish as they seek to fend off Haas for fourth place in the constructors' championship. And the Anglo-French team's qualifying couldn't have gone much better, as their drivers locked out the fourth row of the grid, on a day when neither Haas could pull themselves out of Q1.
A decent qualifying too for Sauber, who continued to use their ever-improving C37 to good effect, taking ninth and 10th.
So no massive records broken today – apart from the lap record, that is, which fell by a whopping 1.729s. But a real treat for the fans, a boost for Ricciardo's morale and a scintillating race scenario well and truly established for tomorrow.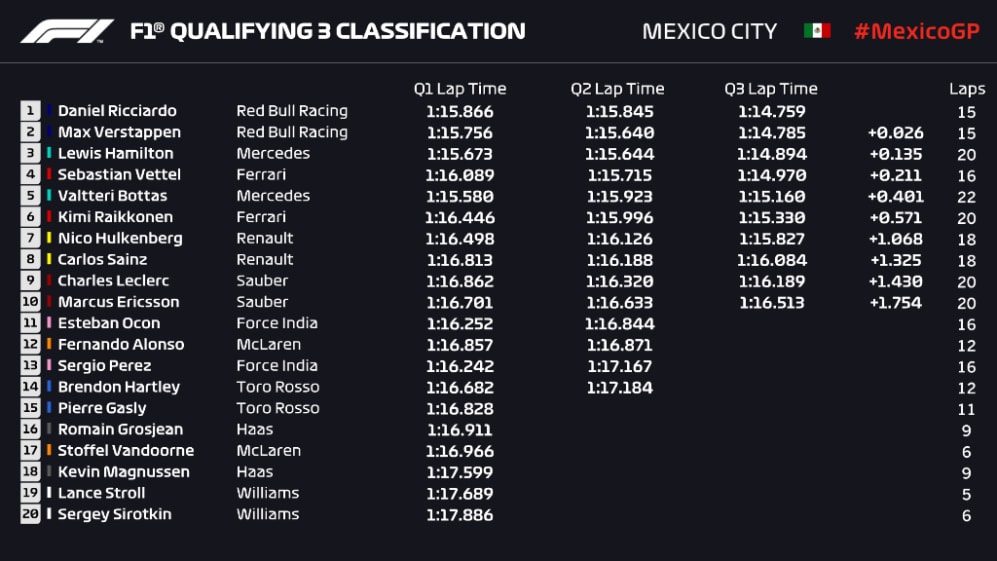 The key quote
"I knew it was there somewhere. We hadn't had the cleanest run through practice and I just knew putting the lap together would be crucial, as always, but I knew the pace was in the car. Obviously Max showed that all weekend from start to finish. So it was just putting together a clean lap at the end. I still wasn't convinced, it wasn't the cleanest. I've got to relax a little, I'm tripping major nut sacks right now." – Daniel Ricciardo
The key stats
That was Daniel Ricciardo's third ever pole position, and the first that the street circuit specialist hasn't scored in Monaco.

While being Red Bull's first front-row lock-out since 2013, it was also the team's 60th pole position.

Max Verstappen and Lewis Hamilton take up the same positions in Mexico this year as they had last year – second and third.

Sunday's Mexican Grand Prix will mark the first time one of either Lewis Hamilton or Sebastian Vettel hasn't been on the front row of the grid this season.

Considering that Sebastian Vettel needs to win tomorrow to stay in the title hunt, things aren't looking good, with Vettel (starting in P4) having never won a race from outside the top three before.

Kimi Raikkonen maintains his unwanted record of having never started in the top four in Mexico – although he remains the only driver to start every race in the top six in 2018.

Having failed to get both cars into Q3 in between the 2015 Italian Grand Prix and the 2018 Russian Grand Prix, Sauber have now managed that feat twice in four Grands Prix.

Nico Hulkenberg claimed his seventh seventh place on the grid this year, while failing to start inside the top six at any race.

Haas' poor qualifying ended an 11-race Q3 run for Romain Grosjean, the best of his career.

Both Williams cars were out in Q1 for the 11th time this season.
Onboard pole lap
What's next?
The Mexican Grand Prix will began at 1310 local time, which is 1910 UTC – and beware that the clocks go back tonight! A top-seven finish for Lewis Hamilton will give him his fifth title, no matter where Sebastian Vettel ends up. Can he get the job done? Either way, you'd be a fool not to watch him give it a go...