Race - Hamilton champion as Verstappen wins in Mexico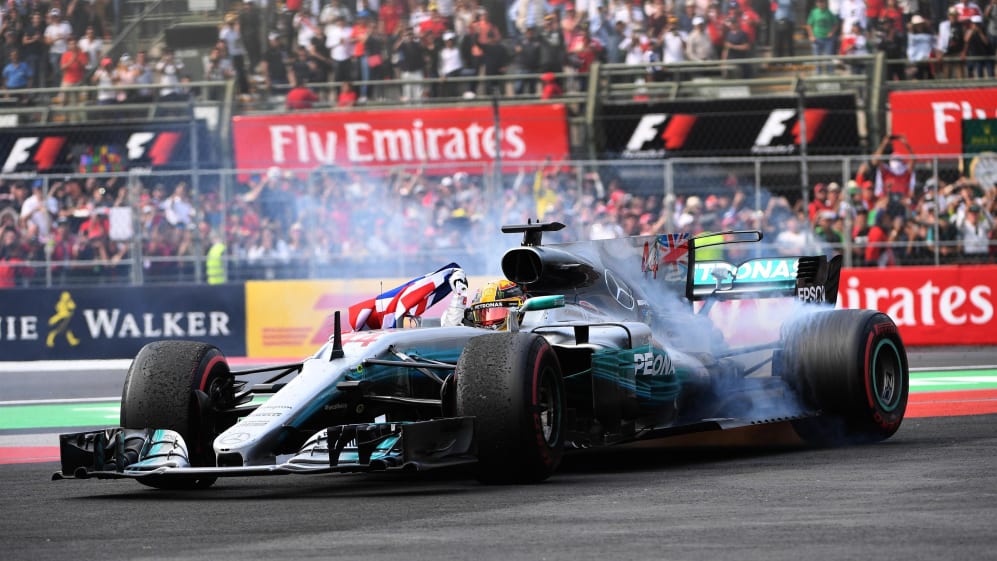 A tense afternoon in Mexico saw Mercedes' Lewis Hamilton secure a fourth drivers' title and Red Bull's Max Verstappen a crushing third Grand Prix victory. Hamilton and championship rival Sebastian Vettel came together at the start, dropping both men to the back, and though the Ferrari driver recovered to fourth, the Briton's ninth was enough to wrap things up with two rounds to go.
Joining the fast-starting Verstappen on the podium were Mercedes' Valtteri Bottas and Ferrari's Kimi Raikkonen. Behind Vettel, Esteban Ocon was fifth, split from Force India team mate by Williams' Lance Stroll. Haas's Kevin Magnussen, Hamilton and McLaren's Fernando Alonso completed the top ten.
Verstappen dominated the race to score a resounding win, but all eyes were inevitably on the two title protagonists after they touched on the opening lap and the story of how Hamilton recovered from last place to win his fourth world championship overshadowed the Dutchman's greatest drive.
It all began well, with polesitter Vettel, Verstappen and Hamilton running side by side down to Turn 1 after the start. Vettel was on the inside and kept his pole advantage, but only just from Verstappen, as Bottas braked just enough on the inside to let Hamilton through from the outside line.
Going toward Turn 2, Verstappen drew alongside Vettel, taking the line for the upcoming left-hander, and they touched gently, the Ferrari's front wing against his right-rear tyre, before the Red Bull man grabbed the initiative.
Hamilton, meanwhile, got a very clean run at the delayed Vettel and had snatched second by the exit to Turn 3, when the German brushed his right-rear tyre, puncturing it.
As Hamilton crept pitward, Vettel rushed in for a new nose and a set of soft tyres. Hamilton went for the same tyre choice, both intent on trying to make it to the flag without stopping again.
Vettel quickly clawed his way to eighth in a healthy Ferrari, and took a set of ultrasofts after the breakage of Brendon Hartley's Toro Rosso on the 31st lap and the resulting Virtual Safety Car triggered mass pit stops.
Hamilton, meanwhile, had been struggling in 19th place to pass Sauber's Pascal Wehrlein and the delayed Renault of Carlos Sainz. He took a set of supersofts in the same round of pit stops, and now the race came alive.
Vettel needed 16 points to maintain his title hopes, and that meant second place, which was firmly the property of Bottas. The Finn couldn't match Verstappen. But he was keeping the pressure on.
Even when those stops helped Raikkonen jump Ocon for third place (and Stroll Perez for fifth), Vettel had no realistic chance of the runner-up slot unless there were retirements ahead of him. He made it to fourth, but Raikkonen was 23.7s ahead so there was no way Ferrari could get their Finn to hand over the place.
On top of that, Hamilton climbed to an eventual ninth after a huge fight with Alonso, and with 333 points to Vettel's 277, the title war was finally over no matter what happens in Brazil and Abu Dhabi.
Behind Bottas and the Ferraris, Ocon drove beautifully for fifth ahead of the consistent Stroll, Perez who needed fresh ultrasofts close to the end, and Magnussen, who drove really well to fend off everything Alonso could throw at him, and held off Hamilton at the flag by 0.6s.
Alonso finished 10th ahead of Williams' Felipe Massa, who'd had a bit of rough and tumble with Vettel in Turn 12 on the 12th lap, Stoffel Vandoorne in the second McLaren, Pierre Gasly's surviving Toro Rosso, Wehrlein's Sauber and Romain Grosjean's Haas.
It was a bad day for most of the Renault runners: Sainz flat-spotted a tyre early on to prompt a pit stop and retired with handling issues; Nico Hulkenberg lost seventh place (having at one stage run fourth) with electrical problems; Brendon Hartley's Toro Rosso succumbed to power loss; and Daniel Ricciardo's Red Bull ate another turbocharger. And Marcus Ericsson, who'd had a great run in ninth place early in the race in his Ferrari-powered Sauber, fell prey to cooling troubles to become the other retirement.