Report
Race - Hamilton wins in China to draw level with Vettel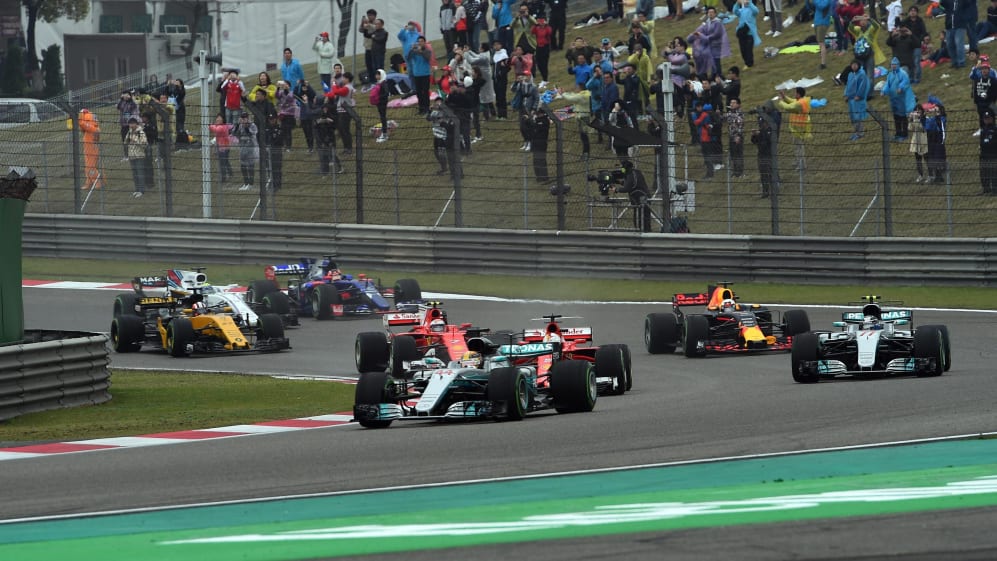 Mercedes' Lewis Hamilton and Ferrari's Sebastian Vettel share the world championship points lead after a tense battle in Sunday's 2017 Formula 1 Heineken Chinese Grand Prix. It left both smiling broadly as they finished first and second, 6.2s apart, with Red Bull's Max Verstappen third having fought his way up from 16th on the grid.
Hamilton's 54th F1 triumph came as he led from pole position from start to finish - the third grand slam of his career - but it was no walkover.
The race began on a damp but rapidly drying track, with everyone bar Toro Rosso's Carlos Sainz on intermediate tyres. Sainz quickly rued that gamble, spinning off on Lap 1 and then needlessly brushing the wall as he made his way back onto the circuit.
It quickly became clear though that slicks were in fact the right choice and others, including Vettel, pitted for dry rubber under a virtual safety car on the second lap, triggered when Force India's Sergio Perez had collided with Williams' Lance Stroll on the first, leaving the Canadian rookie beached in the gravel.
Leaders Hamilton, team mate Valtteri Bottas, Red Bull's Daniel Ricciardo, Ferrari's Kimi Raikkonen and Verstappen - already up to fifth - stayed out until the fourth lap, when a real safety car deployment came as Antonio Giovinazzi crashed his Sauber exiting the final corner, the Italian appearing to aquaplane off into the pit wall.
That enabled all five to keep their positions as they pitted, leaving Vettel to drop from an initial second to sixth, and set up the thriller.
Initially it was Verstappen who proved to be Hamilton's main challenger. He and Ricciardo had gone for the supersoft Pirellis, as all the others went for softs in the hope of going all the way. But gradually, the Dutchman fell back, and after Vettel had finally passed team mate Raikkonen on the 20th lap, then Ricciardo in a bold and forceful move in Turn 6 on the 22nd, he closed in on the remaining Red Bull and overtook it when Verstappen had a big lock-up in the Turn 14 hairpin on the 28th.
From that half-distance point, Hamilton and Vettel were in a world of their own as they traded times and the gap between them ebbed and flowed. Both elected to take fresh soft tyres, Vettel before Hamilton this time.
Both thought the other had great pace and clearly loved their battle, but perhaps Vettel summarised things best when he suggested that, this year, whoever wins deserves it.
They have 43 points apiece in the drivers' table as Mercedes eased ahead of Ferrari by one in the constructors', and the prospects of a super-close title fight look very strong.
Verstappen, like Ricciardo, had to stop for more supersofts, but just kept ahead for the final podium slot after a superb drive from the back of the grid which earned him the Driver of the Day vote from fans. Raikkonen just held on to fifth as Bottas fought back after spinning from fifth place to 12th on the seventh lap whilst weaving in an attempt to keep temperatures up under the safety car.
Sainz made up for his first-lap off with an outstanding run to seventh as he made Toro Rosso the 'best of the rest', while Kevin Magnussen took a strong eighth for Haas after beating the Force Indias of Perez and Esteban Ocon. Team mate Romain Grosjean fought up from his penalised grid position for 11th as Nico Hulkenberg had an unhappy afternoon for Renault which included a five-second time penalty for overtaking under the virtual safety car, and a 10s penalty for doing likewise under the real one. Team mate Jolyon Palmer finished two seconds behind him.
It was a horrible afternoon for Williams, too, as they lost Stroll from 10th place on that first lap, and saw Felipe Massa slump from seventh then to 14th at the end.
Marcus Ericsson competed the finishers in 15th for Sauber, as Toro Rosso's Daniil Kvyat joined the retirements with a mechanical problem, and the McLarens of Stoffel Vandoorne and Fernando Alonso succumbed to technical issues. Alonso in particular had been mighty, running as high as sixth on the seventh lap, and in contention for points throughout.
The F1 paddock now moves rapidly onward to the 2017 Formula 1 Gulf Air Bahrain Grand Prix in just a week's time.