Race - Monaco win extends Vettel's championship lead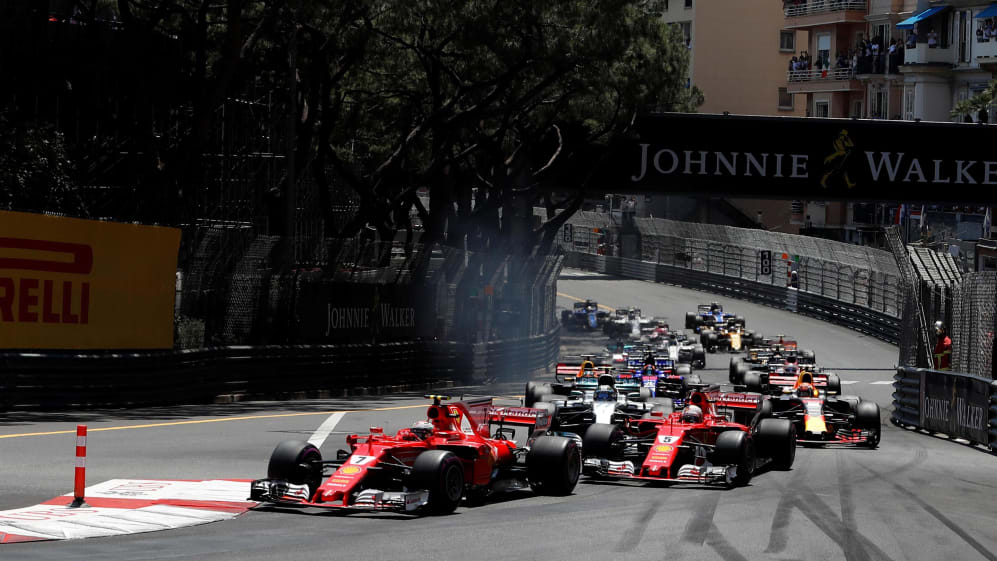 Sebastian Vettel beat Ferrari team mate Kimi Raikkonen to victory in Sunday's Formula 1 Grand Prix de Monaco 2017, boosting his title advantage to 25 points over Mercedes' Lewis Hamilton, who finished a distant seventh. Daniel Ricciardo completed the podium for Red Bull.
A late safety-car period meant a frantic final 10 laps, but at the front the race was decided largely by strategy. A longer first stint for Vettel enabled him to get ahead of polesitter and early leader Raikkonen as he emerged in front of the Finn following their first and only pit stops. It was Ferrari's first win in the Principality since 2001.
Ricciardo similarly made use of the 'overcut' to pass Mercedes' Valtteri Bottas and his less-than-impressed Red Bull team mate Max Verstappen, who duly took the chequered flag in fourth and fifth respectively.
Toro Rosso were 'best of the rest' with Carlos Sainz in sixth, as Hamilton behind him climbed from 13th on the grid. Completing the top ten were Haas's Romain Grosjean and Kevin Magnussen, separated by the Williams of Felipe Massa.
The most dramatic moment of the race came on Lap 60 when an ambitious passing attempt from McLaren's Jenson Button on Sauber's Pascal Wehrlein went awry, tipping the latter's car on to its side against the Portier barriers, its mercifully unharmed driver unable to escape his cockpit until help arrived. And as the safety car emerged, Button got as far as the chicane before suspension damage forced him to halt his one-race comeback.
Raikkonen had won the start, and soon the two Ferraris cleared off, though there was a period in the middle of the race when the pursuing Bottas and the Red Bulls of Verstappen and Ricciardo were running quicker as the red cars' tyres started sliding.
Ricciardo vaulted ahead of both Bottas and Verstappen by pitting later. They did so on the 33rd and 32nd laps respectively, the Australian on the 38th. The Dutchman was not amused.
But it was Vettel's stop, on the 39th lap, which put him ahead of Raikkonen, who had made his pit call five laps sooner. That settled the race in his favour, extending his championship points score to 129.
Raikkonen's face and demeanour on the podium suggested he was far from happy. This was a race in which the overcut worked more effectively than going for the undercut, so that the later you pitted, the better.
Ricciardo was happy, especially as he had clobbered the barrier exiting Ste Devote when the race restarted on the 67th lap and he narrowly fended off Bottas and Verstappen. He stayed ahead of them as the Dutchman got bottled up behind the Mercedes, to claim the final podium slot.
Sainz brought his Toro Rosso home and excellent sixth, holding off a fierce challenge from Hamilton. The Englishman's race didn't begin until his rivals began pitting, and for the first 20 or so laps he ran 10th after overtaking Stoffel Vandoorne off the line and moving up as Nico Hulkenberg's Renault stopped early on with a blown gearbox and Sergio Perez pitted early for a new front wing on his Force India.
Hamilton kept running, and had climbed up to sixth before he pitted on the 46th lap. He lost just one place, to Sainz, but did not have the performance to pass the Spaniard even when the field bunched up behind the safety car. He now has 104 points, 25 - or a race win - behind Vettel.
Romain Grosjean ran well to take eighth for Haas, always in points contention, and it was a good day for the US team as Kevin Magnussen benefitted from a late collision which removed Daniil Kvyat's Toro Rosso after he was hit by the recovering Perez in a battle for position at Rascasse.
Magnussen had been well placed early on, but lost out in the pit stops and had dropped to 12th, but made it back to 10th, behind Massa's equally fortunate Williams.
Jolyon Palmer was Renault's survivor, and held off everything Esteban Ocon could throw at him to take 11th, as the Force Indias finally failed to score for the first time in 14 races, or to maintain their record of taking double points in every 2017 race.
Marcus Ericsson added to Sauber's horrible day by crashing slowly at Ste Devote whilst under the safety car, and Vandoorne lost McLaren's strong chance of the final point by doing the same thing there on the restart a lap later. Lance Stroll's Williams retired late, with loss of brakes.
For Ferrari the race marked a big step towards not only the drivers' championship, but also the constructors, as they move back ahead of Mercedes with 196 points to 179 as they scored their first 1-2 since Germany 2010.
WATCH: Race Highlights from Monte Carlo