Report
Race - Bottas takes nail-biting maiden win in Russia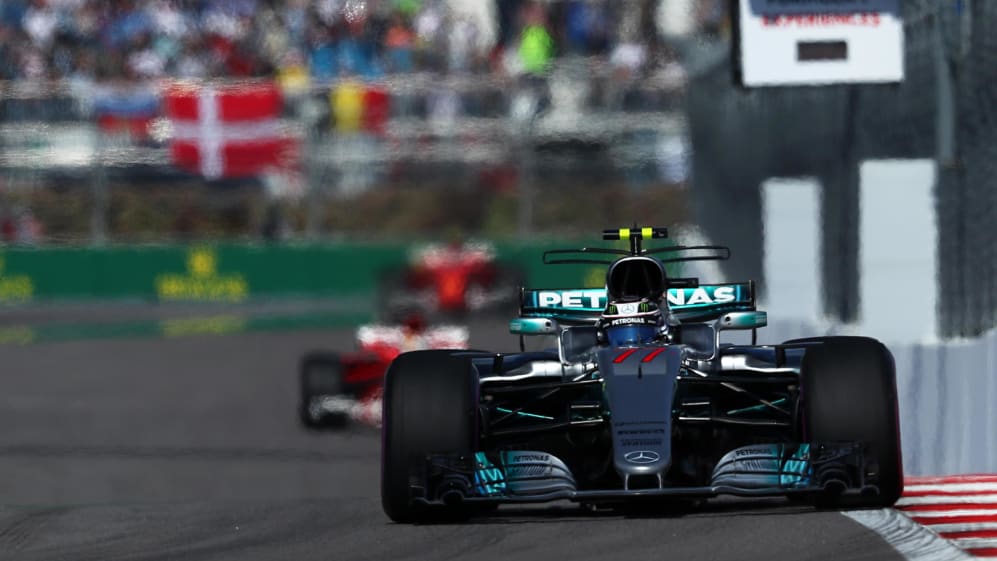 Mercedes' Valtteri Bottas scored the first win of his F1 career on Sunday after holding off the charging Ferrari of Sebastian Vettel for a superb victory in the 2017 Formula 1 VTB Russian Grand Prix. Kimi Raikkonen made it two red cars on the Sochi podium, as Lewis Hamilton trailed home a distant fourth in the second Mercedes.
Bottas got the jump on both Ferraris at the start, leading into Turn 2 from Vettel, Raikkonen and Hamilton, and from there the Finn was in command, only losing the lead during pit stops. Vettel put him under intense pressure in the closing laps, but he refused to crack and took the chequered flag just 0.6s ahead.
There was drama even before the start in Russia when Fernando Alonso reported that his McLaren was losing charge. When told to try various things he tetchily told his crew to try it themselves as he already had and nothing worked. The orange and black car ground to a halt on the grid formation lap, delaying the start and causing the race to be shortened by a lap. Bottas would have cause to be grateful for that.
Then, as Bottas made a blinding start to head the Ferraris and Hamilton, Lance Stroll spun his Williams after contact with Nico Hulkenberg's Renault, while further back Haas's Romain Grosjean made contact with Jolyon Palmer's Renault and both retired on the spot. Out came the safety car for three laps.
Bottas resumed comfortably as soon as the track went green again, and began to open the gap to Vettel. By lap 21 it was an easy 5.3s as the pit stop window loomed, but then a combination of traffic and Vettel speeding up saw the Ferrari driver beginning to close the deficit dramatically. When Bottas made his sole stop, to switch from the ultrasoft Pirelli tyres to the supersofts, after 27 laps, it was down to 2.5s.
Ferrari then seemed in two minds how long to keep their man out. Initially they told him to pit on the 33rd lap, before deciding on the 34th. His was a slow stop, due to the front left wheel sticking, and when he resumed he was second again and Bottas had a 4.6s lead. But, after his stop on the 29th lap, Vettel's third placed team mate Raikkonen had demonstrated the Ferrari threat by lapping a second faster than the Mercedes, and now we had a race as Vettel showed similar pace and he began slashing Bottas' lead.
After 40 laps, with 12 to go, it was down to just 1.5s. Soon he would be within range to use his DRS system to attempt an overtaking move, and the closing laps were real nail-biters as they threaded their way through traffic.
Going into the final lap Vettel was only seven-tenths of a second behind. But keeping his nerve and lapping Felipe Massa's Williams and leaving the German to follow the Brazilian through the long, fast Turn 3, Bottas got the break he needed and took a crucial victory for Mercedes by 0.6s.
Raikkonen was third, 10.3s behind, with the very unhappy Hamilton fourth after suffering intermittent overheating issues for much of the afternoon.
Max Verstappen was a lonely fifth on a day when Red Bull team mate Daniel Ricciardo succumbed early to rear brake problems, while Force India scored their 14th consecutive set of points, and maintained their 2017 record of getting both cars into them, as Sergio Perez led home team mate Esteban Ocon, the latter a career-best seventh.
A whopping 40-lap stint on ultrasofts earned Nico Hulkenberg eighth for Renault, after Massa dropped from sixth place with a suspected puncture on the 41st lap. He recovered to ninth, with Toro Rosso's Carlos Sainz taking the final point.
After his first-lap moment, Stroll took his first F1 finish in 11th ahead of Toro Rosso's Daniil Kvyat, Haas's Kevin Magnussen who served a five-second penalty for a track limits violation on the first lap, McLaren's Stoffel Vandoorne who did likewise, and the Saubers of Marcus Ericsson and Pascal Wehrlein.
On a day when Bottas joined the F1 elite in tremendous style, Vettel came away with an extended championship lead over Hamilton. His advantage is up to 13 points, 86 to 73, while Bottas has closed in on 63 in third, with Raikkonen fourth on 49. In the constructors' stakes Mercedes now lead Ferrari by just a single point, 136 to 135.