Race-winner Hamilton backs unlucky Leclerc for 'lots of wins' in future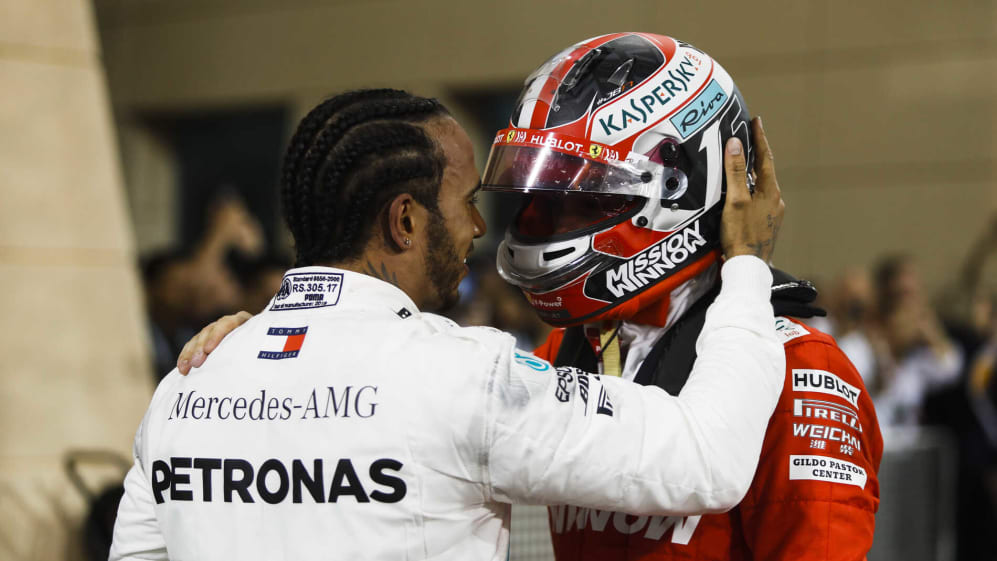 Lewis Hamilton has won 74 Grands Prix in his illustrious career – but the Mercedes driver was the first to admit that his latest in Bahrain owed more than a little to luck. Having brilliantly re-taken the lead that he lost at the start from Ferrari team mate Sebastian Vettel on lap 6, Charles Leclerc then drove serenely into a sizeable lead in Sakhir and looked odds on to seal a maiden F1 victory, before a power unit issue struck and enabled Hamilton to pounce.
A late Safety Car allowed Leclerc, who was dealing with a 40km/h speed loss over the last 10 laps, to salvage third place behind the other Silver Arrow of Valtteri Bottas, and it was the young Monegasque that Hamilton made a bee-line for to offer consolation in Parc Ferme after the race.
It was a touching gesture from the Briton, who also gave the Ferrari driver an apologetic wave as he passed him on track to take a lead he would not relinquish with just over 10 laps to go.
"This weekend, the Ferraris have been incredible," said Hamilton. "I had to see Charles. He did such a great job, he had done the job to win race. We were definitely lucky today, but we have to take it as it comes."
Hamilton had earlier put himself in contention for victory by going toe-to-toe with Lelcerc's team mate Sebastian Vettel. The five-time world champion struggled for pace on the soft tyres during the second stint of the race, but came alive when he fitted the mediums for the final stint, launching a stunning attack on Vettel before the Ferrari spun trying to resist the Mercedes' pass.
"I gave it everything in the race, I pushed as hard as I could. Obviously the fight I had with Vettel was great fun for me," said Hamilton.
"There was a massive headwind into T4, so I braked later than usual and dived around outside. I don't think we touched or anything like that. It's a great result for team, considering how hard the race was. This guy here [Leclerc] has lots more wins coming in the future."
Hamilton, who has never finished off the Bahrain podium in the turbo-hybrid era, is now just one point behind Mercedes team mate and championship leader Bottas in the drivers' standings.
It was Hamilton's third victory in Bahrain, his 74th career win and his 52nd triumph in the 102 turbo-hybrid Grands Prix to date.