Racing Point left to rue two laps where Singapore GP unravelled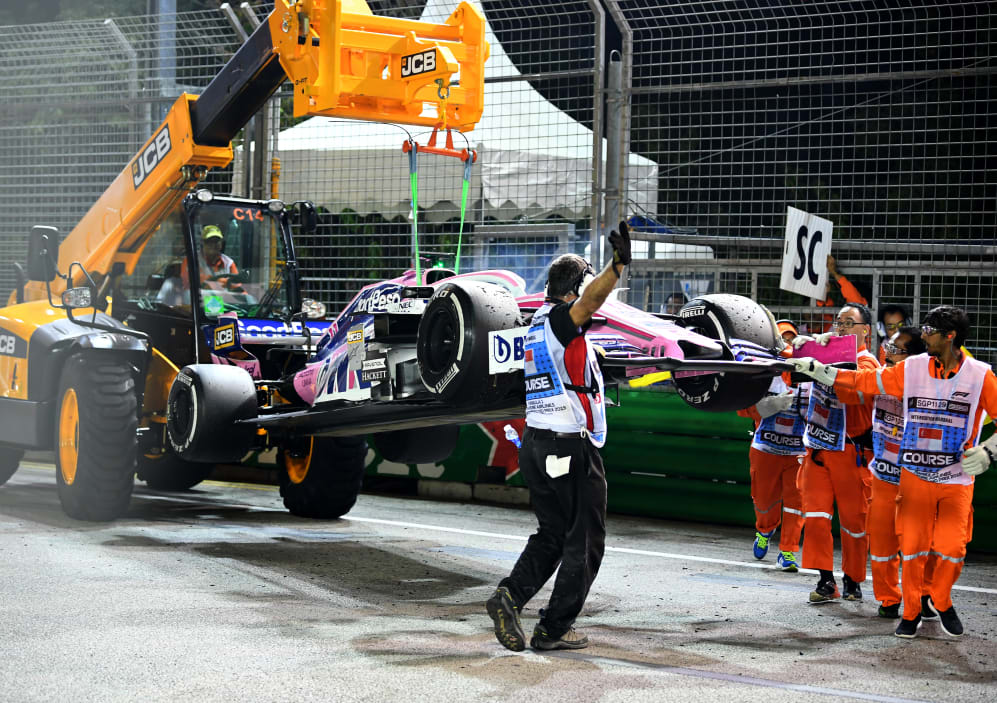 The Singapore Grand Prix is a notoriously long and challenging race, and for Racing Point the chance to score points with both cars slipped away in the closing stages.
Sergio Perez was running inside the top 10 with team mate Lance Stroll one place further back in 11th, when Stroll picked up a puncture that took him out of the picture for scoring points.
Two laps later and Perez slowed out of Turn 13 and was forced to retire, leaving Team Principal Otmar Szafnauer to rue a difficult couple of laps that saw his team's hopes of a top 10 finish disappear.
READ MORE: Renault left with feeling of 'what could have been' after Singapore
"We were playing the long game and as we approached the final third of the race it seemed as though both cars were on course to pick up points," Szafnauer said. "Unfortunately things got messy during one of the Safety Car restarts when Lance clipped the wall and picked up a puncture, which ended his chances.
"Sergio was running in the top 10 when we spotted an oil leak, which forced us to retire the car immediately to protect the power unit. So it just wasn't our day and it's a disappointing end to a challenging weekend. It's one from which to learn and we will work hard to bounce back in Russia."
READ MORE: The Winners and Losers of the Singapore Grand Prix
Stroll admits the error was his own, having been enjoying a competitive run using the updated Racing Point car after starting from 16th on the grid.
"It was a shame, I hit the wall in the second stint after the Safety Car restart so that was unfortunate, that was the main setback," Stroll said. "The rest of the race was full of action, for sure. I think we were in a good position to score some points before I hit the wall, so it's just a shame."
And Perez praised his team's strategy following his 15th-place start, as he made ground in the midfield on a circuit that is difficult to overtake on.
"I'm obviously very disappointed," Perez said. "We were looking very good all the way until the end. Unfortunately we had an issue that I had to retire the car. We managed to do a lot of undercuts, I was surprised that people were not reacting to it but everyone is different. We just tried, we tried a lot but unfortunately it didn't happen."
Raikkonen 'paid the price', says Kvyat as he admits to 'really poor' Singapore GP
There are reasons to look forward to Russia for Racing Point, however, as Perez has scored points there on every visit – including a podium in 2015. Will they be able to make up ground in the tight midfield battle?