Raikkonen quickest on 'wet' final day in Barcelona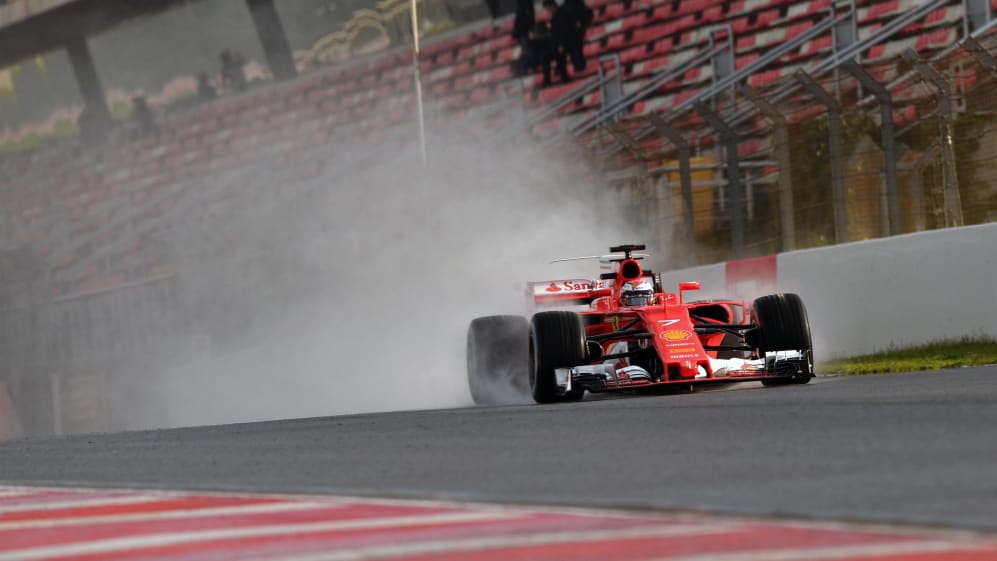 The F1 teams got to sample the full range of track conditions in Spain on Thursday, as the first pre-season test drew to a close with a session dedicated to sampling Pirelli's 2017 wet-weather tyres.
The Circuit de Barcelona-Catalunya was artificially dampened before and during the day, and then allowed to dry, enabling drivers to explore the Italian firm's new wet and intermediate compounds - and the crossover points between them - as well as their dry rubber.
There was a flurry of quick, dry times at the end of the day, but none could prevent Kimi Raikkonen finishing on top of the pack after a very positive week for Ferrari, nine-tenths ahead of Red Bull's Max Verstappen, with a best lap of 1m 20.872s set on soft tyres.
Jolyon Palmer and Nico Hulkenberg split driving duties at Renault, with the Briton and the German finishing third and 9th respectively in the times, having racked up a productive 90 laps in the R.S.17 between them.
Haas's strong reliability continued, with Romain Grosjean again adding more than a century to the VF-17's lap tally for the week as the Frenchman went fourth fastest in his Ferrari-powered machine.
Ferrari third driver Antonio Giovinazzi got his second outing at Sauber, taking the new C36 to a strong fifth-quickest time, albeit on ultrasoft tyres, just ahead of Force India's Sergio Perez.
Following their troubles earlier in the week, things ran more smoothly for McLaren and Honda, with Stoffel Vandoorne - also on the ultrasofts - taking the MCL32 to seventh in the order after 67 laps.
There was a rare technical glitch for Mercedes, with an electrical issue preventing Lewis Hamilton turning a wheel in the morning. The problem resolved, Valtteri Bottas took over for the afternoon and completed 68 laps en route to eighth place.
Toro Rosso experienced far worse luck, however, with Daniil Kvyat managing just one installation lap and failing to set a time in his STR12, which required a Renault power unit change.
And Williams' day was over before it began, the team ruling out running due to the accident damage sustained to their FW40 car in Lance Stroll's Wednesday off. A new chassis will hopefully be ready for next week's second - and last - pre-season test on March 7-10.
For a look back on the day's events as they happened, click here.