Red Bull have pace to fight Mercedes in Belgian GP says Verstappen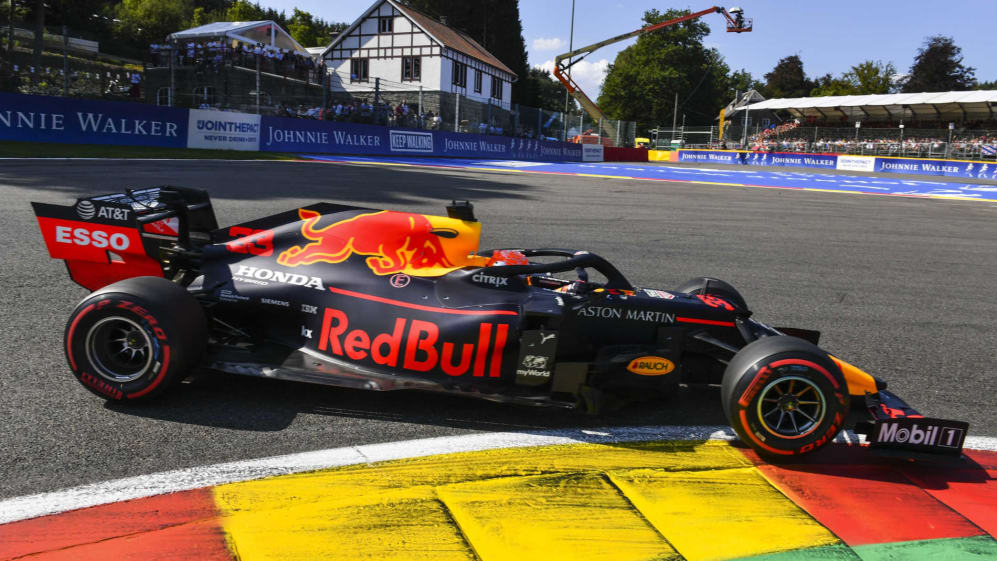 While Max Verstappen concedes Ferrari will be in a league of their own in the Belgian Grand Prix, the Red Bull driver reckons he can take the fight to Mercedes and challenge for a podium…
Verstappen's Dutch fanbase, decked out in orange, have loyally followed him across the globe, packing out the joint at Red Bull's home race in Austria and doing the same this weekend at Spa-Francorchamps.
He could only reward them with fifth on the grid for Sunday's race, where temperatures will drop around 10 degrees Celsius, around 1.1s off pole-sitter Charles Leclerc and four-tenths off Lewis Hamilton's Mercedes in third.
But that hasn't stopped him raising hopes of reaching the rostrum for the third successive race and sixth time this season.
"It looked fine," he said of Red Bull's race pace. "Of course tomorrow is going to be a different day in terms of temperatures, so it's a little bit difficult to predict how we are going to perform.
"I expect we can be close to the Mercedes cars and I expect the Ferrari cars to be ahead, because with their top speed, even if you would be faster than them, you wouldn't get them on the straights. They are a bit difficult to beat."
Verstappen, running the old spec Honda engine this weekend while team mate Alexander Albon took penalties to get the the Japanese supplier's latest update, endured power issues in Friday practice – and they came back to haunt him on Saturday.
"The whole weekend, we couldn't use our normal power modes so all the time I wanted to go up on power, like we normally do every weekend, and the engine went into an error," he said.
"So I had to run quite conservative in qualifying so even compared to our normal power, we were down. It cost us a couple of tenths, which is of course not what you want around Spa, but yeah, that's how it is.
"We know what it [the problem] is, I need to do two changes on the steering wheel to get it back to normal."
Verstappen said that he didn't think the problem would hurt him on Sunday "because you can't use your qualifying performance in the race" and added: "Maybe Mercedes and Ferrari can defend a few times with qualifying modes, but that's it."
READ MORE: Friday Pace Analysis – Belgian Grand Prix, including long run data