Red Bull 'pushing each other hard' to get on terms with Mercedes, says Verstappen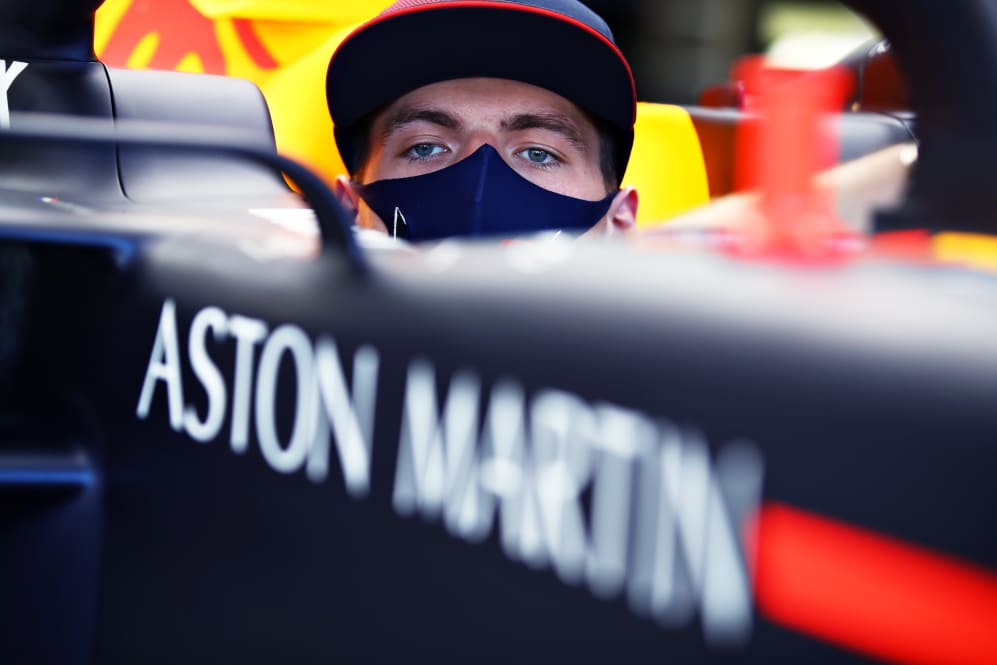 It was Enzo Ferrari who once described himself as an 'agitator of men'. And ahead of the British Grand Prix, Red Bull's Max Verstappen revealed that he'd been doing some agitating of his own to push Red Bull to get on terms with Mercedes in 2020.
Verstappen has hauled the seemingly hard-to-handle Red Bull RB16 to two podiums so far this year yet has never looked like challenging the might of the Mercedes W11 package for overall victory.
READ MORE: Albon hoping engineer switch will 'point him in the right direction'
And speaking ahead of the British Grand Prix, Verstappen revealed that, while he may sometimes appear frustrated by his team's performance, or lack of it, compared to their rivals, it was only because of his will to win…
"I go into a weekend where I always try to do the best I can," said Verstappen. "Of course I would like to come to the weekend and know that you're going to fight for victories every weekend but at the moment that is not the case.
"We just try to learn and try to improve and hopefully towards the end of the year, or next year, we can be in that position again. Of course it's not going to be easy, they work very hard at Mercedes as well, but if we can make it difficult for them, that would be really nice.
"But it's not that I'm going to sit here frustrated and be angry about it all," Verstappen added. "That doesn't mean that sometimes I [don't] get a bit upset or whatever, but at the end of the day, that's because I want to win and I want to improve and I think that everybody in the team has that.
"We all want to win and I think it's good that we're pushing each other hard, and that's nothing negative. Because if I would just sit here like, 'I don't care, I just rock up to the track, I do my job then go back home', I think that would be the wrong attitude."
READ MORE: 'Exciting times for me' says Vettel as he continues to weigh up future plans
Verstappen went on to discuss the ways that Red Bull were working to resolve the issues with the RB16, which has seen both Verstappen and team mate Alex Albon suffer numerous spins so far this year, particularly in low-speed corners.
"We are still learning [about the car]," said Verstappen. "We're bringing a lot of new parts to the car, different parts, to see what works, what doesn't, where we can still improve... From one week to the other it's not going to be solved, you need a bit more time for that, but we're working on it, and we'll just find out, by trying it on track as well, if we're heading into the right direction.
"Every car is hard to drive on the limit," he added. "It's just sometimes when it becomes a little bit unpredictable, that is the tricky thing. But I think honestly in the race on Sunday [in Hungary], I was pretty happy with the balance I had. It's just a bit too slow at the moment."
READ MORE: Why Red Bull's grid slot repair job in Hungary was even more impressive than it looked
Meanwhile, asked what he felt the deficit to Mercedes would be in qualifying for the British Grand Prix, Verstappen replied: "Difficult. Last year we came here and we thought, 'Okay, we're going to get smashed', and we were within two-tenths in qualifying [0.183s].
"So it can depend on a lot of things. For sure they are the dominant team and they will be very fast. It can be from, I don't know, two-tenths to a second to… you don't know, you really don't know. I hope it's not going to be a second! I hope to be within half a second. That would be good I think."