Red Bull race pace 'not good enough' to challenge Mercedes in Portimao says Verstappen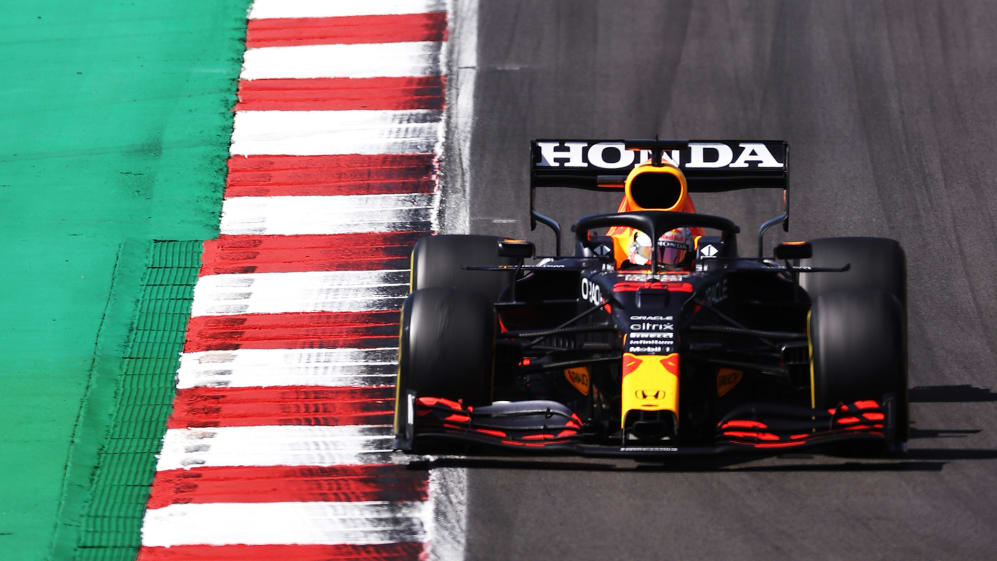 A bittersweet Portuguese Grand Prix saw Max Verstappen leave Portimao having secured second place in the race on the one hand – but with the Red Bull driver having been unable to match the race pace of Mercedes' eventual victor Lewis Hamilton on the other, leaving the Dutchman with mixed feelings at the end of his weekend.
Imola race winner Verstappen started the Portimao race P3, having had a lap time good enough for pole in Q3 deleted for track limits infringements. And although Verstappen would brilliantly pass Hamilton for P2 at the Lap 7 Safety Car restart, he would ultimately have to follow the seven-time champion home, after being repassed by Hamilton four laps later – Verstappen at least with the satisfaction of passing Bottas for his eventual second place on Lap 37 after the Finn emerged from his pit stop.
READ MORE: Hamilton takes victory in Portugal after crucial overtakes on Verstappen and Bottas
"I'm pleased – I mean I tried everything I could really," said Verstappen. "I had a good restart… and it was a good fight into Turn 1 with Lewis, managed to keep it on the kerb as well, so I didn't have to give the position back like in Bahrain!
"And then from there on, it was just super-close between the three of us. I tried to attack Valtteri but all the time I could not get close enough in those last two corners and then the run onto the straight.
"But it was good, it felt a bit more like – not flat-out racing, but at least a bit more than just continuously tyre-saving so it was nice," added Verstappen. "I think overall we just lacked a little bit of pace compared to [Mercedes] in the race.
"We knew last year already we were not particularly strong here. I think this weekend has been a little bit better but still not good enough. I tried everything I could… got past Lewis, but I could just not attack Valtteri and then Lewis, once he'd passed me, you could see he had more pace, so I just tried to stay close, but ultimately second was the best result we could get today."
READ MORE: Hamilton explains why he got jumped at Safety Car re-start - and how he fought back to win in Portimao
The result in Portimao sees Hamilton stretch his lead at the top of the drivers' standings over Verstappen from one to eight points – which would have been seven had Verstappen not had his final, fastest lap of the race deleted for yet another track limits infringement.
But Verstappen said that, with the Portimao circuit having been something of an outlier, he was looking forward to getting back to racing at the more familiar environs of Barcelona in a week's time to get a proper read of how his Red Bull RB16B's performance now stacked up aginst the Silver Arrows.
"For me, I think the whole weekend, we haven't really been satisfied with the grip in general, or the car," said Verstappen.
"I'd prefer to wait again until Barcelona to see how the progression from the beginning of the season to that track will be, because I think this is a bit of an odd weekend in terms of grip. But clearly we still have to improve and do better, because we should be fast on every single track and every single condition, because the track is the same for everyone.
READ MORE: 'It was a lot of fun' – Norris revels in McLaren pace after third straight top-5 finish
"It's close," added Verstappen of the fight at the top of the drivers' standings. "I wish it was closer but it's still a long season and we can't afford to have any retirements or silly mistakes so we just have to keep on doing what we're doing."